Lawnmowers are the machines used to trim, slice, cut, and chop grasses or weeds on a lawn or a garden. It helps control the continuous growth of grass over an area. Lawnmowers utilize one or more revolving blades to cut a grass surface to an even height. The mower can fix the height of the grass to be cut, but in most cases, it is adjustable by the operator.
There are electricity, gas, battery, or just manpower lawnmowers available in the market.
A beautiful garden is desired by everyone with an eye-catching grass lawn. To have such a garden, you have to maintain it correctly. Without proper equipment, this will become time-consuming and a big task. The lawnmowers will prove to be helpful for the process of trimming the grass in your garden.
In a Hurry? Here are Our Top Choices:
Here is a quick snapshot of our top-rated picks.
There are a variety of lawnmowers available in the market; therefore, choose the best one that suits you and your requirements.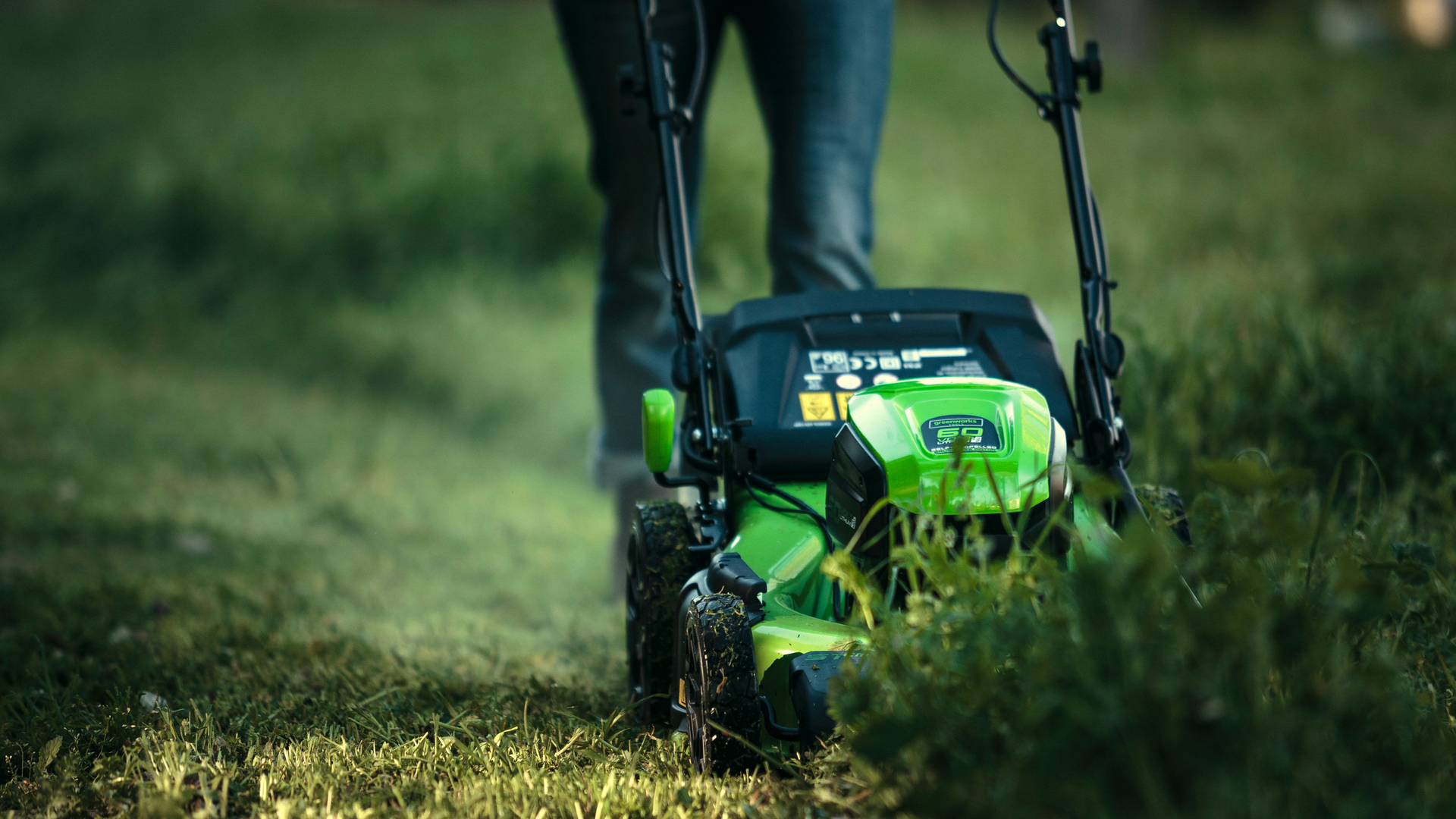 10 Best Lawnmower Reviews
We have reviewed and listed ten best inexpensive lawnmowers currently available in the market through which you can find the mower, which is perfect for your requirements.
1. BLACK+DECKER BEMW482BH Electric Lawn Mower
The BLACK+DECKER BEMW482BH Electric Lawnmower features a winged blade that facilitates 30% better cutting than most of the other models. It has a push-start button, which makes the device more user friendly. This lawnmower is an excellent option if you are looking for an inexpensive, lightweight mower, precisely for smaller yards. The tool is perfect for mowing through long grass because of its robust and rugged wheel treads. Such wheels ensure the proper control for the user no matter what the density of the grass is.
The machine can be assembled easily by connecting the handle with knobs and screws, then sliding the handle into the mower base. The mowing diameter is 17-inch, and six cutting height adjustments are ranging from 1-inch to 3-inch, which are selected with a tab by the left rear wheel.
Once you have finished mowing, the tool has plastic cord strain relief, which helps in keeping the extension cord safe and secure when connected to the mower. Furthermore, there is a detachable grass catcher. You have to lift the clear plastic door on the rear of the mower and slide the grass catcher into the place.
The tool is very lightweight, weighing around 39.75 lbs, which makes it easy to maneuver and push. Being powered by a 12-amp powerful motor, the BLACK+DECKER BEMW482BH Electric Lawnmower faces no difficulty cutting the tall grass.
It is a more eco-friendly, quiet, and low maintenance lawn mower that will fit into almost all your needs. The company ensures the quality product by offering a complete 2-year warranty as well as a 30-day money-back guarantee.
PROs
Winged blade which makes the cutting 30% better
Push-button to start button which makes it user friendly
Eco-friendly
Lightweight
Detachable grass catcher.
Rugged wheel treads
Height adjustable
Two-year warranty and 30-day money-back guarantee
CONs
The body is entirely made up of plastic
The blades do not last long.
2.Sun Joe MJ401E Mow Joe
The 12-amp electric motor of The Sun Joe MJ401E Mow Joe mower provides a high performance cut for your lawn. The company ensures efficiency for you as the user.
The extension cord can achieve the length of over 100-feet, which in turn provides you with versatility and adaptability for your lawn and outdoor space. The machine is equipped with a user friendly push-start button, and the presence of electric power function ensures that you don't need oil or gasoline, making it an eco-friendly option.
The mower uses steel blades for its long-lasting effect and precise cut.
The mower cuts over a 14-inch wide path in a single go. It provides a 3-position height control for up to 2.5 inches and is an ideal choice for outdoor spaces of up to a quarter acre. The detachable grass collector enables you to remove the waste easily for convenient disposal. Besides, the machine offers a compact design which makes it handier to store and easily maneuver around your lawn. Weighing around 28lbs, this mower is relatively lightweight and user friendly. The company offers a complete 2-year warranty, which makes the trust of most of the users for a quality product.
It is relatively quieter than its gas counterparts, causing almost no disturbance in the neighborhood. The users have suggested not to mistreat it because the body is made entirely of plastic. You'll have to clear the collection bag once it is full because the unit won't operate anymore as the grass will make it stuck.
The Sun JoeMJ401E Mow Joe mower has proved itself a value for money product.
PROs
12 amp powerful electric motor
Maximum extension cord length 100-feet
Push-start button making it more user friendly.
Height adjustment of a 2.5-inch range
Three-position height control
The grass catcher bag- making the disposal of waste more convenient.
14-inch clearance width.
28 lbs lightweight
Full two-year warranty
CONs
The body is made entirely of plastic.
Cannot be used roughly
The extension cord gets tangled
3.American Lawn Mower Company 1204
If you are one of the environmentally-conscious individuals, the American lawnmower company has got the perfect product for you. The American Lawn Mower Company 1204 mower requires no fuel to power your motor. The machine features a 14-inch cutting width. Equipped with polymer wheels, the mower has a four-blade ball bearing reel to glide through the weeds and the overgrown grass, offering a precise and sharp cut. The tool is powered by hand and has an adjustable cutting height of 0.5-1.75 inches. The American lawnmower promises to provide a high-performance and robust solution which does not cause any adverse effect on the carbon footprint, making the device a good option for the environment.
The American Lawn Mower Company 1204 mower weighs only 20 lbs making it lightweight and easy to maneuver. The grooming of your lawn is made easy without the hassle of toxic chords and toxic fumes.
The blades used for cutting are made of quality, heat-treated alloy for staying sharp longer; These blades make the device more robust. It is an eco-friendly alternative to gas-powered lawnmowers and a low maintenance device which is easy to assemble, and inexpensive. The four-blade reel offers a premium versatility for many common grass types such as fescue, bluegrass, rye, and mixed weed or crabgrass.
Overall, the mower is a powerful and dynamic tool that offers a perfect solution to your lawn grooming problems. Without the need for fuel and gas, it becomes an excellent choice for the environment.
Some users have claimed that the twigs on the lawn can stop the machine from working and have to be manually taken out from the wheels. Also, it is a little challenging to get the perimeter of a building mowed. The width of the wheels sticks out a few inches from the mower, which leaves a line of un-mowed grass around the boundary of the building.
PROs
No fuel required
Four blade reel mower for the perfect cut.
Environment-friendly option
Lightweight and easy to maneuver
Height adjustments suiting to every individual
CONs
Concise warranty.
Manual driving.
Twigs and small sticks can clog the device.
4.BLACK+DECKER BEMW472BH Electric Lawn Mower
In addition to a robust 10 amp electric motor, the BLACK+DECKER BEMW472BH Mower features thick rugged wheels that ensure high-quality control and power to achieve high performance. The mower is equipped with a comfortable grip handle guaranteeing the ease of maneuvering the mower around the lawn. Furthermore, the set of winged blades makes the task of cutting the grass 30% more efficient.
You will not have to deal with the pull cords because of the presence of a push start button, increasing the user-friendly functions. Six different height adjustments are ranging from 1 inch to 3 inches, making the mower suitable for almost all the users.
If you are looking for a lightweight mower, this mower might not be the best choice for you because it weighs around 40lbs. Still, the presence of rugged wheel treads, you will have careful control over thick grass.
The BLACK+DECKER BEMW472BH Mower has proven itself to be a value for money product. You do not require any gas for its functioning, making it an eco-friendly option.
The BLACK+DECKER BEMW472BH is an easy to start and maneuver;Well-designed to achieve a high-quality finish and gives high-performance while cutting.
It is suggested to use the cord whose color does not match with your lawn so that you do not mow it along with the grass. The machine is quieter and more lightweight than its gas counterparts. The grass collector bag fills up quite quickly, but you can use another container that can collect more volume. It is not suggested to use the mower without the collecting bag because it is not safe to have stuff shooting at you.
PROs
10 amp electric motor
Comfort grip
Rugged wheels
30 % enhanced clipping
Push-button
Height adjustments
CONs
A bit heavy
The cord might get tangled
5.Greenworks 25022 Corded Lawn Mower
The Greenworks 25022 Corded lawnmower is equipped with a quality 20-inch steel deck along with a powerful 12 amp motor. The company ensures to provide users with a high- performance cutting across their lawn and the outdoor space. This mower features a 3-in-1 ability to mulch, discharge, and collects the waste in a rear bag. In addition to all these premium features, all users are catered for seven different height adjustment options. This ensures that the mower is easy to use for almost every person.
There is a push-start button for a hassle-free start-up of the motor. The tool also includes foldable handles, which makes it a compact device to store. The machine offers a range of cutting height from 1-1/12 to 3-¾ inches for all grass types. You will have to drive it manually, but the 10-inch rear and 7-inch front wheels will make the task buttery smooth. This model weighs 56 lbs and is a corded-electric model. Because the company does not provide any extension cord, you will have to buy your own that stands away from the color of the lawn to avoid mowing it. You can purchase the recommended one for the best results.
It is a little quieter than a gas mower, so for those of you go-getters who insist on mowing the lawn at 8 am on Saturday when the rest of the world is sleeping in, your neighbors will thank you. The mower clogs on wet and damp grass, and therefore it is not the best option to use in humid areas.
The Greenworks 25022 Corded lawn mower comes with an impressive 4-year limited warranty that makes the company to ensure quality products and high performance. Many users have claimed that it is a value for money product.
PROs
12 Amp powerful motor
3 in 1 functionality
20-inch steel deck
Quieter than the gas counterparts
Complete 4-year warranty
Can be folded making it a compact option for storage
Seven different levels for height adjustment.
CONs
Gets clogged in wet grass
No extension cord included
6.BLACK+DECKER Compact Electric Lawn Mower
Providing a 3 in 1 compact mower, the BLACK+DECKER BESTA512CM offers a simple conversion from mowing to trimming and even to an edging. One can access all the three functions with ease. This machine is a versatile option for your garden. This machine has a quality motor of 6.5 amp, which combines with the power drive transmission. This combination ensures the maximum performance, whether you are trimming your grass or if you are cutting the weeds and overgrowth, which infects your outdoor space.
This machine features a 12-inch cutting path. The lawnmower is Equipped with the cutting heights between 1.6-inches to 2.4-inches, which makes it ideal for mowing small areas. Being very lightweight and having the adjustable height, the mower becomes perfect for all users. It has an ideal blend of control and ease of use every time. In addition to these facilities, there is an automatic feed spool which offers a continuous, uninterrupted working and a noticeably high-performance along with utmost longevity with every use. There is a chord retention system that functions to enhance safety and prevent any accidental chord disconnection from the socket.
The BLACK+DECKER BESTA512CM mower weighs around 13 lbs making it a good option if you are looking for a lightweight machine.
Some users have claimed that the trimmer sometimes comes off of the base while mowing the lawn. Since the wheels are typically-constructed flimsy plastic, one should use it gently to prevent any kind of damage.
The BLACK+DECKER BESTA512CM mower provides you with three functions in one product, which in turn reduces the amount of equipment you need to maintain a perfect garden and outdoor space.
PROs
3 in 1 compact mower
Mower, trimmer, and edger
5 Amp motor
Automatic feed spool
Cord retention system
CONs
Rough built
Plastic wheels
Ideal only for small areas
sometimes trimmed comes off of the base
No extension cord included
7. The great States 304-14
The Green States 304-14 mower is an environmentally-conscious choice being a push reel lawnmower. This lawnmower provides flawless results and high performance. A precise cut is achieved without the hassle of tangling cords and noise. It features a T-style cushioned handle that offers the best comfort. Furthermore, the machine can be assembled very easily without the usage of any tool.
The machine also has a quick, adjustable cutting height ranging from 0.5-inch to 1.75-inch, which results in very clean and evenly cut grass every time and making the device suitable for all users. This 14-inch mower is equipped with smooth-spinning blades along with a set of easy-roll wheels, which makes it easy to push around the lawn delivering perfection every time.
All you have to do is push the mower. There is no cord to pull and no key to memorize. The absence of an lawnmower engine makes zero emissions and is also low on maintenance. You will not have to deal with any gas, oil, and spark.
The blades of the green states mower are made using quality, heat-treated alloy steel, which makes them stay sharp for a considerably long time. The weight of the mower is just 22 lbs, which makes it easy to maneuver, additionally offering a complete one-year warranty.
For a nice manicured weed-free farm, you will have to go over it multiple times using this mower. It is not a good option for you if you have an overgrown lawn. The blades of the mower will lock if any stick or twig comes in between the blades.
For maintenance, you will have to sharpen the blades of the reel push mower. You will need a string trimmer for the borders to give them a clean and sharp look.
Overall, The Great States 304-14 mower is a powerful man-powered lawnmower which not only provides perfect cutting across your lawn but also ensures that you are contributing towards helping the environment.
PROs
Great for the environment
Flawless results
Less noise
Zero fumes emission
Perfection in cuts
Heat-treated alloy steel blades
T-style cushioned handle
Adjustable height
CONs
Not suitable for large lawns
Gets locked even if tiny twig comes in between
8.Greenworks 25012 Corded Lawn Mower
Cutting through the toughest areas of grass is made possible by the Greenworks 25012 Corded Lawn Mower, which utilizes a 12-amp electric motor. The company offers you a durable 18-inch cutting steel deck, ensuring excellent efficiency and high performance. The mower is equipped with a 2-in-1 feature of side discharging and mulching to provide you with versatility.
Furthermore, seven-position height adjustments are ranging from 1-¾ inch to 3-¾ inch providing a proper cut on all grass types. The machine is equipped with 7-inch wheels across the front and rear wheels that ensure powerful and comfortable maneuverability around uneven terrain and flower beds.
The mower gets power through batteries, and users have said that the battery recharges very quickly, and you will not have to wait. You'll have to mow your land twice for the best results.
When looking for lawn tools, you, as a user, think about quality. The 4-year complete warranty is offered by the brand, which promises you a quality and long-lasting product. You can get your job done through this product in no time and enjoy the rest of your weekend. The mower provides you with all the power without polluting the air and zero-emission of the gas. The product needs low maintenance and is quiet through which you can cut the grass without creating any disturbance in the neighborhood.
The mower weighs around 46lbs, which makes it easy to store. Overall, The Greenworks 25012 Corded Lawn Mower is a value for money product, coming with a 4-year warranty.
PROs
12 amp powerful electric motor
2 in 1 feature of mulching and side discharge
Seven position Height adjustment
7-inch wheels
Eco-friendly
Low maintenance
Maneuverability around uneven terrain
Four-year warranty
CONs
Will have to charge the battery
Poor Customer service
The build is entire of plastic except for the electronics
9. Greenworks MO40B01 Cordless Lawn Mower
The Greenworks MO40B01 Cordless Lawn Mower uses a 40V lithium battery for high efficiency. The machine ensures the best quality and precise cutting by Offering a lightweight and versatile 17-inch deck. The unit features five-position height adjustments ranging from 1-1/4 inch to 3-3/8-inch, which makes the mower suitable for all individuals. The 2-in-1 feature offers rear bagging and mulching capability for multiple uses minimizing the requirements of other tools for your lawn.
The model offers 60 minutes of running time, which is fair enough to mow your lawn in a single go and weighs just 40.9 lbs, which makes it easy to maneuver around your yard. The maneuverability also increases because of the presence of 8 inch rear and 7-inch front wheels.
The grass catcher and mulcher work very smoothly. Because of the presence of the collection bag, you will not have to worry about the extra cleaning required after mowing. It collects the stuff and makes the discharge of waste less messy and convenient.
The product only includes the tool. Battery and charger are not included but can be purchased from any electronics or car battery store. You can buy the one recommended by the company for the best results.
Being an electric lawn mower, it is quieter and offers zero emissions; This leaves no adverse effect on the carbon footprint. If you have a moderately large lawn and are not looking forward to a high maintenance gas mower, this product will be a value for money option.
PROs
2 in 1 feature of bagging and mulching
40V lithium battery for high efficiency
60 minutes of running time
8 inch rear and 7-inch front wheels.
versatile 17-inch deck
quieter and offers zero emissions
Low maintenance
Five-position height adjustments
CONs
Battery and charger not included
Will have to recharge the battery
Not ideal for large areas
10.Earthwise 50518 Lawn Mower
The Earthwise 50518 Lawn Mower gives a 2-in-1 discharge and mulch, minimizing the number of tools you require to maintain your lawn. The machine is also equipped with a safety bar and zone, starting to ensure the safest features for you. The powerful 12-amp motor provides you with enough power to cut almost all types of grass. It has a large 18-inch cutting width, which enables you to clear a large area in a single go. The mower offers you height adjustments ranging from 1 ¾ inch to 4-inch, which makes it suitable for all individuals.
The folding of a comfortable handle and the compact and slim design ensures the ease of storage and practical approach. It weighs 44 lbs and can be easily maneuvered because of its 7-inch wheels on uneven terrain. Furthermore, the cord retention hook keeps the cord secure and prevents it from getting tangled.
If you are switching from a gas mower, it will take some time to get used to the cords. The users have claimed that there is no issue of overheating even though this is a powerful mower. The mower handles the grass gently by not blowing it out of the shoot with relentless force. You'll have to mow a couple of times in a single row to get the best results. This mower is quieter than its gas counterparts and lets you mow while creating no disturbance in the neighborhood.
The mower only allows mowing in the horizontal cutting path.Overall, If you have a small lawn and you cut regularly, this is your mower.
PROs
2 in 1 discharge and mulch
Vast height adjustment range from 1 ¾ inch to 4-inch
Folding handle
Compact, slim design
Easy storage
Lightweight
The cord retention hook
7-inch wheels
Lightweight for a corded mower
CONs
Cuts only in a horizontal path
Multiple mowing required
Not ideal for large lawns.
Buying guide for Lawnmowers 2021
If you are willing to purchase a lawnmower but aren't sure what features you might want or how many mowers you need, don't worry. We've got you covered!
Use this guide to select the right mower for your needs.
Happy Mowing!
Step1: Walk or Ride?
You need to make an approximation of your mowing surface. Simply walk off large rectangles and keep the count of steps. The threshold for walk mower is 1/4 acre. An acre is 43,560 square feet. One-fourth acre is 10,800 square feet. Find out the area of the lawn, and if it ranges from 1/4 of an acre to two acres, you will be comfortable with a rear engine riding mowers. For yards having an area less than 1/4 acre, walk mowers will do the perfect job for you.
Step2: Selecting your features
Once you have selected whether you need to buy a walk mower or ride mower, there are mainly two factors that will drive you to purchase — your comfort and your budget–more expensive the mower, more the features. If you are having a larger and more complex yard, you need to select the mower with better features. If you have a small lawn, a simple mower will do the job.
Features of a lawnmower
A lawnmower may be powered by electricity, gas, battery, or it might use just the workforce. Fuel-powered lawnmowers are reputed for being more powerful, but they create a lot of noise pollution. Electric lawnmowers are not that powerful, but they are an eco-friendly option.
Take into consideration the quality of the blades. The heat-treated alloy steel blades last longer and stay sharp for a considerable amount of time.
The weight of the lawnmower affects its maneuverability. The build of the body decides the durability of the product. The plastic body is not very durable.
Frequently Asked Questions About Lawnmower
What are the types of lawnmowers?
A. Based on the operation of the lawnmower, they can be classified into several categories. These include an electric lawnmower, the reel lawn mower, the self-propelled lawnmower, the riding lawn mower, the zero turn lawn mower, and the mulching lawnmower. Some brands feature multifunctional lawnmowers.
How are lawnmowers different from each other?
A. The key difference between all the lawnmowers is their functioning. What these machines run on and what the mechanism of their staring, makes them different. The electric lawn mower runs on electricity, whereas the gas lawn mower runs on oil or gasoline. The reel lawnmowers are pushed by hands, and the self-propelled lawnmowers propel themselves around the land, making the user only control its direction
What is the cost of a lawnmower?
A. There is no category of lawn mower available in the market, which has a fixed price. The cost of the machine depends on which brand makes it, what features it possesses, what is the build quality of the mower, the cost of a lawnmower can vary from a few hundred dollars to a few thousand dollars. Different manufacturers place a different price tag on their product. But on average, the robotic lawnmowers are comparatively more expensive than the other types of lawnmowers. Zero-turn lawnmowers are also considered to be costly.
How much tall grass can a lawnmower cut?
A. Most of the lawnmowers are equipped for cutting tall grass. These machines have features that let you adjust the height of the grass to be own. It is better to find lawnmowers that are specially designed to cut tall grass. But if the length of the grass is good enough to reach your knees or above that, you must use a tractor lawnmower. It will give more effective results.
Are lawnmowers dangerous to use?
A. If you do not use the device the way it is intended, it can lead to potential damages. Generally, a lawnmower poses the risk of as much danger as a standard kitchen knife would. When using a lawnmower, several safety measures have to be taken. Children and pets must be kept away from the mowers to prevent any sort of accident.
What safety measures should I take when using a lawnmower?
A. The most important safety measure is that one has to use it for the sole purpose for which it is intended. Electric lawnmowers must not be used in the rain to prevent any electrical shocks. While using a gas mower, one should take care of the gas, not catching fire. Children should be kept away from the blades. In electric lawnmowers, mowing should be done in the opposite direction of the cord to avoid mowing the electrical cord along with the grass.
Why does my lawnmower not start?
A. Depending upon the type of lawnmower you use, many factors contribute to your lawnmower not starting. A gas power mower might have run out of gas, have a weak battery, or maybe short on oil. A corded electric mower might have a bad connection to the socket, or there will be any wire breakage in the extension cord. A self-propelled lawn mower may have a nonfunctional recoil cord; a cordless electric lawn mower may have run out of battery or a poor connection between the motor and lawnmower. If the issues are such that you are unable to fix yourselves, seek professional help.
Can my lawnmower mow wet or damp grass?
A. Many lawnmowers have blades that are functioned to mow wet and damp grass, but it is not advisable to do so; This is because wet grass is a little harder to mow as compared to dry grass. Grasses stick together when the lawn is wet, and mowing wet grass may cause potential damage to the already moist soil. It is better to wait until the lawn is dry before using the lawnmower on it.
What happens if I leave old gas in my lawnmower?
A. Ethanol in the gas begins to solidify. These solids will cause the fuel valve to clog and make the mower not fit to use. To avoid this, you should use the proper amount of gas in the mower and use it until it runs out of fuel and then store it at the end of the season.
How will I know when it is the time to mow the grass?
A. Each type of grass has different growth and recommended height. Be sure to know the ideal height before you start mowing. Mow the grass after it reaches an inch above its recommended height. In many cases, this means to mow the lawn after every one or two weeks.
How do I know if my mower's cutting deck is set to the right height?
A. You will have to examine your lawn very closely to reveal if the cutting deck is set in the proper height. Blades of the grass must contain small leaves near the surface of the lawn. If these leaves have been cut off, the height of the deck is very low, and you should increase it to mow the lawn properly.
How do I know if my mower's blade needs to be sharpened?
A. A clean-cut is produced by sharp blades, whereas dull blades tear the grass with each pass. Examine the blades of the grass and check if they are torn or not. If yes, the blades of the mower must be removed and sharpened before the next pass through the lawn
How should I handle wet grass? What about very dry grass?
A. If you have a very dry lawn, you should water the grass shortly before mowing; This will cut down on dust. A wet lawn should not be mowed as mentioned earlier, and wait until the grass is dry to the touch.
Does direction matter when I mow the lawn?
A. Only the direction of mowing does not matter. While mowing, take care that the mower overlaps a few inches of the previous pass; This will ensure a consistent, clear finished cut that will grow and mature evenly. For better results, some users mow in a counter-clockwise direction while using a side discharge mower, or in a clockwise motion while using a rear-discharge mower.
Conclusion
It should come of no surprise that the lawnmowers come with a lot of benefits from saving our time to getting rid of the weeds and overgrown grass in our lawns and gardens. What took hours of work now can be done in no time. Lawnmowers come in various types, and perfect choice according to your needs can be pocket-friendly and a time saver.
The list of products along with the link for buying, pros and cons have been mentioned. Every one of the products that we have discussed above is of extraordinary quality. The products are reliable and stuffed with quality made; they have scored incredible credit in the business. The products were top rated and had better reviews than the other inexpensive lawnmowers.
Just like any other purchase, the final decision will be made by you. You are the customer, the purchaser, and person parting with your earned cash. You need to make sure that the product you purchase is the best one according to your needs. Before making any major purchase like a lawnmower, decide what product is best for you based on the size of your land area and your environmental beliefs along with the budget. Do thorough research on different products. Always keep the quality of your priority. Check out different websites that offer a wide range of brand names and product lines.
This article was curated through HomeSenator' Contributor Program. If you would like to home improvement "write for us", send us your submission today!