Living in a luxurious home is a significant lifestyle upgrade. It lets you enjoy the fruit of your hard work and bring your creative visions to life.
Aside from the price, many factors set a high-end home apart from mid-range ones. You can see details you can only find in luxurious spaces, making the house look and feel more elegant and functional.
That said, here are 16 must-have features for your high-end home.
1. Stunning Architectural Details
Nothing screams luxury louder than stunning interior and exterior architectural details. Creative professionals design a high-end home, giving you a one-of-a-kind dream house. Some of its notable features are the following:
Fully Customized Design: A high-end home is often customized to the smallest details. Working with a contractor specializing in luxury homes helps you achieve this. You may click here to find a trusted builder.
Oversized Doors And Windows: Oversized doors and windows make the home look more spacious, airy, and elegant. It also lets you enjoy the idyllic views around your expansive property.
High Ceilings: Most luxury homes have high ceilings, especially in the main living spaces. This detail gives the interior a hotel-like ambiance as you add some cozy lighting and chandeliers.
Expansive Foyer: A high-end home welcomes you with a spacious foyer. It lets you admire all the luxurious architectural details from the moment you step inside the house.
Luxury home builders use premium-quality construction and furnishing materials to create these fascinating features.
2. Top-Notch Kitchen
The kitchen is one of the top deal-makers when building or buying a high-end home. Luxury kitchens are spacious and equipped with modern appliances. Plus, they're perfect for entertaining guests.
Luxury homes commonly have two kitchens: the first one for entertainment and the second one for cooking, food preparation, storage, and dirty dishes. An auxiliary kitchen allows you to keep the primary one clean and organized so you can easily host parties and get-togethers while preparing large meals.
Another critical feature of a luxurious kitchen is the high-quality countertops. Marble and granite are the most popular choice. However, you may also choose high-end quartz, which offers unmatched durability and elegance.
3. Bathroom With Spa Experience
Bathrooms in high-end homes offer a spa-like experience. It's an expansive yet private space where you can chill and relax as you're having a bath or a steam shower after a long day.
Some of the best features of luxury bathrooms are heated floors and high-end fixtures, like a toilet with a seat warmer and a natural stone tub. These small details can make staying at home feel like a holiday.
4. Lap Pool With Ambient Lighting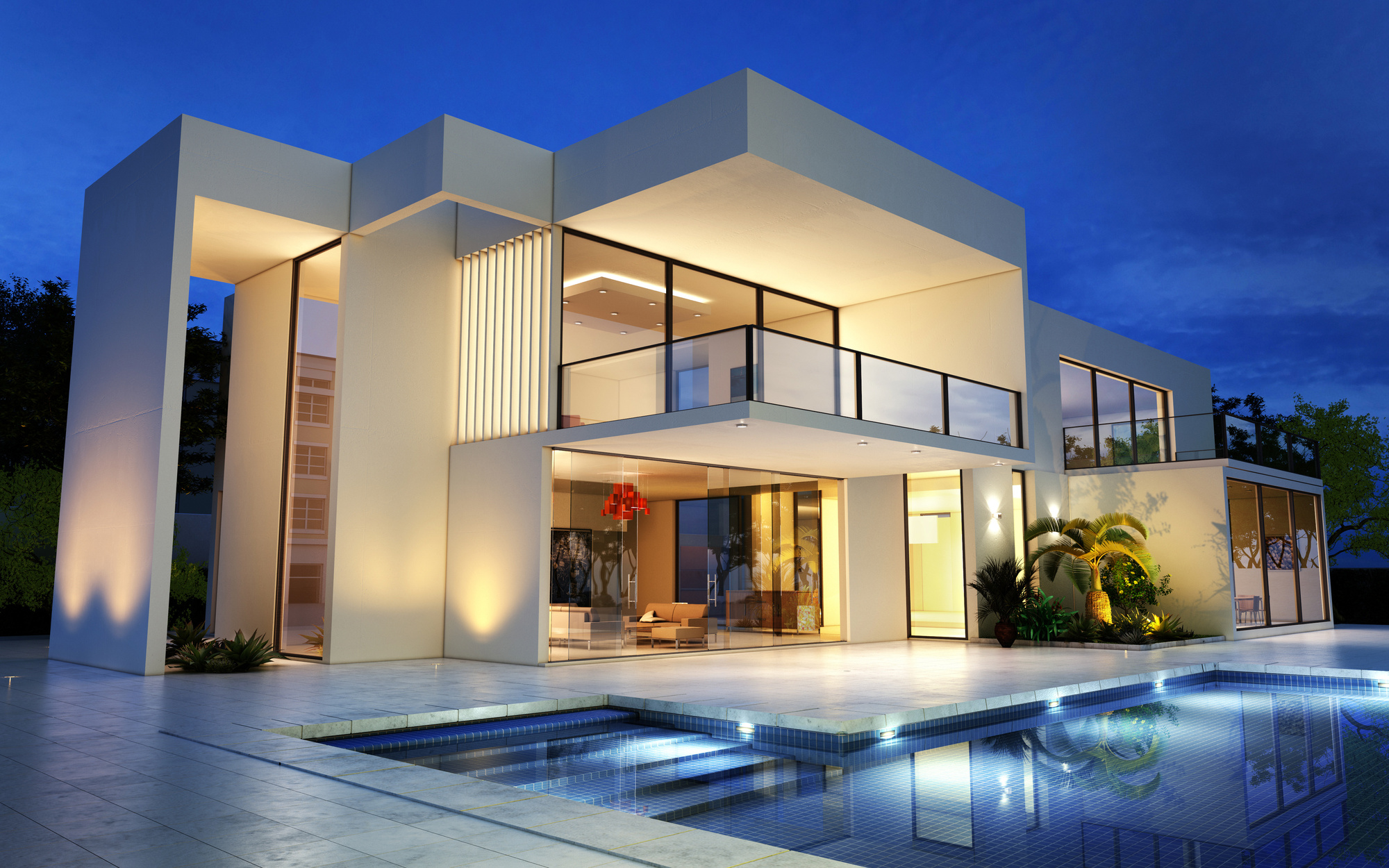 A high-end home is incomplete without a lap pool. A swimming pool adds significant value to your property, especially in good size and design, making it a must-have feature.
A lap pool lets you enjoy swimming as part of your fitness routine. It's also spacious enough to host pool parties. The ambient lighting makes the outdoors even more relaxing, especially at night.
The type of pool suitable for your luxury home depends on the overall design and property location. For instance, an infinity pool is the best for lots on a cliffside. It lets you enjoy the scenic views while chilling by the poolside.
5. Relaxing Outdoor Living Space
A luxury home maximizes the whole property to make it more livable. One feature to achieve is a relaxing outdoor living space. It lets you enjoy the environment and gorgeous views from your location, making it a perfect spot to chill.
An outdoor living room, barbeque, fire pit, and gazebo are some of the most popular features in high-end homes. If you want something classic, add a sunroom or glazed extension to create a weatherproof perfect indoor-outdoor space to relax.
6. Professionally Designed Landscape
Luxury homes have a striking curb appeal. They stand out in the neighborhood in terms of exterior design and a stunning landscape, making the house look more elegant, warm, and inviting.
The perfect landscape design for your high-end home depends on your overall theme. Getting professional landscape artists is your best bet. Most luxury home builders also include landscaping services which you can discuss while planning.
7. Formal Dining Room
Luxury homes are spacious enough to host formal dinners. A formal dining room is one of the distinct features you can only find in a high-end home. Unlike a casual dining area, it's in a separate room with elegant furniture pieces and decorations.
A formal dining room's size depends on how many people it should accommodate. The average size is usually above 200 square feet. It also has enough room for a buffet table and display cabinets to display delicate ceramics.
Another feature that makes a formal dining room cozier is a fireplace. You can install an electric fireplace for efficiency in a modern luxury home. However, you may still opt for a traditional one if you want something rustic.
8. Spacious Walk-In Closet
A high-end home has room for your essentials and more. A spacious walk-in closet is an absolute must-have if you have a vast wardrobe collection. However, a luxurious closet isn't just about the room size.
Walk-in closets for high-end homes typically look like a boutique. It has enough space to hang clothes and store shoes and bags. Aside from its elegant design, natural light is also imperative to prevent mold formation. Good ventilation also helps prevent delicate fashion pieces, like genuine leather, which are prone to moisture damage.
9. Cozy Home Theater
A luxury home is incomplete without an in-house theater. Enjoying the weekend by watching your favorite films in the comfort of your personal space is one of the best experiences. You can conveniently bring snacks and enjoy a movie without interruptions.
A cozy home theater brings entertainment and relaxation to the next level. It allows you to have a cinematic experience without stepping out of the house, which is more convenient and practical. You may also equip it with a small snack bar for easy access and a powder room for added comfort.
10. Hotel-Like Bedrooms
Living in a high-end house can make you feel like you're on holiday. Special features, such as hotel-like bedrooms, can make you excited to come home at the end of a busy day.
A hotel-like bedroom has a good-sized bed, cushioned headboard, and ambient lighting. Each room should have an ensuite bathroom and a walk-in closet. These bedrooms may vary in size and design, depending on who will occupy them.
11. Bar And Recreational Room
High-end homes offer more than just the essentials. They have enough room for your hobbies and recreation to make stay-at-home holidays more enjoyable and convenient.
Another must-have feature for your high-end home is a bar and recreational room. It's commonly located in the basement with ambient lighting. Being separated from the main living areas also allow you to play music without causing noise to the rest of the house.
A home bar is commonly equipped with a pool table, a cozy lounge space, and even some arcade machines. It's the best place to chill, unwind, and have fun.
12. Wine Cellar
If you're a wine connoisseur, a wine cellar is a must-have feature. It provides a space for wines that require long-term aging. Plus, you can save more money when you buy your favorites in bulk and store them in a protected room. You may place it next to the bar room for direct access.
13. Fully-Equipped Home Gym
Your home should suit your lifestyle. If fitness is one of your priorities, a fully-equipped home gym is a definite must-have. A home gym lets you achieve your wellness goals. Going to the gym without stepping out saves you more energy for your daily workouts and provides more comfort and privacy.
14. Smart Monitoring Systems
A luxury home needs strict security. A smart monitoring system within your property helps protect your hard-earned investment and upgrade your safety so that you can sleep worry-free.
A smart monitoring system allows you to respond to emergencies better. It includes wide-angle security cameras, lights with motion sensors, and intruder alarms. Aside from protecting the home from trespassers, an efficient monitoring system is also helpful for family homes with kids. It allows you to respond to emergencies immediately.
15. Expansive Garage
High-end homes have expansive garages to keep your vehicles safe. In most luxury houses, a four-car garage is a minimum. However, it depends on your needs and lifestyle.
A two-story garage is an excellent option if you're a car collector. It helps maximize your space while providing a sleek interior. An epoxy floor is one of the best flooring options for a luxury garage. It's well-known for its wide range of design options and elegant high-gloss finish, perfect for highlighting your collection.
16. Home Library
One must-have feature of a classic luxury home is a library. If you're a bookworm, decluttering and organizing books can be challenging. Having a dedicated room to store them can solve this problem. Plus, you can soundproof the space and add cozy chairs and couches to enjoy reading and studying without distractions.
Conclusion
The unique features you can add to your high-end home are limitless. When planning, consider your lifestyle and priorities and hire a luxury home builder to bring your visions to life.