Getting accepted to college and moving into a dorm room is sure exciting. However, it also poses a lot of stress on young people. There is no secret that many first-year students eventually start struggling with feelings of loneliness and homesickness. These feelings are natural, but they can significantly reduce your quality of life. That's why you should look for ways to make yourself as comfortable in college as possible. And the best way to do this is to make your dorm room feel like home.
If you also want to make your dorm room feel like home, don't wait any longer. Delegate your current tasks to a trusted thesis writing service online to save enough time for planning and shopping without risking your grades, and read on! In this article, we will tell you about some great statement pieces that will help you make your space cozy without much time or investment.
Blankets
Blankets must be the coziest furnishing element ever invented by humans. They always give you a sense of warmth and comfort when you wrap in them after a long and tiring day. So this is the first item that you want to invest in to make your dorm room cozy.
Pillows
Pillows are deservedly called one of the timeless dorm bed decor ideas. With their help, you can emphasize your personal style and, at the same time, create a more snug atmosphere. To use pillows as a statement piece, shop for different shapes and colors. Don't be afraid to experiment with patterns and designs. And remember that there is no such thing as too many pillows, especially when you want your space to feel more dressed up.
Wall Art
Walls are an often overlooked element of interior design. Although you can leave them just as they are, spicing your walls with some wall art can really revamp the look of your room. So don't neglect this opportunity. Decorate your walls with posters, postcards, photos, paintings, or other things that match your personality. This can make your space much more personalized and, hence, home-like.
Fairy Lights
Another statement piece that you should consider is fairy lights. These will create a lower-key ambiance in your room that is proven to create cozy intimacy and give a sense of well-being and security. On top of that, light elements like this will help you create a unique design that looks pleasing to the eye. In addition, you can look for candles and lamps – these elements play the same calming and comforting role in every space.
Paper Lanterns
Along with fairy lights and candles, paper lanterns are also considered a great college dorm idea. They come in a variety of shapes and kinds, and they always create this special, magic atmosphere that contributes to stress relief, tranquility, and overall wellness. Thus, if you want to create a cozy atmosphere in your space, be sure to consider buying some nice paper lanterns too!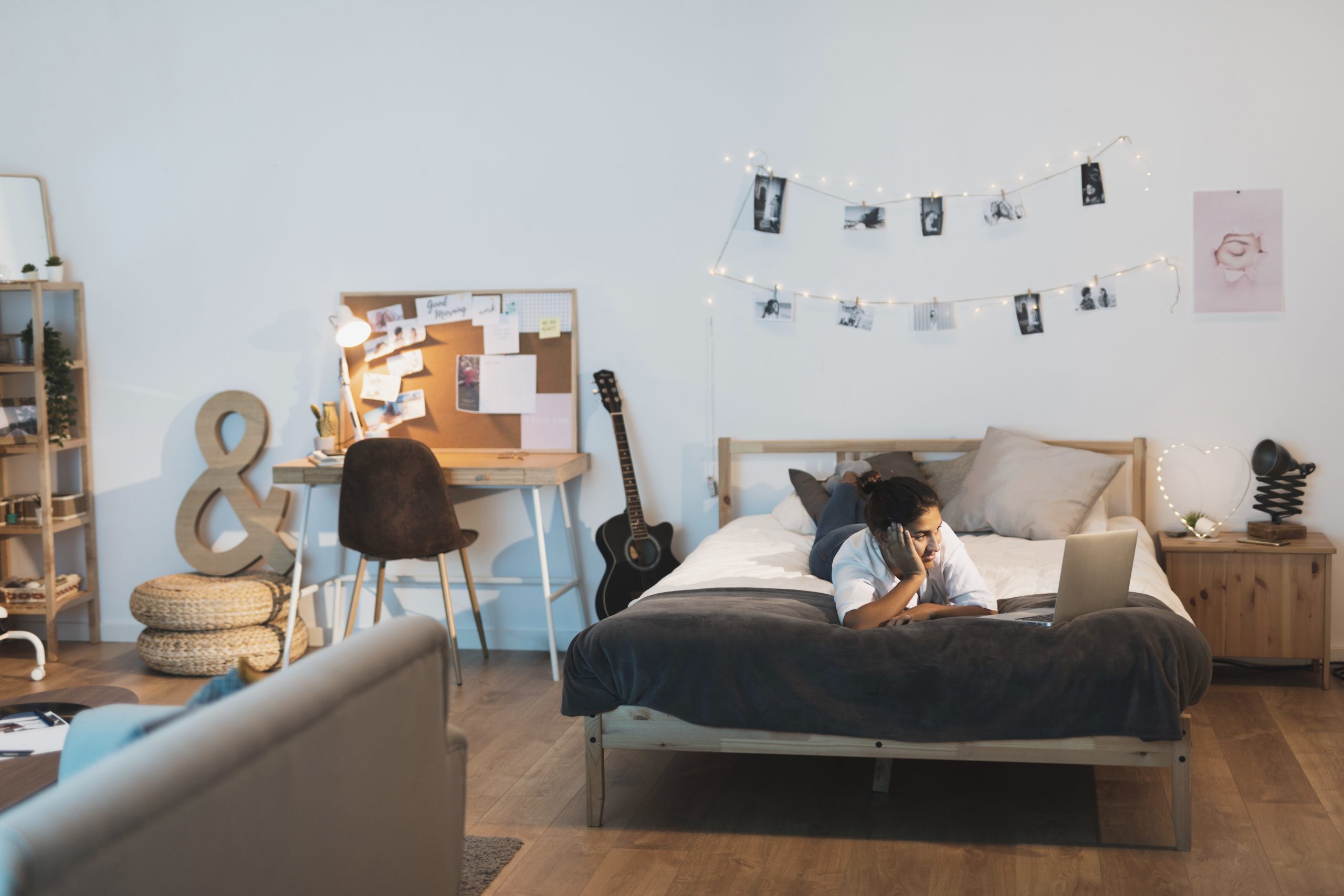 Mirrors
Mirrors are always a good idea for a college dorm. This design element performs several important roles at once. First of all, it brings more light into your space. Also, it creates an illusion of extra space, which is especially important in tiny dorms. And finally, a well-designed mirror can be used as a statement piece in your interior that will make your place look more stylish and even home-like.
Plants
Studies provide sufficient evidence that indoor plants hide plenty of benefits for humans. Namely, they are proven to remove toxins and clean indoor air. Also, they are known to boost mood, concentration, creativity, and productivity. And most importantly, plants can reduce fatigue and stress and be rather therapeutic to take care of. All these benefits make indoor plants a perfect choice for students. If you want to dress up your space, make it more home-like, and also gain a lot of health benefits, shop for some nice plants to put in your dorm.
Pro tip: When choosing the right plants, consider your schedule and lifestyle. In most cases, busy students will find it hard to handle plants that require a lot of complex care. Instead, consider easy-to-maintain options like succulents, English ivy, jade plant, etc.
Bean Bags
The next recommendation might not be suitable for everyone because bean bags will only fit into dorms that have extra space. But if you do have it, be sure to consider this option. A bean bag of your favorite color or with an interesting pattern can be a great statement piece in your interior. Besides, it can also give you a greater sense of coziness. It can become your perfect spot for reading, watching TV, or just chilling.
Reed Diffusers
Despite the common belief, the coziness and style of space aren't all about the visual elements. Although things like lights, pillows, and other visual elements matter, the smell also matters a lot. Experts confirm that making your space smell good can also contribute to its home-likeliness. Thus, don't hesitate to buy some reed diffusers that will give your room a nice, comforting smell and improve the overall atmosphere.
The Bottom Line
When you just move into a college dorm, everything there must feel stranger to you. Bare walls, limited space, and a lack of your own stuff can really make this place feel like it's not your home. This can lead to homesickness and loneliness. But the good news is that you can easily change this.
After reading this article, you know about some great design elements that can make your room more personalized and cozy. These items don't cost much, which means that you can revamp your space right now without any issues. However, picking the best items always takes a lot of time. So you might need to enlist the help of the best essay writing services to support your studies while you are turning your dorm into your new home. So don't hesitate to ask for help to make this process stress-free.