Decorating your house with a carpet or rug is a brilliant choice to improve its aesthetics and comfort. However, this becomes a struggle when your lovely carpet is covered in dirt.
Irrespective of the size and fabric of your carpet, it's likely to accumulate dust on itself. Cleaning it protects your carpet from withering its quality and look. Also, carpet cleaning prolongs the life of the rug. Typically, a carpet lasts between 4 to 12 years; cleaning and maintenance is a great way to ensure you don't replace it in a year.
Furthermore, cleaning and maintaining your carpet prevents the development of carpet mites and bacteria. When your carpet goes without cleaning, not only does it become smelly, but it also becomes a health hazard. Cleaning can fix the pungent smell and ensure cleaner and healthier surroundings.
If you want to clean your carpet, here is a complete guide to help you with carpet cleaning and maintenance.
What Does Carpet Cleaning Entail?
Carpet cleaning involves removing dust, dirt, pollen, and other microscopic particles in your rug. You can do the cleaning yourself or get help from professional cleaning services. Today there are many commercial carpet cleaners you can hire, like Summit Facility Services. All you need to do is search online or ask your friends for referrals to get the assistance you need.
The variety can be very confusing. However, here are some tips to ensure you pick the right company:
Ensure they can work with your budget.
Check their schedule so it doesn't collide with yours.
Ask for an estimate to avoid hidden costs.
Avoid inexperienced companies which may cause more harm to your carpet.
Ensure they have a license and insurance.
Ensure they offer you guarantee schemes to safeguard your interest.
Ask for references; a credible company doesn't hesitate to give one.
Choose a company that provides nontoxic, green, and biodegradable cleaning solutions.
You may also do the cleaning yourself. Here are some tips to make it easier:
Clean the carpet as soon as it turns dull.
Vacuum before and after cleaning.
Pretreat high traffic and stain areas.
Don't over-wet the carpet.
Elevate or remove all furniture when cleaning the carpet.
Allow for thorough drying.
Whichever option you choose to clean your carpets, ensure you have the right products.
When Is The Right Time To Clean Your Carpet?
When kept clean, carpets create a chic, contemporary, or regal vibe in your home. They also act as an indoor filter that traps dander, dust, dirt, soil, and other pesky debris from the outdoors and the air.
You should have a schedule for when to clean your carpets rather than doing it only when you're entertaining guests. On average, you should clean it after twelve months. However, the program varies based on the following factors:
Amount of traffic on your carpet: If you have high traffic on your rug, you should clean it more often.
The presence of furry pets: Dogs, cats, and other furry pets increase the amount of dander and dirt on your carpet. Hence, you need to clean the mat more than usual if you have pets.
Young children in the house: You should spot-clean and vacuum more frequently if you have young kids because the spaces are more prone to dirt due to constant exposure to various activities.
Wearing shoes indoors: If you allow the wearing of shoes in your house, the dirt levels increase, and you must clean the rug regularly.
Having people with allergies: Fibers in carpets are notorious for anyone with allergies; hence if there's anyone with this condition in your household, you should clean more often.
Smoking indoors: Smoke gets trapped in the carpet fibers and causes issues like foul odors from your carpet. If anyone smokes in your home, you should clean at close intervals.
Warranty requirement: Some manufacturers give a cleaning routine for the carpet, and not following it voids your warrant. If your rug has one of these, follow religiously.
Color of your carpet: Bright-colored carpets accumulate dirt quickly, so you should frequent their cleaning to avoid the filth.
If you want to keep the quality of your carpet for a long time, adjust the frequency of cleaning your carpet depending on the abovementioned factors.
Why Do You Need To Invest In Carpet Maintenance?
It's a beautiful addition to your home space that helps create an excellent first impression, provides cushioning, keeps you warm, and reduces the risk of injury. However, it can't fulfill these benefits if you leave it dirty and worn. Hence, carpet maintenance is essential. Here are some reasons why you should invest in its maintenance:
It eliminates the odors from your carpet left by smoke, animals, and spills.
It removes the carpet stains from wine spills or maker dots your kids made.
It minimizes health hazards like bacteria and allergens.
You don't have to replace your rug constantly.
Carpet maintenance is of great benefit to your home.
Cleaning Different Types Of Carpets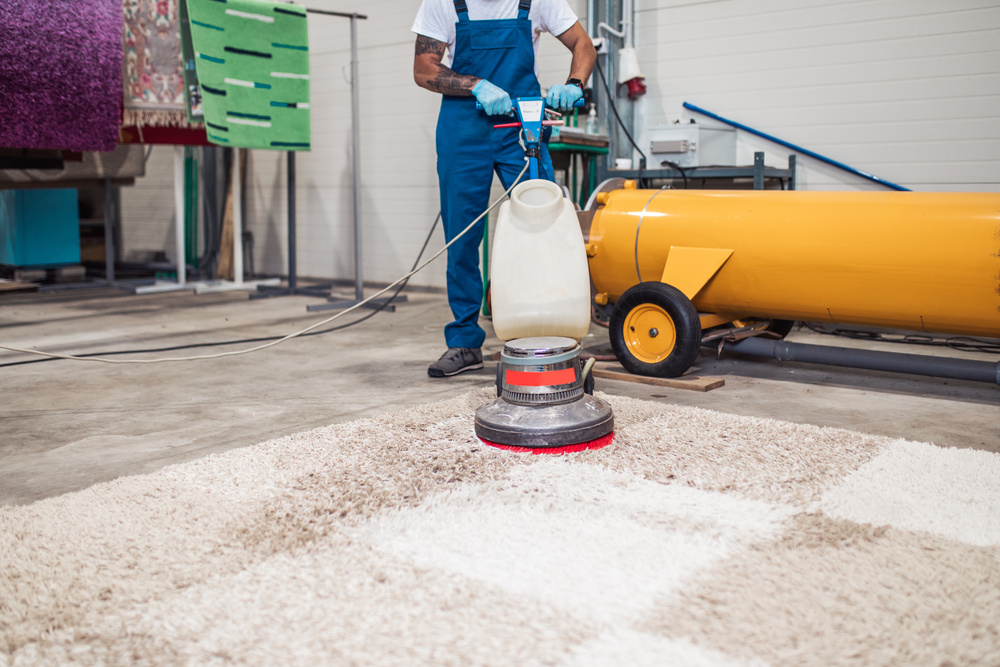 Vacuuming is the first approach to cleaning carpets but not the only choice you have. You can use various methods to clean your rug. More importantly, different carpets require specific cleaning methods. The following is how you can clean other carpets:
Synthetic: You can vacuum them constantly and use steam to deep-clean them. If you're doing it yourself, ensure you test the cleaning detergents in a hidden area before you start the process. This ensures the soap you're using doesn't spoil the rug.
Plant: These carpets have become very popular but are hard to maintain and clean. You should blot spills immediately and vacuum them regularly to remove any grit. But your best option is to have it deep cleaned by professionals with experience using dry cleaning methods.
Wool: Vacuuming is an excellent choice for wool rugs, but you must be very picky with your vacuum tools to avoid those that cause fuzziness. Use water and blotting to remove spills. Unless you know the right solutions to use on wool, have a professional do the cleaning.
The type of chemicals and expertise you use in cleaning differs for various carpets. Ensure you choose wisely to avoid causing damage.
Ways To Performing Carpet Care
A comprehensive carpet care program includes regularly scheduled cleaning and preventive care. You can make your cleaning life easier by getting your family to help with the care and maintenance. Here are the crucial steps you should consider:
Soil prevention: Keeping soil, dust, and sand from getting into your house is one of the best ways to prevent dirt from being trapped in your rug. You can have entrance mats that trap soil and keep dirt out. Your entry rug should be 6 to 10 feet long, and you should vacuum this every day.
Consistent vacuuming: Routine vacuuming clears the dirt that gets past the entrance mat. Doing it consistently, like twice a week in high-traffic areas and once in low-traffic, is perfect.
Regular spot and spill removal: Carpets suffer spills and spots now and then. These stains are easily noticeable and can ruin the beauty of your home. You should do the usual spot and stain removal using various remedies to get it off.
Deep carpet cleaning: Deep cleaning is time-consuming and labor-intensive and removes any dirt that the other cleaning methods couldn't remove. This has to be done by a professional who employs heavy-duty equipment. You can do a deep cleaning at least quarterly in high-traffic areas and twice a year in low-traffic rooms.
After you've completed the steps, you must let the carpet dry completely. Drying is crucial because if you put your carpet back when wet, the metallic legs of your tables and chairs can cause rust. Also, the dampness can become a breeding ground for bacteria.
Tips For Cleaning Your Carpet
When cleaning your carpet, you should follow a routine to ensure you get all the dirt. Here are some tips that can improve your carpet cleaning:
Use a broomstick to dust your carpet and shed any dirt sitting on it.
Thoroughly vacuum the carpet with the appropriate equipment.
Use solutions or detergents specifically made for carpets and lukewarm water to soak it.
Take a brush that has soft bristles and gently wash the carpet.
Rinse and wash out the soap from the carpet using clean water from a pipe or immerse it in a bucket.
Thoroughly squeeze the carpet to remove excess water to speed up drying.
Let the carpet sit in the sun until the moisture dries, then place it in a less sunny area.
Vacuum the carpet to remove the threads and fibers pressed together during washing.
Once you've done this, your carpet will be sparkling clean, and you can place it back.
Tips For Taking Care Of Your Carpet
Taking care of your rugs increases their longevity and the frequency of cleaning. Here are some tips on how to care for your carpet:
Remove pet hair using a squeegee.
Consider using curtains or blinds to protect the carpet from UV damage.
Rotate the carpet twice a year to control the accumulation of dirt.
Clean spots using vinegar or detergent powder and a towel.
Don't pull snags or sprouts; instead, clip them with scissors.
Use a coin to stroke the areas where heavy furniture has caused dents to level it.
Adopt the shoe-free policy in your home.
These are effective precautions and measures to care for your carpet.
Conclusion
Carpet care and maintenance enhance the look of your carpet, and you can use it for years. You can do this yourself or hire professionals you trust to help you. This is a detailed guide on every essential thing you should know about carpet cleaning to ensure you get the best results.