It's a feeling shared by all parents. One day you are in the kitchen, or busy doing something, you turn around, look at your kids and marvel: where did the time go? It feels like it was just yesterday when you came home with you little bundle of joy! You had spent weeks before their arrival, preparing the room where they will spend their early childhood and suddenly, they are all grown up kids roaming around. They have their own tastes and interest, something than, we don't need to tell you this, need to be considered in almost every decision to avoid tiresome fights and tantrums. This covers everything, from the school and sport apparel to clothes and shoes to the look of their room. For most parents, preparing the nursery room means generally adorning the room with a pleasant if maybe a little boring blend of pastel colours that tend to reflect the gender of the child.
This is actually a fine choice for the for the few months of the baby's life, since the new-born eyesight is not capable yet to distinguish between far away shapes, so a calming hue is a suitable background for their first explorations into a new world. That time is however long gone, and you have to deal with one or more fast growing, spirited kids with a clear idea about what they like or dislike. Spoiler alert: they tend not to be fond of those pastel colours…
With that awareness comes a realisation: you need to embark in the first of several redecoration projects for your kids' room, something that will occur at regular intervals until they are grown up. That's the problem with children's rooms: unlike adults, which have settled tastes, kids have this funny habit of growing up way too fast. The characters and toys they were obsessed with not so long ago can feel embarrassingly childish a couple of years down the line to your growing kid or teens. You need to accept this fact and make sure that the design of the room fits your child's growing needs and interests.
This is very important for them as that room is the place that need to foster their imagination and learning, a place to play but also seek refuge for the challenges of school and activities. This is after all the space where your kid spends most of his afternoons playing and learning. Regular updates to the room are both time consuming and can be a financial burden, as furniture is quite expensive. However, a fresh look can be achieved without restarting from scratch. There is an easy way to create a new vibe in their room: using a visually striking wallpaper on one or more of their walls. Modern wallpapers have come a long way since those old wall coverings you remember from your childhood. Technological evolution has gifted us with a wider range of new materials and textures easier to install and more durable than that old wallpaper peeling off the corners from your youth.
Comparing these contemporary wall coverings to a simple coat of paint is almost unfair as they offer an almost infinite variety of options, with unique textures and designs that cater to all tastes.
Choosing the wallpaper together
If your kids already have an opinion on their like (and if you are reading this, they definitely do), please note that it is always a very good idea to involve children when selecting patterns, motifs and structures of the wallpaper that will decorate their bedroom. Their choices will continue to change as they grow but no matter how young the children are, they should not be completely left out from such choice. A children room is the place where the kids get to play out their adventures and invite their friends over. It's not a quiet library room, it is therefore important picking a model of wallpaper that, besides being beautiful, is also durable, wipeable and ideally washable. For this reason, the functional and practical characteristics of wallpaper should be picked by you.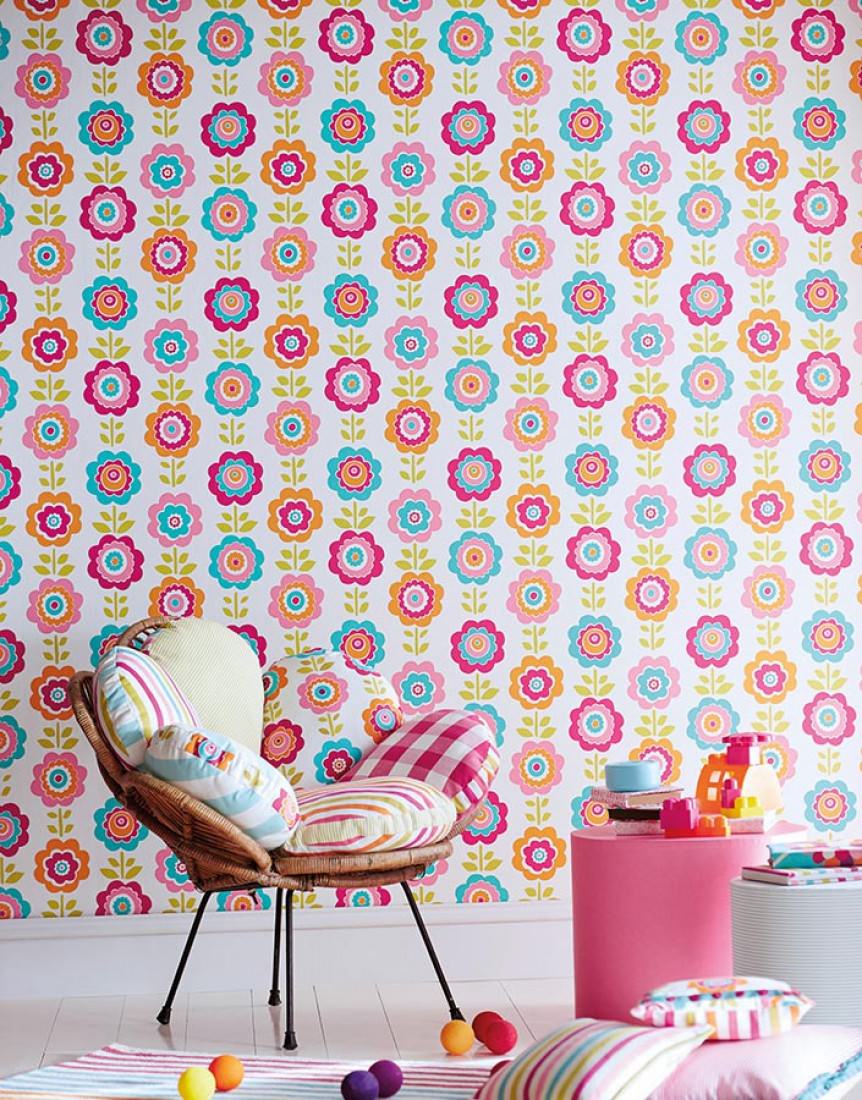 Are there clear distinctions between models for boys and girls?
Once upon a time there was an obvious answer for this question as the assumption was that girls' rooms needed to be featuring horses, princesses, unicorns and fairies in a feast of pink. A boy room will instead feature a bolder colour and either cars and trucks, rockets or sport characters. Nowadays these stereotypes are fading away and many motifs in wallpapers for kids can be attractive to all genders. This doesn't mean that you cannot choose one of these motives or colour variations of course but it is important to keep an open mind and avoid falling in the pitfall of deciding before enquiring. Thankfully there are many gender-neutral motifs that appeal to both boys and girls, like animals, pirates, comic characters, the sea and what is under it, as well as more abstract choices like letters or geometric shapes.