Redesigning or redecorating your home can be a mammoth task, and filling out the blank walls play an important role in it. Wall decorations completely change the look and feel of your home. A home with bare walls feels lifeless and dull, while a home with decorated walls gives a feeling of warmth and coziness.
If you are thinking of redoing the interiors of your home, then make sure to include "buy wall decorations" on your list, and I can promise you, you will not regret it. Moreover, buying wall decorations can be an enjoyable and comfortable thing to do, thanks to all the online stores and websites that offer thousands of products at affordable prices.
Two of such websites that sell wall decorations are art.com and alloposters.com. Well, to be precise, they mainly offer wall paintings, with allposters.com offering some extra decorations as well. These websites had seen immense growth in their customer base over time and pop up at the top when you search google for wall paintings, which is why you might have already landed on them before you landed on this article.
But, if you have not already bought anything from them, then I suggest you read this article first before making any move, as there is a lot of things you should know before you order any product from art.com or allposters.com. Below we have included a brief comparison between the two sites along with allposters.com and art.com review to help you decide whether to buy from them.
What are Art.com and Allposters.com? [Comparison]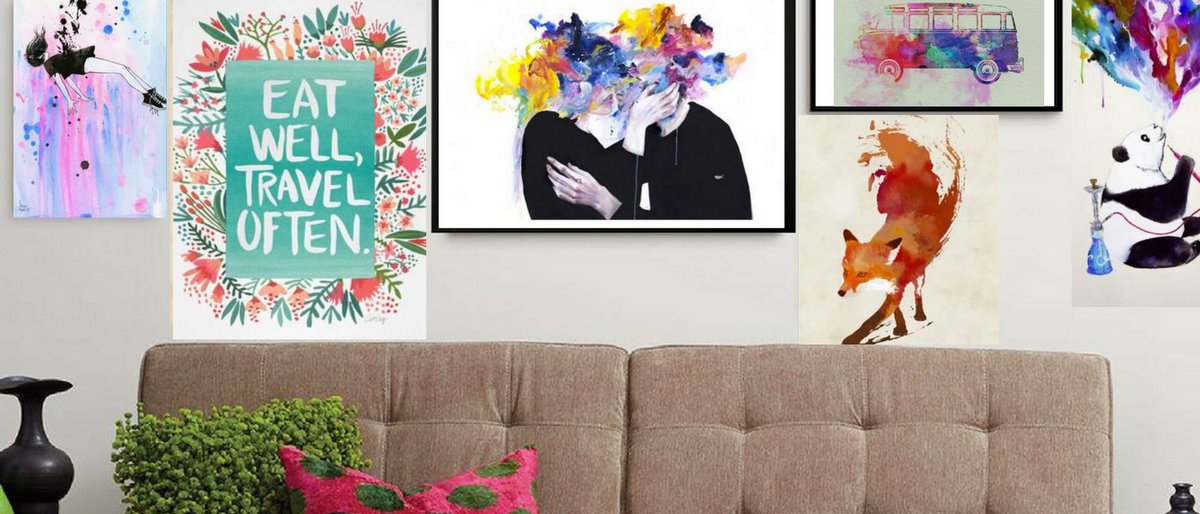 If there is one thing you should know right off the bat, it is that same person owns both of this brand. However, that does not go to imply that they are the same in every aspect. Both are a lot different from each other.
The only thing standard about them is the fact that they both are mainly known for selling giclée. In case you don't know what giclée is, it is the term used for fine art that is printed using an inkjet printer. Printmaker Jack Duganne coined the term in 1991.
In this article, we are going to compare these two very similar websites and see who offers better products and services. The Comparison will be based on different factors like product availability, variety, website UI, etc. This Comparison will also form the basis for allposters.com and art.com review, following which we will also see why you should not completely trust these websites. Let us get started.
Variety
In terms of variety, both websites are quite decent. Both of them have quite an extensive product base that covers almost every type of paintings and art. You can be sure to find something for your home within your budget on any of these websites. You also get a level of customization with your products on both websites, as you can specify the kind of frame you want with your giclée and its size.
You can get three to four different size options, and of course, the price of your product increases with size. Also, in art.com, the frames come in 3 different categories, classic, premium, and signature in increasing order of price.
Allposters.com, on the other hand, works a little differently, as it does not offer variations in size, but it does offer different kinds of stands or hangers with its giclée. Allposters.com also provides a little more than just wall paintings like wall decorations, wall posters, etc. One thing similar in both sites is the fact that they both sell printed photography as well.
Quality
In terms of quality, both websites rank equally. The quality of their products is not something you would call extraordinary. Nonetheless, their products are still pretty good. If you are to ask about the value for the money of their products, I would say that their products are a bit overpriced as compared to the quality on offer, but there are also products available in their sites at lesser costs.
Also, you can find them doing occasional sales, giving 30%, 40%, or sometimes even 50% off on their products. Moreover, you can always go for the cheaper frame to compensate for the extra cost of painting, as the more affordable frames not at all look bad compared to the expensive ones.
However, its not all roses and petals with the quality of their products. Several users have raised complaints about the quality of the product they received from art.com or allposters.com, stating that they either received a damaged canvas or a damaged frame or a picture that was not printed correctly.
 Therefore, it is essential to know that the same can happen with you as well, in which case you will have to reach out to their customer service to get your order replaced, which will cost you extra time. This now brings us to our next category, and here's where things do not look too good.
Customer Service
In terms of customer service, these websites need to improve a lot. People who were lucky enough to get the product they ordered in perfect condition and were not required to deal with the customer service of these brands will not have anything to say.
But the ones who had to deal with the art.com's or allposters.com's customer service have nothing but negative reviews towards it.  According to the customers, the customer service of these brands is not at all friendly or cooperating and will not ever accept their mistake.
And the issues with the service does not end with customers receiving faulty or damaged goods; instead, you can face all the different kinds of problems as well. A lot of customers have complained about them not receiving their products even after a month of ordering it.
One of their customers was also found complaining about receiving a completely different product than what he ordered, and the company never returned it or refunded him for it. A customer was also charged extra money in the name of customs fee, which was not shown on the bill at the time of ordering.
All these issues raise a doubt about the genuineness of the sites and can be a deal-breaker for a lot of people. However, you can also find a lot of happy customers from the site giving out positive reviews online, but you never know if these reviews are genuine or not.
Site UI
The UI of an online shopping site plays a very crucial role in deciding whether someone will prefer your brand over others. A simple and easy to use the website is always preferred over complex ones. People want it to be easy to navigate their way around a site to search for what they need.  
Art.com and Allposters.com nail it in the UI department since their website has all the features mentioned above. Their latest and most bought products are displayed on the homepage of the site along with any offers and discounts currently being given out.
On the left-hand side of both the websites, you can find a menu with all the different products that these sites sell. Upon clicking on any of the products, all the different categories of that product are displayed using a drop-down menu. All these features make these sites extremely easy to use, one of the reasons behind their success.
Extra Features
Both websites are either equally matched or have their advantage in every category we have seen so far. Therefore, the extra features on offer can be a deciding factor for whether someone chooses to go with art.com or allposters.com.
While the former does not provide anything extra in terms of products, except for selling framed photography, it does provide a straightforward service, which is free design advice. Which essentially is an expert guiding you in choosing the right décor for your home, for free. Other than that, they also offer a photo framing service, but it would be a better choice if you get that done from a local shop.
The latter site, on the other hand, offers a lot of additional products in their catalog, including posters, wall decors, framed photography, etc. However, it does not provide any useful services like art.com's free design advice.
This is all the information you will ever need to decide which website to go for. Deciding that is up to you. And of course, you can choose to go for none. However, there is one more thing that I think you should know.
Something to Know About Art.com/Allposters.com
While both websites have a lot to offer, there is also something of which they can be guilty of. There is no way for us to verify it, but these sites have been alleged to use the artwork of various artists without having the copyright and selling it on their websites. You can find a lot of reviews and articles online related to the same, and if these allegations are correct, then I suggest you not to visit their website.