As a kid, I had seen floors just vanishing and replaced by beautiful heavy wooden "carpets," which made loud clicking noises when I walked on them with my heels on. They made me feel like a boss lady.
 Even as a kid, I used to feel like such a grownup, all ready to take on the world when I used to walk on such flooring. As a grownup, I am no different. I love to hear the clicking clacking sound as I walk. From the bed to the kitchen in my pajamas, half asleep, to make coffee, at 11 in the morning. 
When I bought my flat, I was adamant about getting those floors at any cost. I had been longing for my boss lady floors since I was 10, and now I was near to achieving my dream floor; I was in no mood to back down and go for regular floors. 
I wanted my flat to be all "decked up" by the time I moved in. After searching for my perfect decking to go with my apartment, I found Azek. I went through all the Azek Decking Reviews, and it was love after a lot of research. 
Azek Decking reviews told me everything I should know about Azek. Azek is a building products manufacturer of capped Polymer and capped composite decking under the product brand – TimberTech®. 
It also manufactures other products like rails, trim and molding, porches, lighting, under decking drain systems, accessories and paver products that match the deck styles. They are categorized under their Pro and Edge product lines. 
Azek has an entire line of materials and accessories developed to offer its customers a streamlined look at the homes outdoors. If your dream deck extends past a platform and railings, Azek offers cladding to give your deck style with the surrounding walls.
Azek decking is made of PVC (Polyvinyl Chloride) and Polymer, making the deck stain and scratch-resistant. The interior core of Azek boards comprises 100% recycled plastic, adding rigidity and resistance to water and rot. The brand promises consistency of the same color after use over many years, satisfying the homeowners.
Azek Decking Comes in 3 Basic Designs- Vintage, Arbor, and Harvest.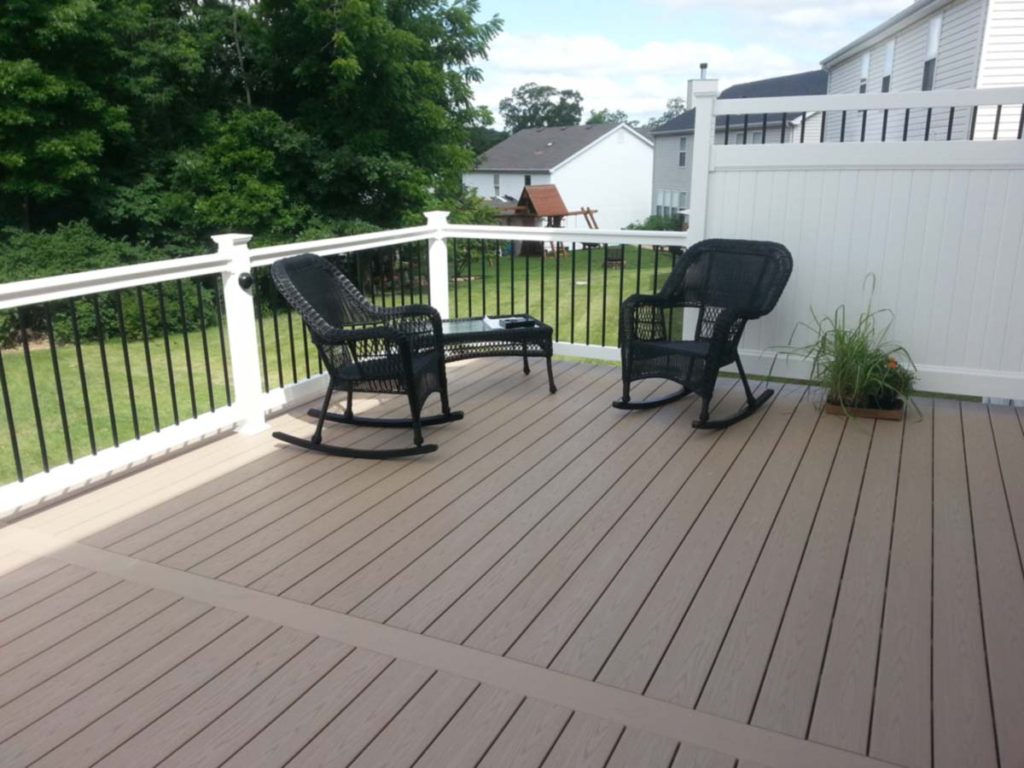 Vintage Collection 
The Vintage collection is the designer series, which gives you various colors, styles, and three different board widths complementing the midcentury and modern home designs' architectural features. 
The Vintage Collection is available in 6 types of finishes:  English Walnut, Coastline, Weathered Teak, Mahogany, Dark Hickory, and Cypress, all made of premium capped Polymer and are Class-A Flame Spread. 
The finishes come with a 50 year No fade/stain warranty and are Moisture and Slip Resistant. They are available in MAX Width (1.5″) and multi-width.
Arbor Collection
The Arbor collection mimics the natural hardwood textures in exotic colors. It is available in 4 finishes – Brazilian Walnut, Morado, Autumn Chestnut, and Island Oak. 
The finishes come with a 50 year No Stain/Fade warranty and guarantee and are made Slip and Moisture Resistant. Like the Vintage Collection, the Arbor Collection is too made from premium capped Polymer.
Harvest Collection
The Harvest collection is designed and priced to compete with other composite decking companies mimicking the traditional hardwood texture and warm deck colors. It is not much different than the Vintage and Arbor Collection except that it is not a Class A Flame Spread, and this collection is made to cater to customers with a low budget and basic requirements. 
It is available in 3 finishes – Slate Grey, Kona, and BrownStone. 
Azek is a perfect fit for your home if you want a modern wood plank look on the exterior of your home or want patio fencing. The Porch's flooring is designed with the groove system's interlocking tongue, which is great for retaining a traditional porch look with minimum gaps between the boards. 
Azek decking reviews were also helpful to me in keeping in mind the advantages and disadvantages of going for Azek throughout my research to make a well-informed decision about decking up my flat.
Advantages: Azek Decking
Durability: Azek decking is tested to not rot, stain, mold in any condition. Azek also makes fire-resistant decks for maximum durability and safety of the customer.  Adding to that, all its collections come with a 50 year No Stain/Fade Guarantee and Warranty. 
Low Maintenance:  It is stain and fade resistant, and thus the decking does not require sanding, sealing, staining, or polishing. It is maintenance-free; just simple cleaning for dust and granules will suffice as far as "maintaining" your floor goes. 
Variety of Options:  Azek has three different collections – Vintage, Arbor, and Harvest catering to all kinds of customers with different budgets and requirements. The collections themselves have a variety of finishes and colors for the customers to choose from for a maximum variety of products.
Disadvantages: Azek Decking  
I think the only disadvantage of Azek is its Cost. Solid PVC Decking is a costly option to go for in the market. Still, if you start comparing this with traditional decking, you'd want to opt for this because of its oh-so-attractive benefits, durability, and low maintenance. 
Best of all, Azek has an economic segment for customers who want premium products but have a low budget. They can opt for the Harvest Collection. It is almost the same as Azek's Premium line – The Vintage Collection, except for a few snips in the features.
TimberTech Pro Vs. Azek Decking
Azek and TimberTech Pro are two lines from the same brand – TimberTech.
The market equally prefers Azek and TimberTech Pro, but they do have some notable differences.
Though both product lines are "capped," i.e., the ends of the decks are covered and sealed by an added layer of protection to avoid moisture intrusion, which helps in preventing mold and mildew from growing beneath your deck and preventing the contraction and expansion of the deck over some time due to excess heat or cold. 
Comparing the two lines based on boards, warranty, maintenance, and resistance: TimberTech Pro composite provides four-sided protection from unwanted elements and has a 30 Year No Fade/Stain Guarantee and Warranty and a 30 Year Limited Structural warranty on residential applications. 
The boards are available in scalloped and full profile designs to meet multiple uses and fulfill any customer demand. It is low maintenance, stain, splinter, crack, warp, and moisture resistant making it a homely product and a favorite among the homeowners and interior designers. 
Azek PVC decking, on the other hand, is a premium PVC product that comes with a 50 Year No stain/Fade Guarantee and a lifetime structural warranty for residential applications. All the boards are solid in profile, making it a firm but heavy product. 
It is equally low maintenance as the TimberTech Pro and is stain, splinter, cracks, warp, and moisture resistant. But it is a slightly better product in terms of moisture resistance and fade resistance because it is made of PVC while TimberTech Pro is made from wood.
In terms of Collections and Variety of Options, TimberTech Pro is available in 3 collections – Terrain, Tropical, and Legacy. All the products under these collections feature wood grain patterns and have various modern colors to choose from for a modern, minimalist, or outgoing home exterior or interior. 
Azek is available in 3 collections as well – Harvest, Arbor, and Vintage. All the products have varying degrees of wood grain patterns and textures.  
Generally, when it comes to cost, composite decking (TimberTech Pro) is less expensive than PVC decking (Azek); the two products we have in front of us support this observation. Azek is a more expensive product than TimberTech Pro.
However, the deck's final Cost depends on many other factors, including the complexity of the design and which specific TimberTech Pro and Azek collection and the product you want to opt for. 
Now before opening your browser and looking through all your decks' choices in the market, here are some decking questions to make your search a lot easier.
What is a Deck?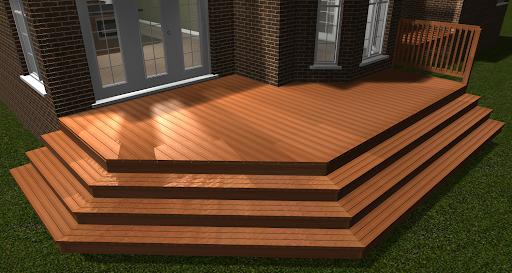 A deck is a flat, roofless wooden platform, made initially of lumber and elevated from the ground. It includes a space for barbecuing and dining or leisure seating. Decks are usually enclosed with a railing. 
Nowadays, decks are used in indoor flooring because of wood's versatile characteristics and the heavy finishing most brand names offer to smooth out the rough look and feel of the wood. 
Wood being the usual decking material has been joined by PVC being its more expensive, premium alternative for the households who want to go for the latest and not give the old-world touch to their houses. 
Is Decking a Good Idea?
If you want lots of detail and exciting features, paving will be a better option. It is easier to create patterns and different textures with paving. But if you want something minimalistic and straightforward, you should consider decking.
Does Decking Attract Rats?
Even though house renovating shows have called decking the trendiest way of designing your house, it is relatively unpopular for attracting a plague of unwanted animal guests. 
Pest control experts warn that the void beneath decking is proven to be an ideal breeding ground for millions of rats and mice.
Therefore, it is suggested that your house should be free of pests and your deck treated to avoid such a situation.