Cambria is the widely recognized and leading quartz stone surface producer. Cambria provides you with a very luxurious countertop experience. Even after being one of the most rigid materials in the world, Quartz comes with an added beautifying allure. Cambria produces non-porous, non-absorbent, and stain-resistant high-quality Quartz, which is naturally strong, durable, and lasts long.
The main highlight of this Quartz is that even after heavy use, you do not have to worry about any maintenance cost as there will be no leakage or sealing. Coming towards the cost, Cambria USA Quartz Countertops comes at a price between $70-$80 per square foot, depending upon the color and style which is suitable for you.
The square foot price generally includes material, the template of the project, fabrication to your given measurements, and the installation of the countertop stone. Cambria Countertop installation cost somehow depends on your location in the country, but the quality will never be compromised.
Also, the contractors will add some extra price for additional parts of installation like beveling edges, leveling, cutting out a space for a sink, joining seams, etc. which can go up to $100 to $200 per square foot. If you are thinking of remodeling your kitchen, which is around 300 square foot having 12 to 13 feet of countertop space, you are going to have to spend around $2000 to $3000.
Old countertop removal will also cost around $300 to $400. If you live in the countryside, expect to pay around $150 to $200 for shipping charges as well. On the company's main website, you can buy a 3×3 sample for around $3.50 to $4.50 and a 6×12 sample for $13 to $14. It also offers Home Décor items made from the Quartz like:
Medium-sized board (rectangle) for $100
Lazy Susan (round 18-inch diameter) board for $225
A set of Bookends for $50
A business card holder for $12
Cheeseboard for $80
A set of 4 Coasters for $40
About Cambria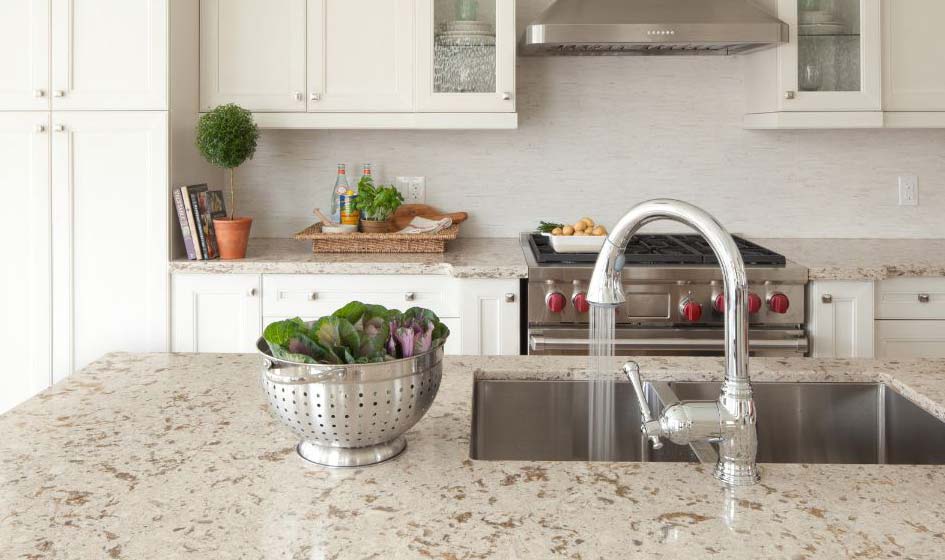 In today's increasingly globalized market, Cambria stands apart and prides itself on being a rare combination of a leading family-owned, American made producer of natural stone surfaces.
Cambria provides their customers with top quality, handcrafted products at which they can be proud of with its breathtaking beauty, exceptional durability, and maintenance-free convenience backed by dedicated customer care service and a full lifetime warranty.
Mark Davis and Marty Davis are the names behind the unbeaten run of the Cambria. The main headquarters and processing facility are located at 31496 Cambria Ave – Le Sueur. The current year marked its 20th anniversary.
Only the purest white pieces of Quartz are mined from Cambria's proprietary mines. An Engineered Stone is what they call it Cambria, which is made up of 93% crushed quartz (while most of its competitors struggle to surpass 90%) and 7% binders and pigments.
While manufacturing, a small amount of binder chemical is added to the Quartz, which makes it pore less, differentiating it from Graphite. Quartz attains a score of 7 on the MoH's scale of hardness, falling just three spots behind Diamond, known as the most challenging rock or mineral found on earth. Being scratch-resistant, you will need another piece of Quartz to scratch a Cambria Countertop.
Why Cambria?
As we discussed earlier, its Maintenance free because it will not require any chemical polishing or any sealant application, which can cost up to an extra $200. It is resistant to stains and more uniquely resistant to the growth of bacteria as it will be unable to penetrate the non-porous material; therefore, it is as hygienic as stainless steel.
Cambria's Quartz is Green guard Indoor Air Quality Certified for children and schools. Also, it is certified by NSF International (Standard 51: Food Equipment Materials) as safe for use as a food preparation surface. The company source and manufacture in North America, thereby reducing the transportation requirements from the Quartz that is produced abroad and imported.
Cambria's mines are fully equipped with sustainable hydroelectric power generators, and they also recycle all their metal equipment and 100% of water, which they use to polish the Quartz. Hence, their products are more on the eco-friendly side than other quartz manufacturers in North America.
Home Depot Quartz Countertops
The Home Depot, Inc. is the largest home improvement goods retailer in the United States, supplying tools, construction products, and other services. The Quartz Countertop department of Home Depot offers five leading brands, which include Silestone, LG Hausys Via tera, Caesarstone, Stone mark, and Cambria. The color choices available are White, Grey, Beige, Black, Brown, Gold, and Multicolored.
Lowes Quartz Countertops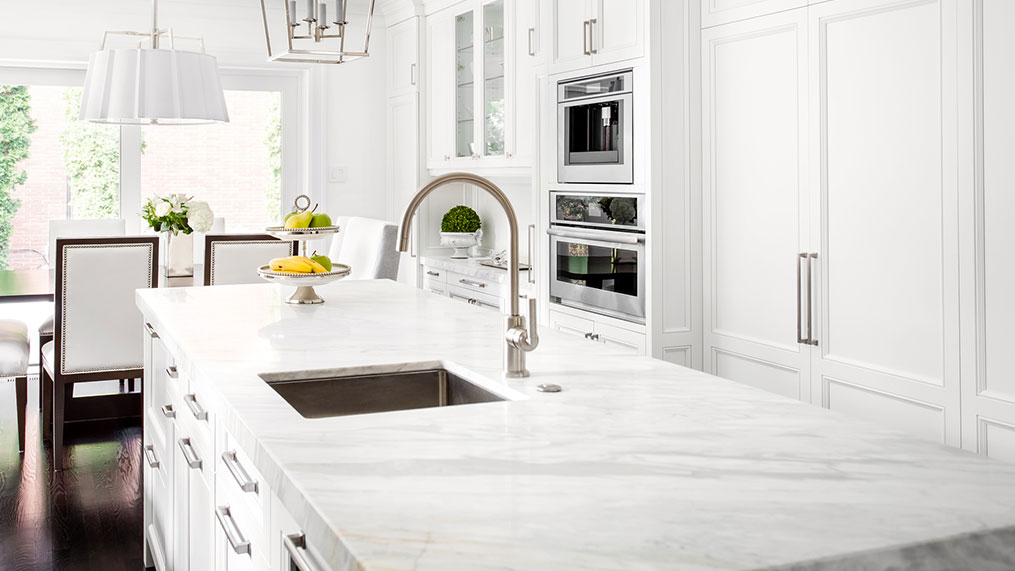 Lowe's Companies, Inc. is an American retail company specializing in home improvement supplies. It is the world's second-largest home improvement retailer after Home depot. It offers only three choices in the Quartz Countertops department, including Allen + Roth, Silestone, LG HI-MACS, with color options ranging from Gray, Off White, White, Brown, Black to Gold, Silver and Multicolored.
Comparative Study of Prices
Cost of a full Quartz Kitchen Countertop
Average Cost: $3,750
High cost: $5,000
Low Cost: $1,000
Average Cost Based on Quality of Material
High quality: $75 – $150 + per square foot
Mid quality: $65 – $75 per square foot
Low quality: $50 – $65 per square foot
Average Cost Based on Different Brands
Cambria USA Quartz: $75 – $ 80 per square foot
Corian Quartz: $60 – $100 per square foot
Casentino Quartz: $55 – $90 per square foot
LG Via tera Quartz: $65 – $75 per square foot
Han stone Quartz: $55 – $95 per square foot
Caesarstone Quartz: $60 – $90 per square foot
Samsung Quartz: $50 – $60 per square foot
IKEA Quartz: $45 – $80 per square foot
Cost to Install Quartz Countertops
Materials: $45 – $100 + per square foot
Installation Labor: $40 – $70 per hour
Delivery charges: $150 – $200
Additional Work: $500 +
Old Countertop Removal: $300 – $450
Edge Treatment – Some essential edge treatments are Straight, Eased, Bevel, Bullnose, and Ogee. These will cost extra up to $35 – $65 per foot except the straight ones.
Finishes – To match your countertop with the rest of your kitchen, countertop finishing is applied. Main finishes include Polished, Honed, Concrete, and Rough.
Quartz vs. Granite Countertops
Granite is a solid natural stone, mined as a single block while Quartz is called an Engineered stone.
The coloration of Quartz is more consistent and is available in a wide variety.
Granite requires sealing upon installation and subsequent regularly resealing, making it a high maintenance option, while Quartz does not need this level of care. Hence, more durable.
Low-end Granite is cheaper, but prices increase for more high-end products while Quartz has a medium to high pricing range. Low-grade Granite's cost is less expensive than low-grade Quartz. Granite sells for around $40 to $110 per square foot or about half that you spend on a quality quartz countertop.
Granite has a slight edge on being ecofriendly and has more thermal shock strength.
Quartz is stain and bacterial growth resistant as it is non-porous, while Granite has pores.
Quartz has more strength. It tolerates more heat and is more workable. Also, it has better impact resistance and chemical resistant.
Cambria vs. Home Depot / Lowes Quartz
Cambria is a renowned human-made Quartz producer and offers the best experience of countertop you require for your house. You can always purchase the product directly from the producer and hence eliminating any middleman like the big box stores, i.e., Home Depot.
When you are planning on renovating your whole kitchen, it is much more comfortable to buy all your goods from one place, but that will not be a good deal for your kitchen as well as your pocket. Giant retailers like Home Depot sell a lot of other things also, and the Quartz countertops are not their primary focus but just an addition to their department.
Also, Cambria makes and directly offers 100 + colors while Home Depot sells only 16 and that too on a higher rate, so that is there. They usually force you to choose from a small variety available and try to give you bait with a discount for which they will overcharge you later.
There is nothing special about Lowe's, too, as it is only a slightly low-level Home Depot, which offers minimal choices in this department, and they generally do not even sell Cambria Countertops. IKEA is also among these retailers, which offers mediocre products backed by matched customer service. But originality is the first thing you considered right!
After all the hustle-bustle we just discussed, one should always go directly to the source and eliminate the middleman that has a little to some experience about the material you are buying from them. Cambria offers small to medium samples of their products on their official site, which you can order and quickly select the desired option. Buying directly from the manufacturer will require some extra time, but it is worth it.