Bathroom Heat Lamps are useful to install, some of us might agree with this statement, and some might not. Various companies still install bathroom Heat Lamps, and because they are infrared, which uses an incandescent light bulb to produce heat rather than light. They produce light, but their most consumption is towards generating heat.
The standard bulbs do not produce heat; their primary purpose is to produce light, that is why they do not have infrared light in them, and the little heat they produce is considered waste. It is recommended to use the bathroom heat lamps for when you need, as they quickly make your bathroom hot, rather than keeping it on for a long time.
When you have plenty of heat in your bathroom, you can easily take showers or baths, especially during winters. It will even keep your tiles warm so that when you take that hot shower, you do not feel uncomfortable walking on cold tiles. Positioning your heat lamp is also very important because it will make the area warm in a couple of minutes.
Usually, heat lamps are installed on a ceiling, so you will need to make sure that it is placed directly where you want it. Leaving a bathroom heat lamp on for a more extended period will no doubt produce warmth, but there are many more energy-efficient heaters that you can buy, which have heating as their primary source and save energy too.
Factors Which Make Bathroom Heat Lamps Useful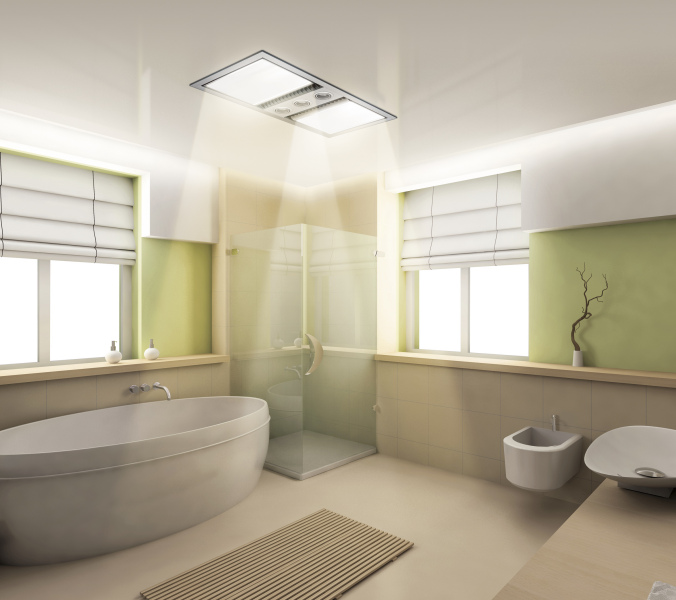 Bulbs
In the past, heat lamps were used to be big, but nowadays, the bulbs are modern, compact, and quite attractive. So now, the bathroom heat lamps have infrared light in them and look precisely like the standard bulbs but with infrared radiations that would heat the room. They are made to specifically use in the bathroom, as they can even absorb the moisture or splashing of water.
Ventilation
There should be adequate ventilation in your bathroom, especially when you are using bathroom heat lamps. With the help of ventilation, any steam or fumes can be prevented to build up and prevent the problems of damp.
Many heat lamps are designed in such a way that they provide both heat and ventilation by having a fan built in the lamp. With the fan, the heat can also be spread all over the bathroom, rather than one selected area.
Power
Power is one of the essential features that you should check when purchasing heating lamps. The more powerful the lamp is, the more heat will be there. For small bathrooms, a giant bathroom heat lamp is not required. Larger lamps will automatically be more potent than the small ones, as they contain multiple bulbs. Make sure to check how many numbers are there in the bulb and how much watt each bulb represents.
Noise
The noise produced by some bathroom heat lamps can be more than others, so it is suggested that you should check how much noise it makes before purchasing it. You would not want to buy a lamp with loud noise while relaxing in your bathtub and taking a hot, relaxing, and long bath. Go for the quieter lamp, even if it means that you got to spend a few bucks more.
Heat and Light
Some bathroom heat lamps have both features of providing heat and light, as they include multiple bulbs, all having different purposes. These lamps with both features are the best to use. Make sure that the lamps have the on and off switches separately so that you do not have to turn one thing on and the other thing too.
Installation
It is recommended that a professional and well-trained expert installs the bathroom heat lamps, rather than doing it yourself. Working with electricity can always possess risk, so it is recommended if you do not install it yourself.
Heat lamps should be installed in the right fixture. The lamps should not be installed near towels or shower rails as these become overheated. You should also place the lamp where you want the heat to be more.
Prices
A single bulb can cost around $10. At the same time, multiple bulbs, and lamps, which also include a fan, can cost somewhere around $100. Nowadays, the cost has decreased since many people wish to purchase. Still, some profitable brands are expensive.
Some of the Bathroom Heat Lamps that are Recommended by People:
1. Aero Pure Quiet Bathroom Fan
This fan has combined features of both heat and light. It includes a multi-function switch, two 270Watts anti-blast heat lamps, one 60Watts incandescent bulb. It is white and produces 1.0 sones of noise. Its air volume is around 80 CFM. The fan, heater, and lights will be wired separately.
Please do not install it over the tub/shower directly. The dimensions of the grill are 15.75″ W x 9.06″ D, whereas the housing dimensions are 7.25 x 13.18 x 7.05 inches. It produces 120 Volts. It also includes UL, CUL certificates. It includes a 4-year warranty, wherein you can replace any product if damaged.
No products found.
2. Broan-Nutone Bulb Heater
It includes a high-quality heater that provides comfort instantly in your bathroom, and you would not need to turn up the central thermostat for it, making it worth purchasing. In this model, use two 250Watt, R40/BR40 size infrared bulbs, which are sold separately.
For installation, the insulation contact unit is installed in your ceiling, so that everything but the bulbs and white grille appears in your bathroom. It has a sturdy steel housing, adjustable mounting brackets with keyhole slots, which makes the installation logical and straightforward. It does not include a fan in the model. The product dimensions are 14.25 x 6 x 8.38 inches.
No products found.
3. Philips Heat Lamp Lightbulb
This single Philips LED lightbulb produces 250watts of power. It measures 6.29 x 5 x 5 inches. It produces 120 volts and is evident in color. The bulbs are made from recycled glass and packaging material, making it environment friendly.
It has an estimated energy cost of $7.83, on an average usage rate of 3 hours per day. They use infrared technology to provide warmth indoors. They fit in any medium screw base and weighs 5.2 ounces. It has a unique feature of dimmable lights.
No products found.
4. Air King Bulb Heater with Exhaust Fan
This heat lamp comes with an exhaust fan. The lamp grill measures 10″ W x 10″ D, whereas the housing measurements are 8″ L x 8″ W x 5-⅞" D. The item in total weighs 15 x 9 x 8 inches. It operates at 70CFM, produces 3.5 sones of noise level, with a low-profile, includes a white polymeric grill and a one-piece polymeric blower wheel.
It uses two 250Watt, R40 medium base infrared lamps, not included with the product, for just the exact amount of heat you want. It provides protection against backdrafts by using 4″ round metal duct connection collar and damper. It includes adjustable hanging brackets, which makes it easy to install it. It is HVI certified and includes a 1-year warranty.
No products found.
5. KOR Heat Lamp
This is an R40 infrared heat lamp that operates on 250 watts and 120 volts. It measures 6 inches in length with 5 inches in diameter. It has a deep red bulb face and a medium E26 base. It generates less light and more heat.
You can even use this bulb for your pets. You can also use it in your spas, saunas, and bathrooms. It is made to last an average of 6000 hours, which is five times more effective than the standard heat lamps. It is used with specifically recessed light fixtures and fits in most metal clamps spotlight fixtures./p>

No products found.
Conclusion
Bathroom Heat Lamps are very much still in trend, and you can use them with proper installations by expert professionals for your bathroom. Just like in the article, there are few features that you should keep in mind before purchasing them, as they are essential.
Make sure that whichever lamp you buy suits your needs and wants. You can either go for a single bulb, or multiple bulbs, or even bulbs with fans. It all depends on your choice of interest.