A warm and cozy home at the perfect temperature can lift your mood and hike up your comfort more than you can imagine. Especially during chilly weather, you need to be armed with a good furnace.
Whether you have already decided to go for Lennox furnaces or if you are still deciding, in this post, we will talk about Lennox furnaces, their efficiency, and if they are worth the money.
Let us go!
Are Lennox Furnaces Good?
Lennox is one of the top HVAC companies and is known for manufacturing high-quality HVAC products, including air filters, air conditioners, water heaters, etc.
After all, a company in the market for more than 100 years and still stands strong must have some credibility to maintain a loyal customer base successfully.
Speaking of Lennox furnaces, they too are made of excellent material and are indeed a good investment.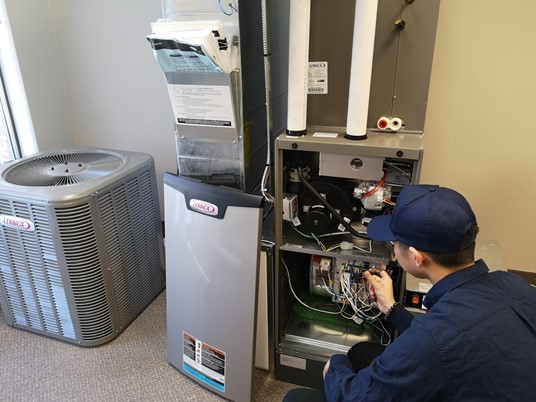 To help you understand the products better, we will list down some pros and cons from every model below, and then let us see how good these Lennox furnaces are. 
Pros:
Most Lennox furnace models are extremely energy efficient. Hence you save a lot on electricity bills without compromising on the service.
Most Lennox furnaces are durable and meant to stand the test of time. On average, a Lennox furnace lasts for about 15-20 years, which is indeed an incredibly long-running service.
Their warranty period on different models is also significant. The covered component of most models has a warranty period of 5 to 10 years. In contrast, the compressors have an average warranty of 10 years, and the heat exchangers have an average warranty of 20 years. The exact warranty period depends on the models.
Lennox furnace has an excellent AFUE rating. AFUE rating tells us about the efficiency of a furnace. Most Lennox models have an AFUE rating of 93% to 98%. With only two models being at 80%
Cons:
Lennox does not have a policy of unit replacement warranty that other competitor brands have recently adopted.
Being a premium brand, it is a little costlier. If you opt for a top-tier model, you will have to pay around $5000, including installation charges.
For some models, the warranty period for replacing some components is as low as five years. This is something that a lot of customers do not like.
It lacks a few latest features that its competitor brand Carrier is providing to its customers.
So, from the above list of pros and cons, we are pretty sure that you were able to make your decision. We want to conclude by saying that no brand has no cons or no shortcomings. You are just a must-see which brand can fulfill your needs the best. 
Lennox indeed is an excellent brand with high-quality furnaces, and if you have made your mind to go for it, we want to add that you are making the decision.