Moving into your first apartment in college is very exhilarating. It will become your own home—a place to relax and feel cozy. However, before you can enjoy this new and exciting chapter of your life, there might be a few crucial things you must take care of. One of which is furnishing your apartment with everything you need for a comfortable life.
Today, quite many rental homes come unfurnished. If you rent a flat like that, you will need to fit it out right away in order not to move into bare walls. And even if your apartment comes furnished, chances are that you will have to purchase additional stuff to make it feel truly like home. Equipping your flat is a long and tedious process. So you might want to find experts to ask, "Please, write my assignment," if you do this during school days. This way, you will be able to shop for the right pieces without having to worry about your grades. When you free up enough time, read on to learn how to furnish your first apartment the right way!
5 Essential Furniture Pieces for a Student's Apartment
Before we can tell you how to pick the right stuff for your home, it's important to know what exactly you will need in your flat.
Below is a brief checklist of the most essential things you will need in your home:
Bed. This one should go without saying. You need a nice and comfy bed in your flat to get plenty of good sleep after busy days in college.
Desk and chair. These are the two primary furniture pieces for your at-home study space that will let you do your homework and academic papers comfortably and, thus, productively.
Bookcases or bookshelves. As a college student, you must have plenty of textbooks, books, and other academic supplies that all must be stored somewhere.
Clothes storage. Your clothes and other personal items also need dedicated storage space. It can be anything, including a wardrobe, drawer dresser, cabinet, etc.
Soft furnishing. Items from this category might not feel like first-priority things. However, you do need them at your home to make it feel cozy. Thus, things like sofas, lounge chairs, cushions, rugs, and similar should also be on your checklist.
Factors to Consider When Choosing the Right Furniture
Now that you know what exactly you should shop for, let's move on to the details.
As a student and first-time apartment tenant, you might not have any experience in fitting out a house. Respectively, you might not know what to look for in furniture. To help you handle this matter the right way, below is an overview of the most crucial factors you must keep in mind.
Function and Durability
First of all, before picking any piece of furniture, you need to consider what use it will have in your home. Some items might be used more frequently than others, which will determine their characteristics, such as material, color, etc. Most importantly, the function will determine how resistant each item must be to wear and tear.
Taking it from there, the second crucial factor is durability. The stuff that you will be using the most throughout the day must be the most durable. Moreover, its features must correspond to your lifestyle. For example, if you like having friends over or throwing parties, you must pick items that are very durable and easy to repair or clean from stains. Or, if you are a pet owner, you should look for scratch-resistant materials like velvet.
Versatility
Picking furniture as a student most often will mean having a restricted budget. Due to this reason, you cannot afford to buy things that will become useless in the near future. Instead, you should look for pieces that are versatile and flexible enough to serve you for years to come.
This means that you should opt for items that can easily fit in multiple places in your home. Also, they should be versatile enough to fit into another apartment in case you decide to move. Lastly, they should be flexible enough to meet your needs in different situations. For example, instead of buying a simple small dining table for yourself, you can buy an extendable one that would fit into spaces of different sizes and still give you the possibility of inviting guests for dinner.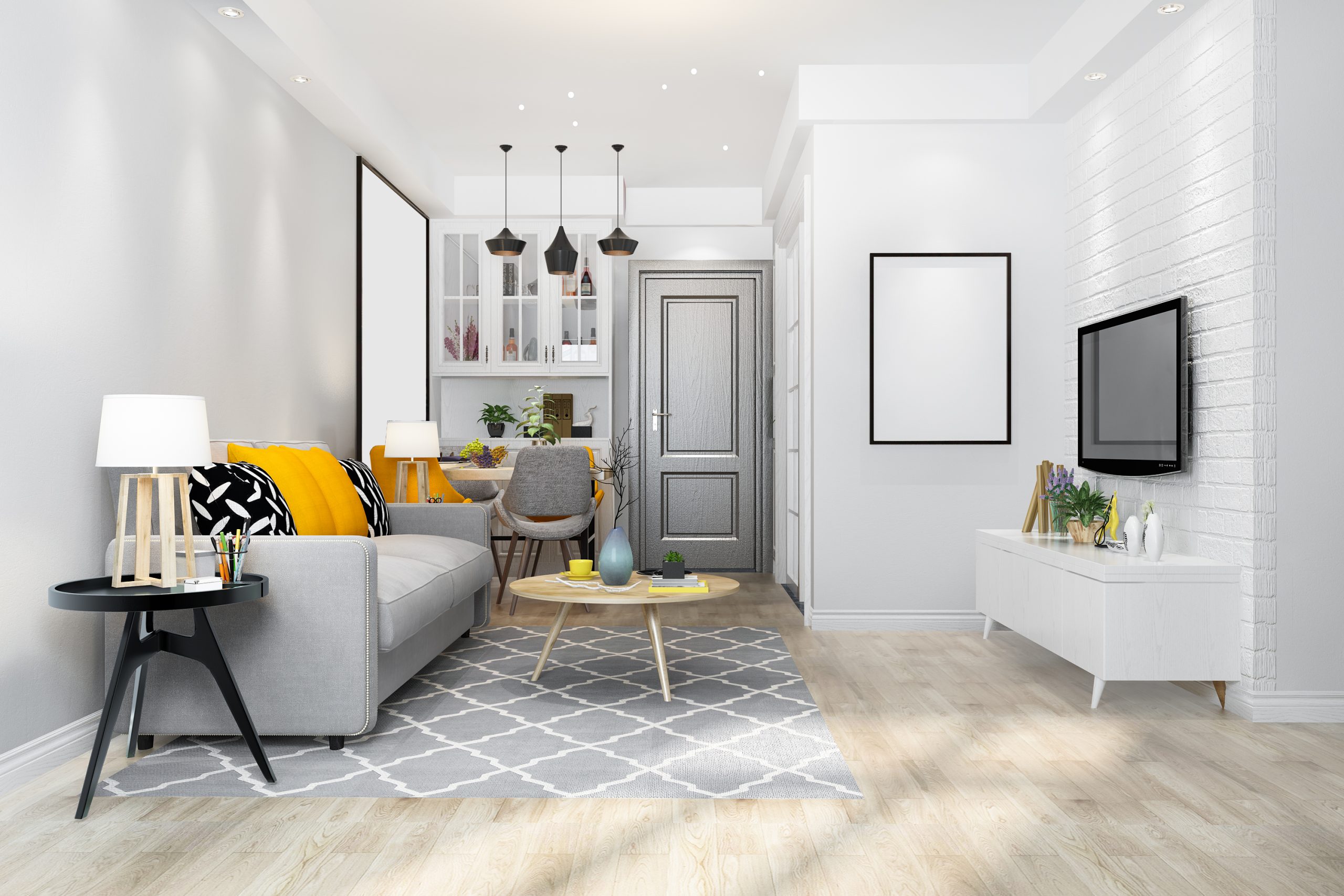 Size
The size of every piece is another important factor. Sometimes, inexperienced tenants purchase things thoughtlessly and, eventually, find out that they don't fit into their space. To avoid such disappointment, you need to take careful measurements of every room before you go shopping for the things you need.
Pro tip: It can really help to lay out pieces of paper or cardboard around the room to represent the dimensions of every piece of furniture and see how much space you will have left. Use this tip to shop wisely.
Ergonomics
This factor is especially crucial when selecting items for your study space. Both your table and chair must be ergonomic in order to reduce any risk factors that can lead to discomfort in your back or the rest of the body. If you opt for ergonomic options, you will be able to study more efficiently and productively while also being comfortable.
Color and Personality
Finally, only after all the aforementioned factors can you consider external factors like colors, models, and others. Pick items that match your personality and the overall style of your home. And, of course, consider the price to ensure that fitting out your home won't make you go over your budget.
The Bottom Line
Furnishing your first apartment is exciting, though rather challenging. To handle this task well, you will need a lot of time and some knowledge of what to look for. Thus, find the best essay writing services to delegate your current tasks to professionals and save time. And use the tips and knowledge from this guide to pick the best items for your new home.