If you are planning to buy new flooring and you are trying to decide whether or not spending the extra money on real wood flooring is worth it or if laminate flooring is the smart option, this article should help.
Pros;
As good as all the modern wood imitation floors have become there is still nothing that quite compares to the real thing. Some people even like the smell of real wood flooring which you don't get from the imitation versions.
Providing the wood flooring is of good quality and installed and maintained correctly, it can last and look good for decades or even centuries.
Providing the wood is sustainably sourced and manufactured, it is a renewable source of material that doesn't damage the environment like plastic because it grows naturally.
Good quality wood flooring is often considered timeless, in the sense that it doesn't go out of fashion. This is likely due to the fact that it is a natural product. A well maintained real wood floor in a natural colour can easily still look fantastic after 50 years +. There's not many floor types that can do that.
Thanks to improved technology and successful manufacturers there is plenty of real wood flooring options to choose from.
A huge pro of real wood flooring is the ability to have it sanded back. This process removes the top layer of the floor to reveal fresh wood underneath. This process often completely renews the flooring to the condition it was when it was brand new.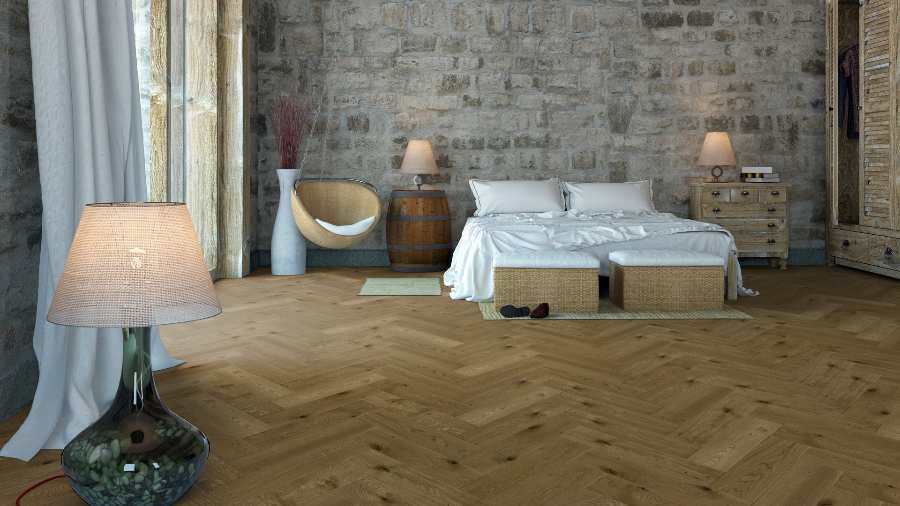 Herringbone Engineered Wood Flooring
Cons;
Real wood flooring is considerably more expensive when compared to cheaper options such as vinyl, carpet and laminate flooring.
The installation of real wood flooring is best suited for experienced floor fitters. This is partly due to the risk of damaging an expensive product during the installation, and also partly due to the skill level required to install the flooring correctly in accordance to the manufacturers guidelines.
Real wood flooring often requires a much higher level of ongoing maintenance than manmade flooring. Oiled wood floors for example need to have oil reapplied from time to time to prevent drying and cracking.
One of the risks tied to real wood flooring is its fragility with regards to moisture and temperature. The natural product cannot become too cold, too hot, too dry or too moist, as the material expands and contracts with the changes. If the flooring expands and contracts too much it can lose its shape and become damaged. The fragility to moisture also makes wood flooring not a good choice for bathrooms, toilets and anywhere it can become damp.
Scratches can be an issue with real wood flooring, as it is simply not as scratch resistant as laminate or vinyl. Carpet obviously doesn't scratch at all.
Real wood flooring, especially lacquered wood flooring, can be quite noisy to walk on with shoes. This can create issues for occupants in properties underneath where the flooring is located, such as in flats and apartments and office blocks.
Summary
A high quality real wood floor can be a truly lovely addition to homes and offices. There are certain areas where wood flooring is the only appropriate option, and others where would flooring simply isn't suitable. Ultimately it simply comes down to preference. If you have your heart set on a real wood floor and you understand the maintenance requirements, you will probably love the floor.
If real wood flooring sounds like hard work to you after reading the cons above, it makes sense for you to save some money and go for a high quality wood imitation product such as laminate or lvt flooring.