While thinking of repainting your house using economy house paint, the thought using Ralph Lauren Paints indeed would cross your mind. Ralph Lauren is a brand that speaks for itself because of its paints, which have a more classic and creamier texture as compared to other brands.
A few years back, Home Depot stores throughout the country stopped selling Ralph Lauren paints, but they can still be found in Ralph Lauren Home Stores. Here is everything you need to know about Ralph Lauren paint where to buy 2017.
About Ralph Lauren
Ralph Lauren paints were started by Akzo Nobel N.V, which is a famous Dutch Company. Ralph Lauren paints are mostly known for their alluring color palette and its mesmerizing coatings. Home designers, professional painters, and homeowners are given a lot of chances of achieving a look distinct from others.
Ralph Lauren paints have excellent finishes starting from Suede Paint to River Rock. The paint manufactured by Ralph Lauren is 100% acrylic latex, and it a little expensive as compared to other paints, which would be expected with Ralph Lauren's signature.
Palette
Ralph Laurens's extraordinary feature that makes it different from other companies is that it does not change its color palette intentionally; the palettes that are offered by Ralph Lauren have been there for years.
At the same time, when companies keep on introducing new styles and designs, Ralph Lauren goes for tradition and permanence and does not care much about catching the latest trends.
Treatments
Ralph Lauren provides not only excellent quality paints but also offers unique paint treatments. This treatment is a fantastic way that helps the room to stand out, not just because of colors. Some most acceptable treatment by Ralph Lauren includes Regent Metallic, which gives the paint a luminous and subtle sparkle.
This treatment does have enough metallic flecks to make color predominant and, at the same time, making sure walls does not have a metal texture. Suede is another excellent finish offered by Ralph Lauren, which beautifully creates the same texture as created by hand-brushed suede.
Colours by Ralph Lauren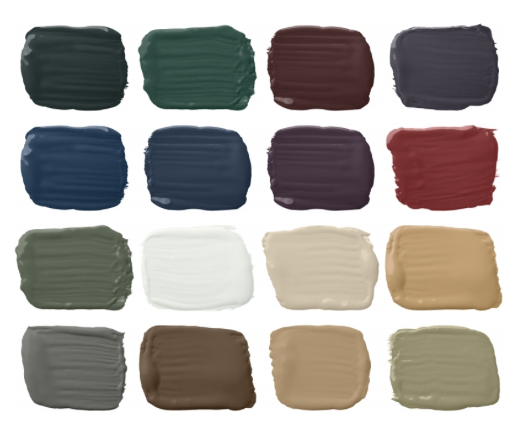 Ralph Lauren does offer every color under the sun, like other famous paint brands like Benjamin Moore or Valspar. Instead, they offer a smaller and systemized range of colors. They ravishingly direct you towards a broader vision. There are three broad categories of paints that are offered by Ralph Lauren.
Country Estate
This is a broad category that includes Ralph Lauren palettes such as Naturals, Thoroughbred, and other white color-based palettes while in Thoroughbred, some deep colors like Greens, Blues, and Reds can be found.
These palettes are majorly are responsible for the fame of Ralph Lauren. As the name of this category suggests, the paints in this palette give a feeling of a graceful country mansion with antique furniture and a vintage car parked in front of that mansion.
Moody Urban
These colors are specially crafted for the sophisticated urban residences. They are often dark and rich. They can be related to stormy greys, muted earth colors, and other darker neutrals.
Tropical delights
Ralph Lauren paints not known for its vibrant colors but has few colors that accentuate the positivity. This palette, commonly known as Island Bright, gives a strong vibe of tropical waters, with sea green, aqua blues, and turquoise. The Sun palette has six yellow textures resembling different shades of sun throughout the day.
Ralph Lauren Paint Where to Buy 2017?
For many years, Ralph Lauren provided excellent quality paint to people with its partnership with different paint manufacturers and sold through different home centers. Unfortunately, after Home Depot's decision of not selling Ralph Lauren paints has caused quite a problem. 
Many people have a special place in their hearts for Ralph Lauren paints. They may need it to touch up a spot or finish the project started by them months before.  Here are some websites that will surely answer your question, Ralph Lauren paints where to buy 2017?
My perfect color is a website that goes by its name. It can provide all the Ralph Lauren colors that you adore. My perfect color has used its excellent capabilities and tried to recreate the original Ralph Lauren.
They have done so by matching the original Ralph Lauren colour books and swatches. As Ralph Lauren has stopped the manufacturing of the paint, My Perfect colour does not use Ralph Lauren paint, but you can find every colour like Ralph Lauren here.
My Perfect Colour uses a Ralph Lauren colour publication to match Ralph Lauren's colour. The different colors which are shown on their website are computer video simulation of Ralph Lauren paint and may or may not match Ralph Lauren's standard. You can further refer to Ralph Lauren to get you an accurate and desired colour.
It would help if you also considered while buying paint from My Perfect colour that their paint does not precisely match Ralph Lauren paint. If you want to repaint just a portion of the wall, you should go for recoating the whole surface as with time and exposure to light and dust, and new paint may not precisely match. Another website for solving your query, where to buy Ralph Lauren 2017 is:
The company that owns the World Paint supply has been in the paint business for more than 40 years. They take good care of their customers by providing them with quality products. The best thing about their website is that they offer budget-friendly and wholesale prices. There is no need for disappointment as they still offer many shades of Ralph Lauren paints.
As we know, the company no more manufactures Ralph Lauren paint. Again, this question arises Ralph Lauren paints where to buy in 2017?  But this company can recreate the Suede paint style by Ralph Lauren. Suede paint by Ralph Lauren created a look that is ultra-rich, classic, and effortlessly provided with a feeling of luxury.
The Suede finish has been designed to recreate the authentic supple hand of brushed suede with rich and alluring character. Suede paint is offered in numerous varieties of colors. It creates a deep texture to an understated room or hallway and hence providing it an eccentric look. For achieving this great Suede texture, you will need specific custom tools. These tools include:
Ralph Lauren Suede Finish,
9″ Specialty Roller Cover
3″ flat paintbrush.
Low tack painters' tape.
The Suede look can be achieved in two coats, firstly coat rolled, and coat brushed on X pattern.
Application Instructions
Step 1: You should make sure that the walls are clean, dull, and completely dry for better colouring.
Tip: Firstly, you should apply a coordinating basecoat that will give a flat finish; this will surely help in coverage.
Step 2: Pour specially designed Suede brush into a paint tray. Starting at the top corner of the wall, give texture to the wall through the wet paint by rolling over it with the mini roller and gently cut 18″ strips across the ceiling edge and down the corner with a brush.
Tip: before applying paint to the wall using the roller, roll it on a newspaper as it will absorb excess paint.
Step 3: Using the 9″ roller, you should apply Brushed Suede to the area that has been cut in, which is 18″ x 18″. While rolling in the 18″ sections, make sure you reload the roller after every section. When a column is complete, you should make sure that you follow with a light ceiling-to-floor sweep without reloading the roller. Repeat the process across the entire wall till You should at least wait for 4 hours to let the paint dry.
Step 4: Now, you can apply the second coat of Brushed Suede using a professional 4″ synthetic bristle brush in a crisscross pattern of overlapping As.
Tip: Use large, sweeping motions as it will help in blending and will create an irregular, mottled appearance. When dry, your wall will have the appearance of soft, hand-brushed suede.
Another tip for your ceiling color. Take your wall color then match the same color up the to its lightest hue. That way, you will have a ceiling color that perfectly blends with your wall color but is also light enough so as not to be over-highlighted. We are sure that you have got the answer to the question Ralph Lauren paint where to buy 2017.
This article was curated through HomeSenator' Contributor Program. If you would like to write for us home decor, send us your submission today!