Who doesn't love to spend their lazy Sunday evening sitting in their balcony sipping some tea or coffee while watching the sunset? And most of us install a wooden deck on our balconies to relax and enjoy such evenings with the warm and cozy feeling of wood. However, while a wooden deck may seem like an excellent option in terms of aesthetics and comfort, it has its shortcomings, the essential maintenance requirements being the biggest one.
You would not want to spend more time maintaining your deck than sitting on it. Another significant factor that makes people refrain from installing a wooden deck at their homes is the low resistance of wood to moisture. The wooden deck, being mostly in an open area, wears out quickly due to all the rain and moisture if not appropriately insulated.
To tackle all these issues and offer a solution that required low maintenance while not compromising with the aesthetics, composite decking was introduced. There are many brands currently in the market that offer composite decking material and services. One such brand is UltraDeck.
It is a trendy brand that offers high-quality composite lumber decks that can be used in a variety of places, ranging from balcony decks to fencing, etc. If you are looking for composite decks to use at your home, then you might want to read this article till the end, as we have included every critical thing you will need to know about composite decks along with a detailed UltraDeck review.
What is composite decking [advantages over wooden decks]
Composite decks are decks made of composite lumber. Composite lumber is a material made by mixing wood, plastic, and fiber using a binding agent. The result of this mixture is a material that looks and feels exactly like wood but is more cumbersome, denser, and more robust. The material is a wood-plastic composite, hence the name composite lumber.
There are numerous advantages that composite lumber has over wood, some of which are:
Strength
Composite lumber is far more robust than wood, thanks to the fibers and plastic that are infused in it using the adhesive. The robust nature of composite lumber means you can have a party at your backyard which has a composite lumber deck, and not worry about the deck breaking or cracking. Composite lumber is also more scratch and wear-resistant than wood.
Low Maintenance
Composite decking is not only more durable and more wear-resistant than wooden decking but is also less prone to be worn down by extreme weather conditions. This means you do not always have to worry about cleaning water from it after it rains or snows. Also, composite decking is easier to clean since it is more dust-resistant than wooden decking. All you will need to clean a composite deck is some soap-water mixture and a mop.
Variety and Customizability
Since composite lumber is a human-made material, it is extremely customizable, which means you can get it in hundreds of different finishes and colors, so you can be sure to find one that suits your taste and also the design of your home.
Most of the composite lumber is finished like wood since a deck looks most beautiful in a wooden finish, but you can always get it in other finishes as well. You can also paint it on your own if you do not get it in the color you want since painting it is a straightforward thing to do.
Environment-Friendly
Composite lumber is purely made out of recycled material, which means it is incredibly sustainable and environment friendly. The wood used in the manufacturing of composite lumber is obtained from the wooden wastes from factories, and the plastic is also recycled from plastic bottles, polythenes, etc. Wood is already used a lot for other purposes, and it puts a lot of strain on the environment, which is why going for an environment-friendly product such as composite decking is always the right choice.
If you were not already convinced about why you should go for a composite decking instead of a wooden one, then I'm sure you must be now. And if you want to start looking for the best composite decking for your home, then I suggest you go for UltraDeck. Below you will find some information on UltraDeck and an UltraDeck Composite Decking Review so that you can make up your mind about whether or not you should go for it.
What is Ultradeck?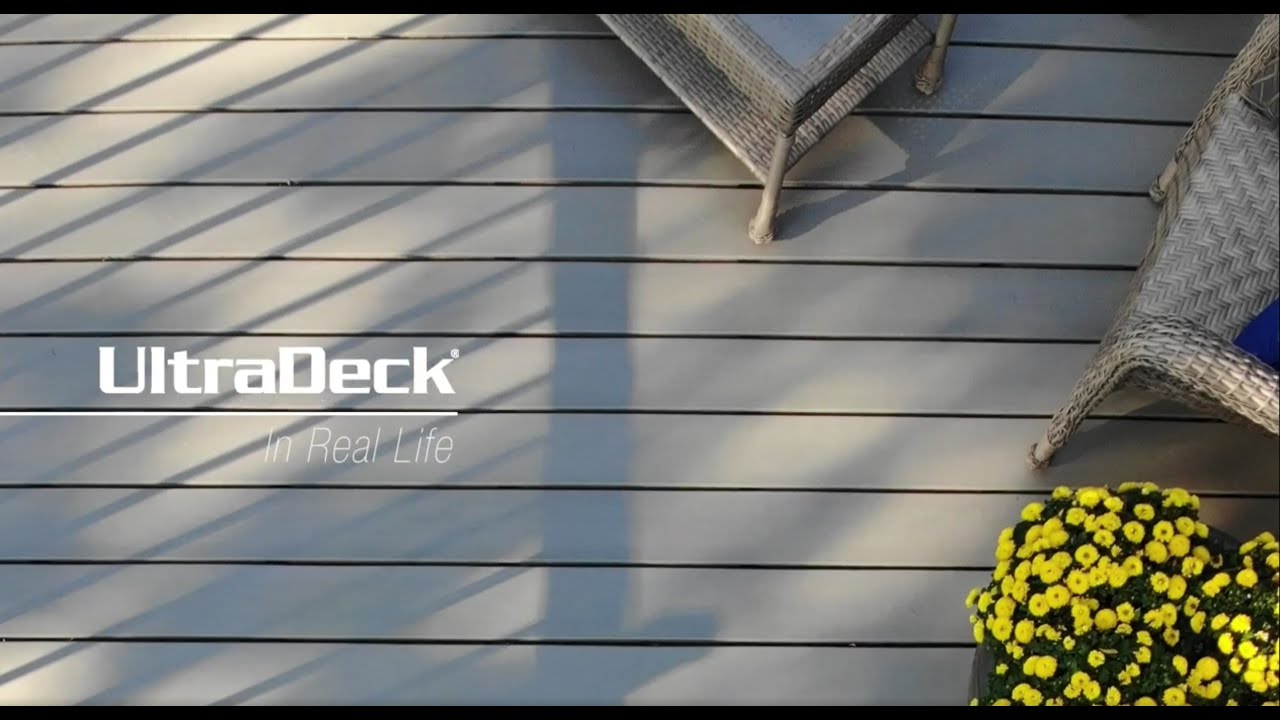 UltraDeck is a composite deck manufacturing brand, owned by a company called Midwest Manufacturing. Midwest Manufacturing was established in 1969 and has been selling building supplies such as doors, closets, concrete blocks, etc. UltraDeck is their offering for composite lumber decks. All their composite decks are divided into six different categories, ranging from the most premium decking to the most affordable decking.
What differentiates these five categories from each other is their ability to resist corrosion and last longer. The premium/expensive ones come with extra features that make them last longer than the cheaper ones. But every category has its purpose and is made to suit different needs. Let us look at all the different categories in which UltraDeck sells composite decks.
UltraDeck Inspire
Simply put, this is the best and most expensive deck on offer by the Midwest Manufacturing's UltraDeck. It has all the features offered by UltraDeck and is the best deck you can get in terms of quality.
Composite decks are coated with an extra layer of protection that prevents them from rusting due to extreme weather conditions. This additional layer is known as the Top Cap. The UltraDeck Inspire has a platinum top cap layer, which is the best type of top cap layer on offer by UltraDeck.
The platinum top cap layer makes UltraDeck Inspire extremely resistant to scratch, fade, and stains. It also makes it more durable than a standard composite lumber decking without the top cap layer. The decking comes in two different forms, called radius edge, which is for the border of your decking and deck board, which is for the surface of the decking.
The Inspire range also has a 25-year warranty, which makes it worth all the money. This range of UltraDeck decking is available in 4 colors, which are Canyon, Fieldstone, Sandstone, and Cedar, and is available in 1″ by 5-3/6″ size.
UltraDeck Fusion
This is the second offering in the UltraDeck range of decking and is a bit less expensive than their Inspire lineup. The fusion deck boards are covered with a premium top cap, which, according to UltraDeck, is a bit less protective than the platinum one.
Nonetheless, it gets the job done very well. Another significant factor that makes them cheaper than the Inspire boards is the fact that they are ridged at the bottom, unlike Inspire, which is entirely flat.
Other than those differences, the fusion lineup works just as good as an Inspire board and even has that 25-year warranty like the Inspire. Fusion, although it comes in two colors, which are Coastal Cedar and Driftwood Gray, and is available in the same 1″ by 5-3/16″ size.
UltraDeck Triumph
Fitted with a standard top cap protective layer, the UltraDeck Triumph is undoubtedly not anywhere near to being a wrong choice in terms of quality or its ability to resist scratches, impacts, and fades. What makes the difference, though, is the size.
The Triumph, with the dimensions of 7/8″ by 5″, is a little slimmer and less complete compared to the previous two range of decks from UltraDeck.
Other than that, it still is a high-quality composite deck that comes with a 25-year warranty. It also comes in two very different colors, Pecan and Slate, which are a bit darker in the shade compared to the ones we have seen so far.
UltraDeck Rustic
Rustic is where the affordable range of UltraDeck decking starts, which is achieved by getting rid of the top cap protection. No top cap means that these decks will start fading once exposed to the sun, but the process will be gradual. Other than that, it is still a very high-quality deck and a much better and affordable option compared to wooden decking.
The Rustic collection comes in 4 colors, which are Hickory, Cedar, Gray, and Redwood, and you get a 10-year warranty as well.
UltraDeck Natural
The Natural collection from UltraDeck is their cheapest offering when it comes to composite decking, but that does not mean that there is a compromise in quality. The Natural collection decks are still pretty good in terms of impact-resistant and low-maintenance design.
A feature that makes it stand out from the rest, though, is their reversible design. These decks can be applied from both sides, and you can even get different finishes on either side, which you can use to make patterns on your deck floor.
UltraDeck Quick cap
The Quick cap range from UltraDeck is not technically a deck board but rather a layer of decking that can be used to reinforce your old and worn out decking, which is why it also very thin as compared to the other decking we have seen so far with dimensions ½" by 3-1/2″. Not being a real deck, it also incredibly cheap and the right choice for you if you are on a budget and don't require anything as sturdy as the Inspire or the Fusion.
Ultradeck Final Verdict
Pros
UltraDeck offers a wide variety of decking to suit every requirement and every budget.
The quality of the deck boards is top-notch.
You get a 25-year or 10-year warranty depending on which deck you choose.
Cons
One range of decking is only available in one size, which sometimes can be a deal-breaker.
The cheaper range deck is not capped, which means they will start fading within 30-60 days of installation.