Are you a tenant looking for creative ways to decorate and separate your open floor plan? Stick around till the end of this article for 10 excellent tips to transform your space into a highly efficient and stylish layout.
There's a lot of talk about technological trends disrupting the real estate industry, but today we'll focus on interior design. Whether you're a newbie trying to improve traffic flow in your office, or an open floor believer looking to create a more seamless arrangement, we've got you.
Interior Design Tips for Creating Separate Spaces in an Open Floor Plan
Kitchen
Put in a Decorative Divider
A trendy fix for an open-floor kitchen is to introduce a decorative divider unless the Mastercraft door is to precious for you. These elegant movable walls offer a low-commitment divider in multiple styles. You can opt for a contemporary wooden partition with open frameworks or an antique screen for a vintage feel. If you're looking to commit to a more permanent decision, you could ask your landlord to consult with an experienced management company about putting up a wall.
Adopt Two Different Furniture Styles
Feel free to play around with your furniture styles, especially if you have a large kitchen. Islands are great for open floor plans, especially when you incorporate some high chairs to double your workstation as a seating area. You could then add a complimentary traditional dining set that flows into the next space.
Stick to a Color Scheme
Color can be a great tool in helping you craft a seamless open layout. Incorporate a color scheme in your kitchen that uses one or two defining colors in everything from your cabinets to accessories like dishware. If you're adopting two different furniture styles, it would be best to make each represent a different theme. For instance, if you're using blue and white, your island chairs can be white while your dining chairs are blue. This contrast will give your kitchen a more cohesive and finished look.
Living Area
Use Drapery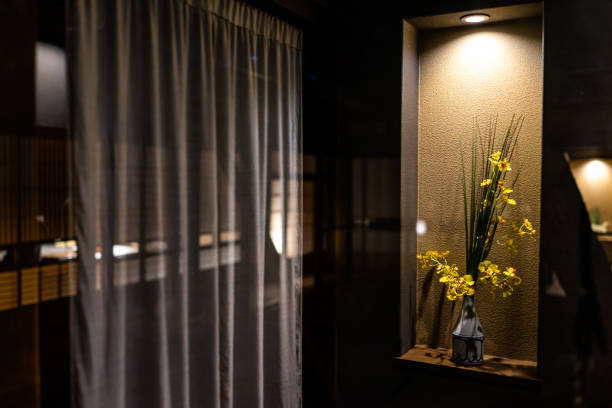 Take your division to the next level by introducing drapery. Although, you might have to spend a little extra on custom rods and materials if your space is expansive. But when decorating rental properties, you should speak with your landlord before installing such additions. Translucent curtains create a warm and plush ambiance without completely cutting off the other zone. It also allows light to filter through, which might be necessary if there is limited lighting. However, if you want total privacy (at least by sight), choose a solid fabric that creates a more concrete barrier.
Consider Rearranging the Furniture
Rearranging your furniture is a great way to give your open floor plan the illusion of being two separate rooms. Rather than mixing and matching two different styles, you could create some drama by turning furniture away from the rest of the room. This concept immediately creates another zone without the need for a divider.
Introduce a Rug
A rug is an excellent zoning tool that lets you amplify the difference in your living area. For instance, if you have an open kitchen, you could draw a line between that space and your living room with a rug. A rich velvet rug against a hardwood floor would create a brilliant, sharp contrast as you transition from one room to the next.
Incorporate a Tapestry
Like the decorative divider in the kitchen, you could section off a part of the room with an elegant tapestry. Additionally, you have multiple design and color options to choose from, so you can pick one that flows with your theme.
Different Colors
You can pull this off by using different shades of the same colors or going for contrasting hues if you're feeling bold. For instance, you could use a light cream for your sitting and TV area and try a darker brown on the adjacent wall that might be a reading zone. You don't necessarily have to split your living room between two colors. If you have a fireplace, you could choose to accentuate it by painting it differently from the rest of the room. Alternatively, you could do the same with your TV wall.
Home Office Space
Use a Bookshelf
Bookshelves are standard furniture in any home office, but did you know you could use them to enhance your open floor plan? You can introduce a two-sided floor-to-ceiling shelf that works as an organization tool and partition. If you're opting for this type of bookcase, leaving some space open so light can filter through would be best. However, you can create two different zones with a traditional wooden frame by placing two bookshelves back to back, so each space has a storage unit.
Try a Folding Screen
Another low-cost solution to divide your space is to opt for a folding screen. These vertical panels come in many decorative designs and colors and could add some character to your office. Also, if you need to extend space, you can easily fold it and move it back or to a completely different room.
Damage-Free Decorating Ideas for Walls
Buy a Couple of Adhesive Hooks
Try installing an adhesive hook rather than damaging your wall with a nail to hang a piece of art or a photo. These tiny tools stick to most walls and easily hold a few pounds.
Opt for Velcro Strips
If you're looking to hang a much bigger frame or collage, adhesive hooks might not be able to do the trick. Instead, get a velcro command strip from your closest hardware store for a stronger hold.
Use Removable Wallpaper
Despite your landlord denying your request to repaint your walls, you can still get the design you want with removable wallpaper. Their adhesive composition guarantees a stress-free application because you can peel and stick any pattern or color.
Conclusion
You don't have to stifle your personality or creativity because you live in a rented apartment. Whether you're trying to section off space in your kitchen or living area, you can use many low-cost and imaginative ways to decorate your open floor plan. However, it would be best to use damage-free decorations in your house to avoid losing your security deposit. Nonetheless, you should still consult your landlord or property manager before making significant changes.