When you drive down any midwestern street, you will come across a unique tapestry of style, neighborhoods filled with homes with doors reflecting the unique style, personality, and security. For generations, these doors are made by people who live in communities that take pride in craftsmanship and build amazing doors. It's the unique way of door designing started by Mastercraft from Menards.
In today's world, people are very concerned about the security of their houses, and a very critical part of this is a full proof door that needs to be robust and sturdy. Your door is the first thing that someone will see while entering your house, so it needs to be crafty and beautiful too. This is where MASTERCRAFT from MENARDS comes into the scene. Their motto is ' CREATE DOORS. INSIDE AND OUT '.
Flora Whittemore once said, "The doors we open and close each day decide the lives we live." Taking this quote into literal meaning, we can conclude that even the door in our house represents our status too. So, it needs to be perfect for the same, and at Mastercraft, they make the doors of your dreams. You open and close a door many times a day, going in and going out.
Sometimes you slam and kick them in anger, and your neighbors and guests knock on it when they visit you. Doors allow you to express your imagination and creativity and personalize your home. Luckily Mastercraft offers the opportunity to design your door that is right for you home. Buying the exact door, you want just made easy, fast, and reliable, that too built and shipped only in 7 days.
With over 40 years of excellent inexperienced door making and getting better day by day, Mastercraft offers unbeatable quality, consistency, convenience, and design. These doors are made by and for Americans who are passionate about everything that welcomes and shuts.
Materials used range from simple wood to fiberglass to more posh steel doors. Doors are not just made but engineered to last long and perform day after day. Whether you want one or for the whole house, Mastercraft always has you covered.
Generally, doors are of many types like Traditional, Craftsman, Modern, Rustic, and Arched with different mechanisms, including Hinged, Sliding and Rotating. Usually, it requires around 3 to 4 hours to install a door depending upon its size.
Your Door, Your Way
 Mastercraft offers mainly three types of doors: Interior Doors, Exterior Doors, and Patio Doors.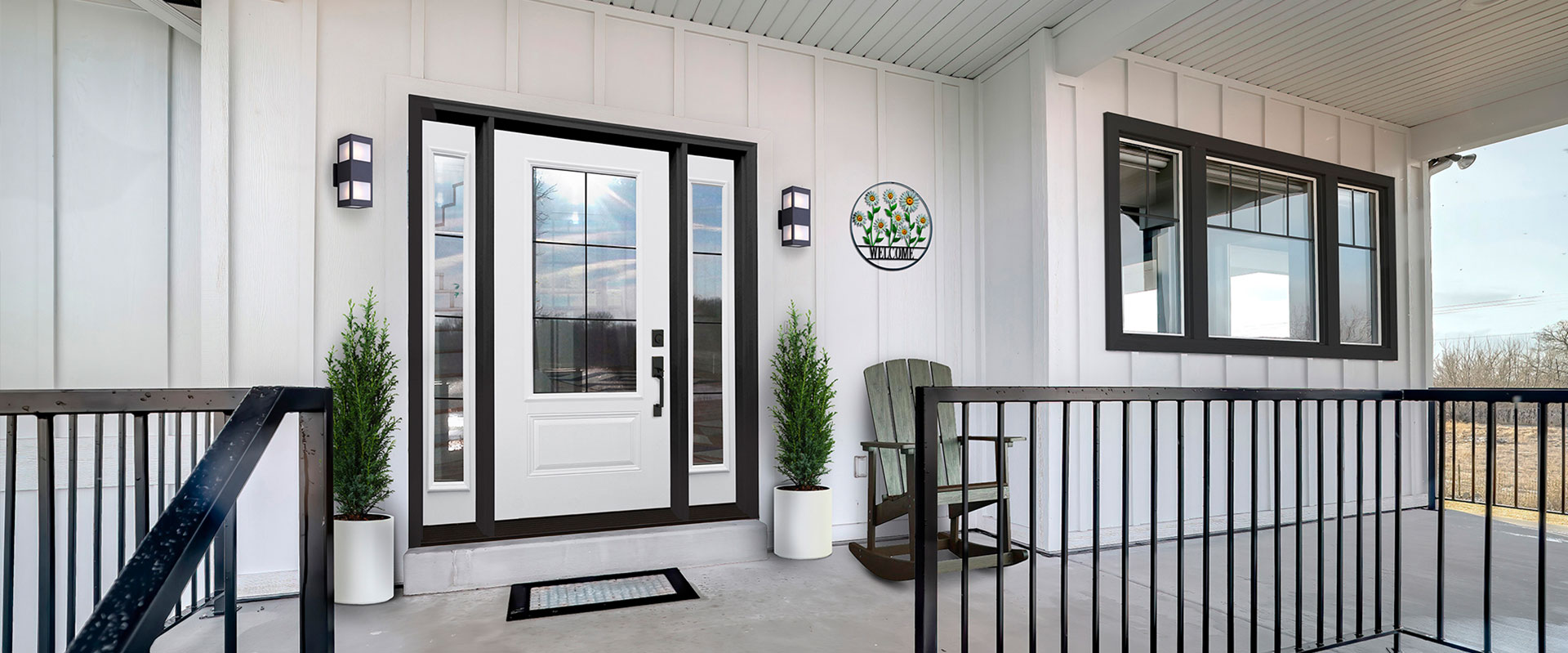 Interior Door Overview
When we talk about interior doors, we should always choose what is best suited to the color of the walls and lighting in the room and the color of the furniture. After the color selection is made, then select the material by which you want your door to be made. Some choices available are:
Stile and Rail Doors: These doors are made from individual rails, stiles, and panels to make them in the traditional architectural style.  With uplifted and flat panels in multiple forms and materials.
 Duracore Doors: These are premium type interior doors when you consider the privacy first. They are made by filling the hollow core doors with environmentally friendly foam to provide the best level of insulation and privacy between your rooms.
Solid Core Doors: Two molded surfaces wrap a solid core. This type has more strength and better noise reduction for added privacy.
Hollow Core Doors: These are lightweight doors with a hollow core between two molds. A smooth or woodgrain texture is available, which looks like traditional doors. Best suited as bathroom or toilet doors.
When you must work from home, you need a tranquil environment. One of the best ways to minimize the noise in your home is to have sound blocking doors. Duracore is the best-suited door type for this purpose.
Exterior Door System
Certain things you need to consider while opting for an external door is whether to go for the strength and security of Steel or durability of fiberglass. Also, you can add some accessories like Pet accessible doors, Peep sight, Dentil shelf.
Prefinished Woodgrain Steel:  Look of wood and that too without maintenance and all the great benefits of a steel door.
Prefinished Solid Colour Steel:  Vibrant and fade-resistant colors.
Steel: Built to provide security and energy efficiency while offering the largest style selection.
Prefinished Woodgrain Fiberglass: With woodgrain texture.
Smooth Fiberglass: Provide a perfect surface for a clean, painted finish.
Steel door advantages:
Complete frame system
Energy-efficient insulated glass
Reinforced lock-block
Rigid steel construction
Polyurethane foam core
High definition door panels
Tight sealing sweep
Superior still construction
Your home's exterior doors can advance significantly towards air leakage and can also wither energy through conduction, especially if it's aged, uninsulated, wrongly installed, and poorly air sealed.
Keeping this in mind, Mastercraft takes full responsibility for making, delivering, and installing your door just right. You can also add a factory-installed 3-point locking system to your exterior door for increased protection of your house and sleep without any worries at the night.
Sliding Patio Doors
These type of doors slides on track which is excellent for rooms with limited space. They have large glass areas, which allow more natural light to come through. They are ideal for decks and patios, or any location connecting the interior of your house with the exterior area around your home. They feature an aluminum-clad exterior offering extra protection.
Hinged Patio Doors
These types of doors are great for rooms with extra space to allow the doors to swing open into the rooms. They are best suited for enclosed porches and sunrooms, or decks and patios with an overhang.
About Menards
Menards is a chain of house improvement varieties store situated in the Midwestern United States with headquarters in Eau Claire, Wisconsin, and is owned by founder John Menard Jr. (CEO). Menard Inc. is the parent company of Mastercraft Doors from Menards.
It offers a wide variety of products like building materials, hardware, tools, ceiling fans, electrical supplies, garden supplies, light fixtures, paints, wood stain, wallpapers, plumbing supplies, groceries, and of course, doors. Being the third-largest chain of home improvement products, it has 350 + stores US-wide.
Final Opinion
Everything considered, Mastercraft Doors from Menards delivers what it boasts of. It gives you full access to the creativity and customization that you want in the doors of your house. You can choose from a wide variety of color combinations, textures, and materials. You want a robust door to go for the steel ones, want them to be more memorable and stylish, go for the fiberglass ones with added durability.
Also, if you are building a new home for yourself, there is one more thing you should consider apart from style and material, which is the energy efficiency possibilities of the door. Always look for the energy performance ratings of the door while considering the local climate and your home's exterior design and color. Don't worry, Mastercraft gets you covered in this scenario also. Each of their Exterior designer doors comes with a five-star rating in energy efficiency that too, with a low maintenance cost.
Interior designer doors come with a five-star rating in privacy. Wooden doors are mainly used for interiors to prolong its beautiful aesthetics. They are suitable for diverse weather conditions, whether hot or cold. They are quite affordable too.
Other materials are also used for the interiors like Steel doors, which are weather and corrosion-resistant but expansive; Fiberglass doors are better for outdoors but can be used inside too; Glass doors are only used for insides; Aluminum doors are quite affordable, and Hollow Metal doors are very reliable but lack insulation.
Patio doors, on the other hand, require some care due to the full glass used in the frame, but they give an aesthetically rich look to your house. They not only increase the looks of your home but can also prove to be very useful by acting as a divider or a casual entry and exit gate.
These glass doors provide a clear and uninterrupted view of your garden, balcony, or the beautiful terrace surrounded by beautiful natural scenery. Some jazz and dim lighting make you have the time of your life during the night.  Just imagine waking up with the rays of sun falling on your face every morning. You can select the perfect design as per your taste and budget. All these door types come with a limited lifetime warranty.
What else do you need, right! So if you are thinking of buying doors for your new house or even replacing the older ones, Mastercraft is the solution. Design your door the way you like, experiment with colors, textures, and materials, and show your utmost creativity to your friends and the whole neighborhood. Check out the official website of Mastercraft by Menards for more information and the Smartphone app, which offers excellent virtual reality door designing options.