The Sunshine State of Florida is home to some of the most luxurious neighborhoods in the United States, offering retirees a relaxing and peaceful lifestyle with easy access to all that Florida has to offer. From golf courses and country clubs to waterfront views, these luxury neighborhoods provide an idyllic setting for those looking for a retirement oasis. Whether you're seeking out city living or serene beachfront communities, there are plenty of options when it comes to luxury living in Florida. Here is our list of 5 Luxury Neighborhoods in Florida To Consider for Retirement.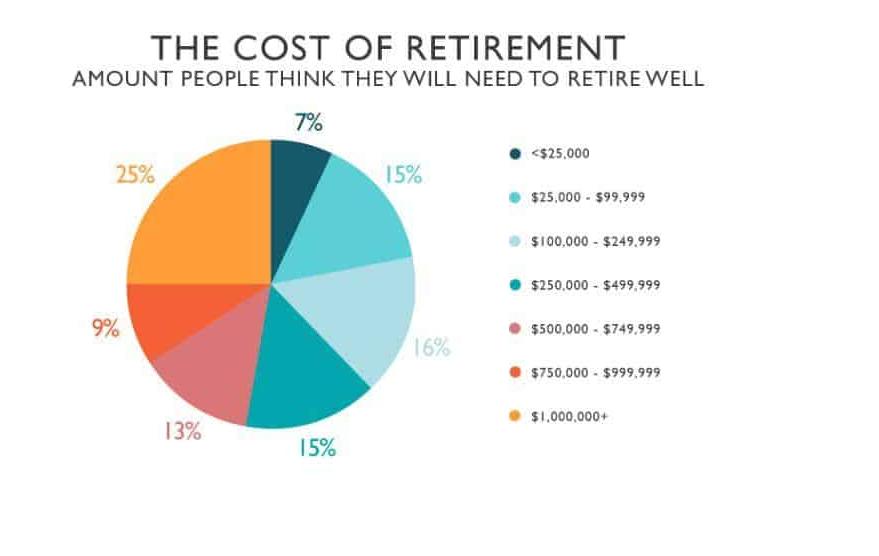 The cost of retirement amount people think they will need to retire well
Image source: adamenfroy.com
Luxury Neighborhoods in Florida
1. Villages of Citrus Hills
2400 N Terra Vista Blvd, Citrus Hills, FL 34442, United States
Another simply stunning retirement community, Villages of Citrus Hills is an esteemed neighborhood in Central Florida's Citrus County. This exquisite luxury neighborhood caters to retirees looking for a healthy and active lifestyle. Community amenities include state-of-the-art fitness centers, tennis courts, and a full-service private spa. Not to mention the year-round calendar of social events, clubs, and activities to try out!
Boasting 20+ designer floor plans of both single-family homes and maintenance-free villas, this luxury community offers something for everyone, with prices ranging from $400,000 to well over $1 million.
From its lush landscaping and rolling hills to its quick 10-minute drive to the gorgeous Gulf of Mexico coastline, residents will be immersed in a picturesque environment that is sure to take their breath away.
2. Valencia Trails
11256 Daphne Ct, Naples, FL 34120, United States
Valencia Trails is Naples' premier 55+ community, offering contemporary single-family homes that prioritize style, convenience, and luxury.
Residents can choose from four stunning collections: The Shoreline Collection starting at $660K, the Atlantica Collection starting at $860K, the Coastal Collection starting at $1M, and the Gulfshore Collection starting at $1.1M. These incredible homes all boast spacious living areas, screened and covered patios, gourmet kitchens, and so much more.
This resort-style neighborhood also features a brand-new, world-class racquet club as well as scenic trails and a 43,000 square-foot Clubhouse perfect for gathering with friends and family to make lasting memories. To truly retire in luxury, Valencia Trails is easily one of the top luxury neighborhoods in Florida.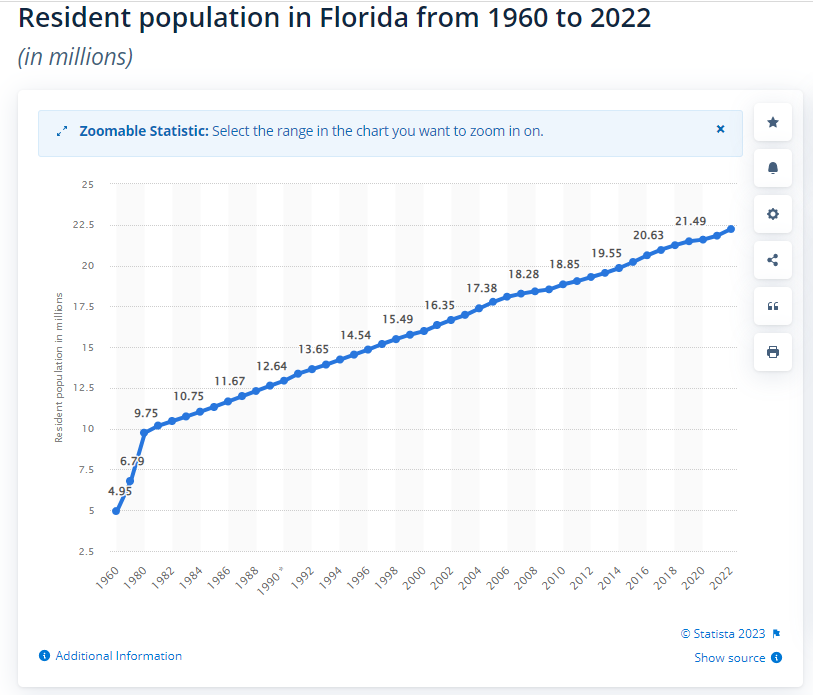 Image source: statista.com
3. Bay Hill Estates
9100 Bay Hill Dr, West Palm Beach, FL 33412, United States
Bay Hill Estates is a luxurious community of 250 single-family homes situated on sprawling 1-acre lots in Palm Beach Gardens. Devoted to providing homeowners with the finest standards of living, homes in this fabulous community sell on average for more than $2M.
The atmosphere within Bay Hill Estates is peaceful and quiet, perfect for retirement, yet it's within 30 minutes of some of the most desirable beaches, shopping centers, and restaurants that South Florida has to offer.
As an added bonus for residents and visitors, the estate rests along an 18-hole championship golf course owned and operated by PGA Nationals. If you're hoping to spend your retirement bathed in luxury with access to one of the top golf courses in the state, Bay Hill Estates may be the perfect place for you!
4. The Lake Club at Lakewood Ranch
8307 Lake Club Blvd, Lakewood Ranch, FL 34202, United States
Found in the exclusive Lakewood Ranch section of Sarasota County is the even more exclusive Lake Club; a fully-gated community located featuring single-family homes of Genoa starting at $1.5M and custom estate homes built by the most prestigious homebuilders in the state and starting at more than $3M. These luxurious coastal architecture homes boast contemporary interiors that provide a high-end resort lifestyle.
Residents also enjoy access to the Grande Clubhouse where they'll find a myriad of amazing amenities. Locals can indulge in world-class dining, keep active in a top-of-the-line private fitness center, and relax by the resort-style pool featuring dramatic waterfall features. The Clubhouse also offers a plethora of social events and ample opportunities for exploring the great outdoors.
5. Bella Collina
16690 Cavallo Dr, Montverde, FL 34756, United States
Bella Collina is a gated Orlando neighborhood featuring golf homes, luxury lakefront condos, and custom lakefront estates. There are move-in-ready and custom-build options to meet the needs of any luxury living style.
With an average cost of homes in Bella Collina being $2.1M, homeowners can expect amenities such as access to world-class golfing experience, gorgeous surroundings featuring rolling hills and sparkling lakes, winery and eateries overlooking spectacular lake views, opportunities for tennis, swimming, and full-service spa facilities.
Being situated conveniently near the popular Orlando area makes it easy for residents of Bella Collina to enjoy upscale shopping and dining experiences, take advantage of the famous attractions nearby, watch professional sports games live or via TV, or get involved in a vibrant arts and culture scene. When it comes to luxury living in Orlando, it's hard to beat Bella Collina!
Retiring in Florida is a dream come true for many, and with so many luxury neighborhoods to choose from, it's no wonder why. From the rolling hills of Valencia Trails to the dazzling lakes at Bella Collina, each neighborhood offers its own unique set of amenities and luxuries that make retiring here an absolute pleasure.
No matter which one you decide on, you can rest assured knowing that your retirement will be filled with world-class activities that cater to your every want and need. So if living life like royalty sounds appealing to you, then take a look at these 5 amazing luxury neighborhoods in Florida—they are sure to provide an unforgettable experience!