Have you been researching for some helpful tips and tricks to maximize your storage spaces in your tiny home? When you have too many possessions cluttering your home here and there, it's only wise to implement some storage solutions. After all, clutter can sometimes decrease your home's aesthetics no matter how you frequently clean or vacuum. Clutter isn't dirt, but it sure is an eyesore for your beautiful home.
It's best to start organizing your home by using some creative storage ideas. You'll be surprised to discover that even your small home still has some hidden nooks and spaces that you can maximize to store some of your stuff. Before you start on this storage solutions project, it's best to declutter your home first so you can segregate which ones need to be thrown away and which ones need to be stored.
Store your essentials by using these home storage trends that have supported many homeowners this year:
1. Hire A Storage Unit
Storage units provide a cost-effective, space-saving solution for the temporary storage of belongings during a move or long-term storage. This has been a storage trend being used for many commercial property owners as well as homeowners. People who need storage can rent facilities that are convenient, safe, and cost-effective. It's best to check your options and visit websites such as https://seasidestorage.com/ and others for their wide variety of storage services.
Basically, storage unit companies offer two services:
With full-service storage companies, your belongings will be picked up and delivered to the storage facility. This saves you time and energy as their staff can come to your location instead. You may also request and plot the schedule for pick-up, and the company will be the one to deliver your stored items back to your home.
When a full-service storage company is hired, customers won't have to worry about delivering possessions to the storage unit themselves. Companies also offer taking photos and inventory on the list of items you've stored in their facilities. This will assure you that you won't lose anything.
On the other hand, another popular service for storage units is the self-storage service. You can prepare all your stored items by yourself, and you can store as small or as bulky items as you want. The difference with this service is you have to be the one to drive up to the company's storage facility and store all your items. This also goes the same way when you want to claim your belongings.
In this service, you must list down and track all belongings yourself as the company won't be around to take photos for you. Since this service is self-accomplished, you can expect the cost to be much cheaper than the full-service.
2. Use Canisters And Containers
One trend that you can find in many homes these days is the use of canisters and containers. These tiny things make a big difference in organizing your essentials. You can make your laundry supplies look prettier by transferring them into something other than the original container. Then, they'll be ready to be used in style.
Being as lightweight as it is, the packaging canister also makes everyday tasks easier. Due to its hygienic storage and ease of handling of items with sour or sweet tastes such as vinegar, juice, or distilled water, the packaging canister is the best choice, especially in the food and beverage sector. There are many materials to choose from for such containers. From glasses to ceramics and plastics, you can go for one that's more convenient for you to hold and carry.
Containers made from plastic are less costly and lighter, making them easier to handle. These containers can be taken anywhere. They can also hold a lot of food, which makes them a preferred food storage material.
3. Hide Your Storage
Not every item can be displayed in plain sight. Some things in your home are meant to be hidden, especially if you have guests coming over. Utilize hidden storage options that keep things out of sight yet easily accessible to maintain a cleaner look. One area in which you can maximize the space is under your bed. You can invest in some sturdy plastic containers and keep your socks, knickknacks, collections, and other trinkets that need to be kept.
4. Display Magazines On The Wall
When space is limited, go vertical with magazine racks and holders to add style to a reading nook. Go for slim and skinny shelves to be incorporated into your empty wall, and display all your magazines and other must-read items. They're sure to elevate your storage idea and are beautiful to look at too.
5. Add More Shelves
Your home often has more storage than you imagine, even in small rooms. One way is to maximize the use of shelves. Thankfully, many companies have invented a variety of shelves serving multiple uses and purposes. Check out some below:
It's time to maximize the use of that modern door design you recently got by adding some shelves into it. Often, people overlook the storage space behind a door. Install shallow shelves behind the laundry room door and attach them to the wall. This backdoor shelf will allow you to store all your chore essentials like cleaning supplies, solutions, brushes, and many more.
The key is to measure the door and the distance of the backdoor to the wall so it won't disrupt how the door opens or closes. Find thin shelf choices, and you can either go for metal or wooden ones.
Expandable Shelves In Cabinets
You can add extra space to your kitchen with expandable or pullout shelves and save space more. You can do this addition or feature by buying a pullout shelf accessory. With minimal expense, you can have more room for your plates and cutlery.
Adding a set of wire shelves at the ends of your closets can help you make good use of the hidden space. There are various wire shelf sizes available. It's essential to do proper measurements so your closet and shelves can match together.
You can use mounting brackets to ensure the sturdiness of these shelves, so they can hold even your heavy jackets and other closet materials. With this additional storage, you can hang more stuff in your closet without needing more cabinets and closet shelves.
Small spice containers take up too much shelf space when displayed among taller bottles and items. One way to organize your spices is to make a shelf for them in your pantry. You can create your own spice rack and display it in your kitchen.
6. Create Staircase Drawers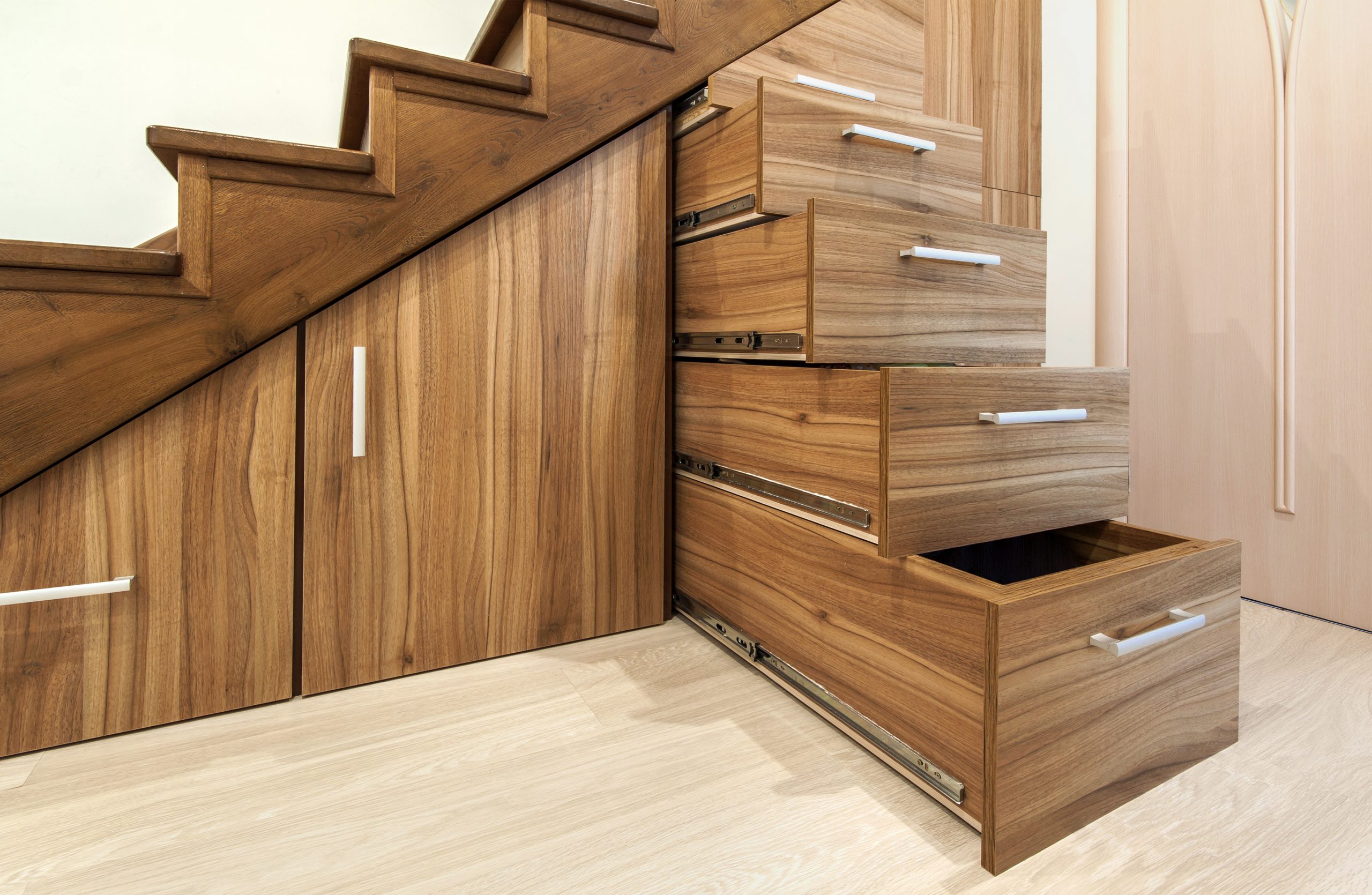 Staircase drawers are getting more and more fashionable by the minute. This is a trend in minimalistic homes, especially those living in condominiums or tiny houses. Staircase drawers are great for keeping your home organized and clutter-free. Stairs with drawers are the perfect organization hack because they provide extra storage without taking up more space.
Regardless of where your staircase is located, they're often considered a focal point of your home. Installing stylish storage beneath your stairs can completely transform your space. With this feature, you can free up more storage spaces for your old books, shoes, and other home essentials that don't have a permanent place at all.
7. Add A Pallet Organizer In Your Garage
Gardeners and homeowners alike know that long-handled tools are essential when working in their yards and gardens. These tools are frustrating to store because of their various shapes and forms. But fret not as you can organize them using this fantastic pallet organizer that you can build in your garage wall.
You can find pallets easily in hardware stores, and some owners can give them free of charge as they basically can't use them anymore. Paint them and turn them into a more beautiful addition to your garage, and you're good to go.
8. Mount Bikes As Decors
Even bicycles can be used as decor when mounted on a stylish wall, especially if an accent wall or corner is painted in a corresponding color. Bikes often take up a lot of spaces in your garage or yard. Why don't you use it as home decor instead? Show off your bike in an interior design setting with these creative and decorative storage options.
They're a great way to add a touch of style to your home and save space. A bike is an odd-shaped item that's often difficult to store due to its size. Check out some guides on how to display your bikes at home while using them as decors. Using your bike to create an accent wall design with photos or paintings enriches your contemporary interior decorating ideas. As a result, valuable floor space can be freed up for other purposes.
Conclusion
There are many creative and unique ways to aid your storage needs. Despite living in a small house with limited space, there are now effective storage services and DIY ideas that you can easily accomplish to maximize your living area. This will lead to a clutter-free home and a more organized way of living.