Whether you like your interiors to be classic, modern, or rustic, Mastercraft has it all. They are known for their wide range of products exclusively when you want to knock on interior doors. Customer is the king, and Mastercraft makes sure it has everything required to fulfill your desire for doors.
Just like you carry different outfits for every location, similarly, your home also demands different doors for every location. Let's go ahead and see what palate Mastercraft has to offer when choosing the perfect interior door.
Layout
Every corner of the house requires a door, and that's when mastercraft walks in with multiple configurations. There are several layouts that you can choose from –
Pocket Doors: If space is the problem, then the pocket door is the solution. If you don't want to invest a lot of space for doors, you don't have to. You can utilize the concept of pocket doors.
Single Door System: No existing door frames. The existing door frame is damaged. Sounds familiar? Well, if you are facing any such issues, a single-door system is a go-to. From bedrooms to pantries, a single-door system will never disappoint you.
Double Door System: Double door systems are designed to serve an extravaganza purpose of grand luxury. Grand entries for showrooms or living rooms are incomplete without double doors.
Material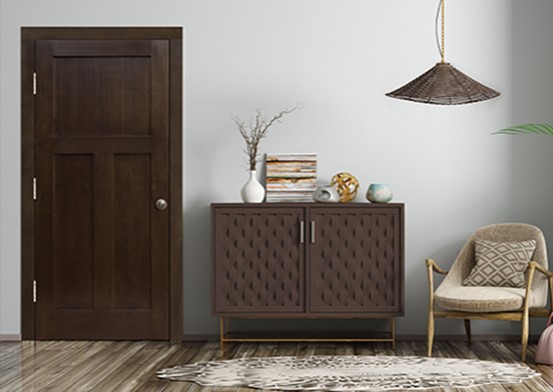 Each material comes with its unique ideology, and comparing them is not considered fair. Just pick a material that is most suitable for your home and forget the rest.
Knotty Hardwood: From knotty alder to knotty pine, you will notice delicate grain patterns to the beauty of natural wood to enhance your interiors.
Maple Hardwood: Maple is very popular for its straight and, at times, slightly wavy grains.
Primed: Primed doors are incredibly customizable as you are free to choose any color for your door without worrying about sand or prime.
Prefinished Doors: To give your door a more personalized feel without putting in many efforts, pick a prefinished door and leave the rest on Mastercraft to do the best for you.
Touch-ups
Doors have a bigger purpose of serving than to open and close. Many times they are used to separate or open up the spaces. From providing privacy to your bedrooms, homes, and wardrobes to controlling the impact of sound, all can be served by the door you design or shop directly.
You can also rely on your interior decorators to pick the best door for you.
The layout and texture are selected, but to get a complete door, you will require appropriate frames and respective hinges. You can choose them by yourselves or leave the job on Mastercraft.
Ready-To-Buy Doors
Not interested in designing the door all by yourself. Not a problem. We have a wide range of designer doors. Just a glance and all your interior door requirements will be fulfilled. We have the best-designed interior doors to suit your needs.