If you have a refrigerator with an ice maker and a water dispenser, you are aware of the necessity of water filtration and its expensive cost. Refrigerator filters should be replaced every 6 months or after 200 to 300 gallons of water, however the cost and quality of these filters vary greatly. Having said that, you must ensure that you are purchasing the best aftermarket refrigerator water filter, which is one that will increase the quality of your water while remaining affordable.
A refrigerator water filter, often known as a fridge filter, cleans the water you obtain from your refrigerator. They come in a variety of forms and sizes to fit a variety of refrigerator models and provide various levels of filtration. As a result, ensuring you obtain what you need might be more difficult than you think.
Quality and Certified Refrigerator Water Filters: A Guide
Check for authentic NSF product certifications that apply to water filtration requirements as the first step. Product samples are voluntarily submitted to NSF for testing and verification. The basic standard is comprised of NSF 42, NSF 53, and NSF 401:
NSF 42
This generally pertains to aesthetic impacts like "taste and colour of filtered water." Chlorine, taste and odour, chloramine, particle, iron, manganese, zinc, and total dissolved solids (TDS) are among the topics covered.
NSF 53
"There are over 50 pollutant reduction claims in this standard." Lead, cryptosporidium infections, volatile organic chemicals (VOCs), and chromium are among the most common.
NSF 401
Prescription pharmaceuticals, over-the-counter medications, herbicides, insecticides, and chemical compounds are among the 15 specific pollutant reduction claims available under this standard.
NSF 372 & 61
This ensures that the materials and components of your water filter are free of any harmful amounts of lead.
As you can see, NSF 42 is the most basic certification for water that is both clean and tasty. This may be adequate depending on the quality of your local water. NSF 53 is suggested for most urban or industrial areas, while NSF 401 is the safest option.
Manufacturer OEM Brands vs. Generic Brands
Although most people choose well-known OEM manufacturer names, other people need to hunt for less expensive alternatives. Almost every generic water filter is a rebranded item. It's crucial to learn about the brand name distributor, their website, and what information is accessible about the parent company.
NSF and WQA certification seals are found on many generic brand names, although they are difficult to discover in search databases. Because NSF certificates are usually listed under the parent company's manufacturer, this is the case. In this situation, the product model number should be used to search. It's simple to utilize the brand name if the product is WQA approved. You shouldn't instantly trust a product just because it comes with a lovely certification seal.
Best Refrigerator Water Filters
Water Drop Advanced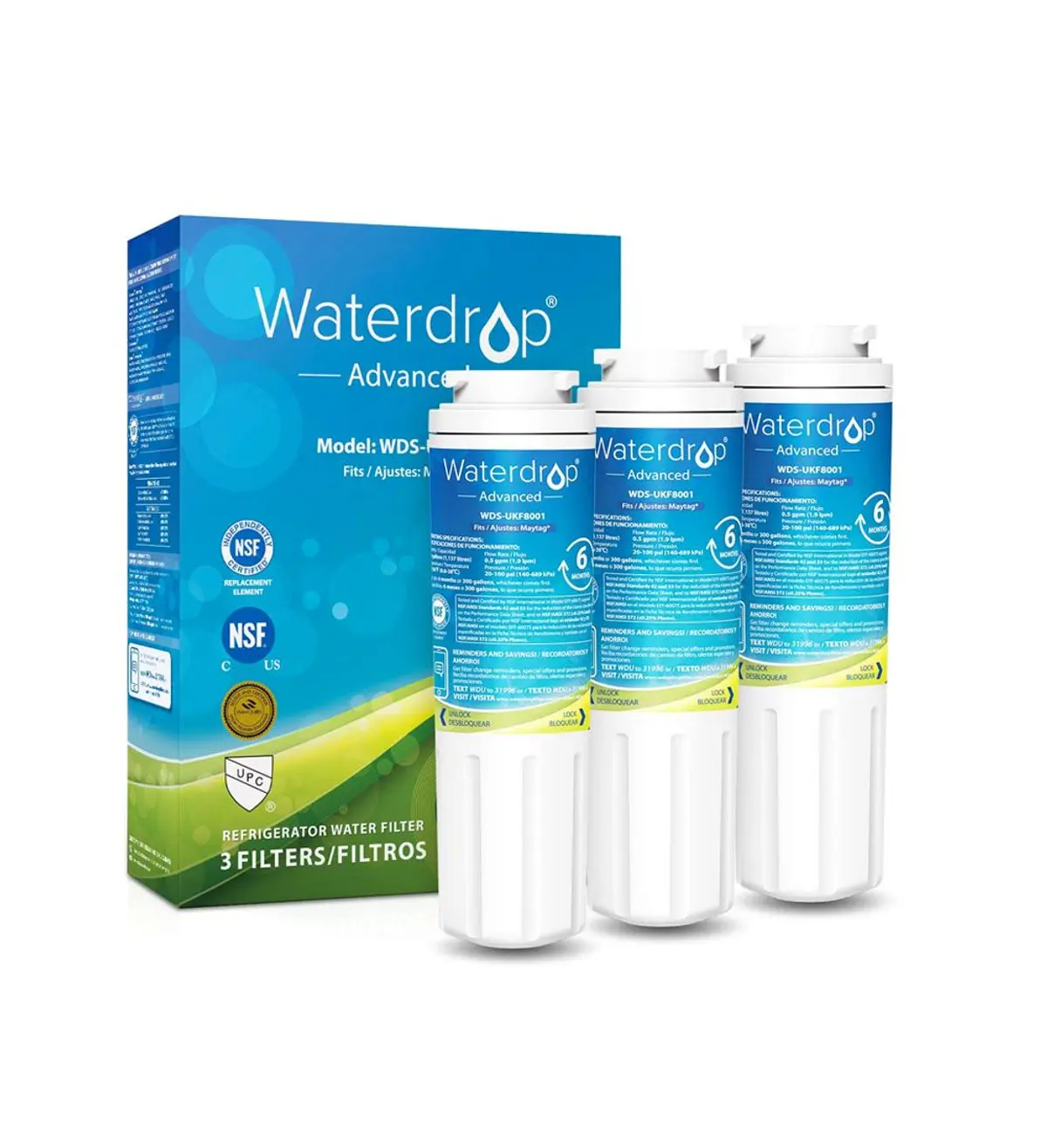 For Whirlpool and other Maytag side-by-side refrigerators, this filter is a substitute for the Everydrop Filter 4. WaterDrop is a California-based start-up that uses a sustainable, activated coconut carbon-block filter in their filters. A carbon block is a structure made up of immobile carbon particles that allows for more consistent and effective filtering.
Chlorine, lead, cyst, benzene, and carbofuran are among the toxins that these filters have been found to remove. They can hold 300 gallons of water for up to 6 months.
WaterDrop filters have a simple twist and lock design and come with detailed installation instructions. To flush away residue, run water through the system for at least 3 minutes; within 24 to 36 hours, the normal flow rate should return.
Culligan IC-EZ-1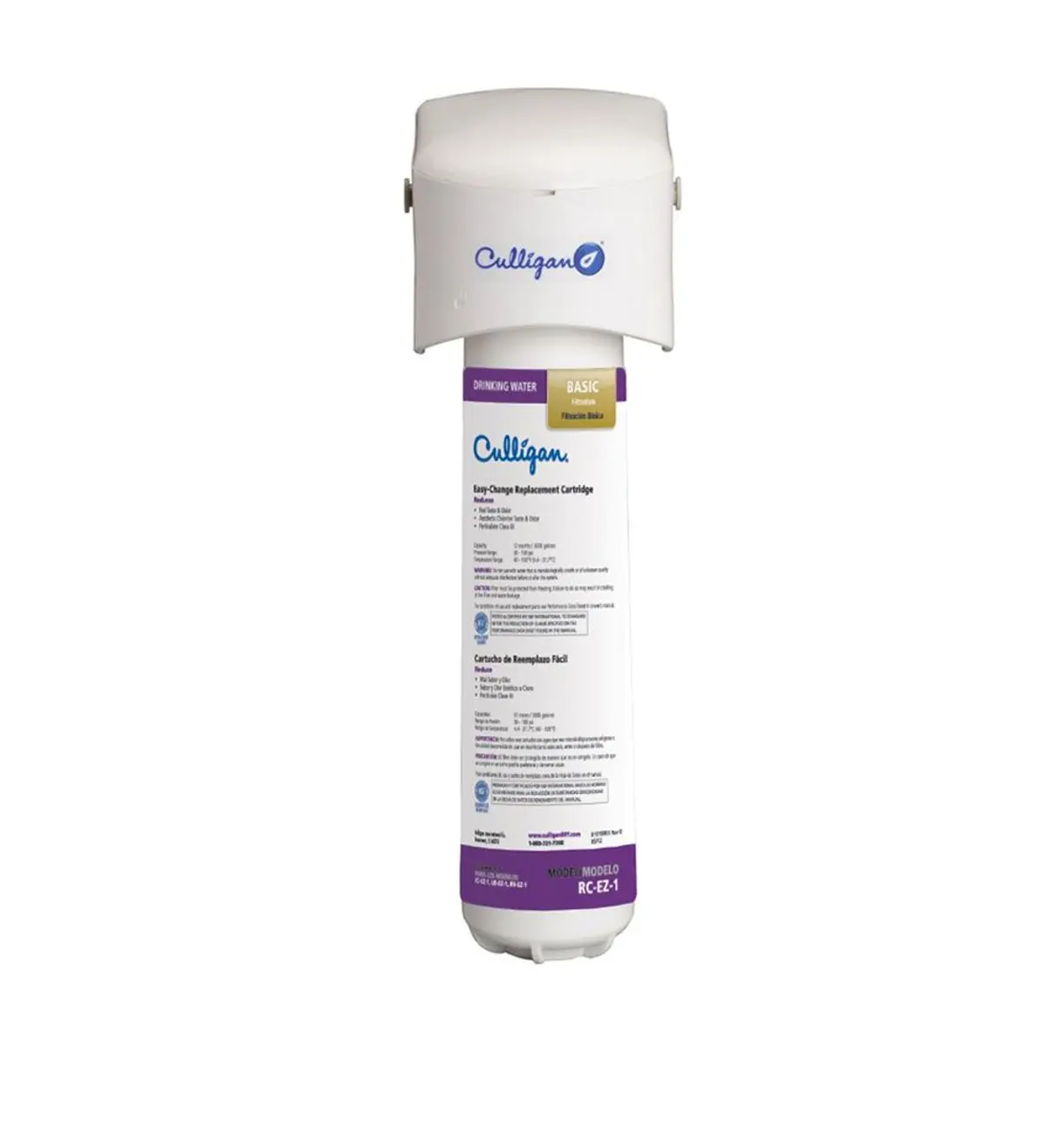 If your refrigerator does not have a built-in water filter, an inline filter that sits between your refrigerator and the water supply can be used. Unless your refrigerator comes with a bypass plug, you won't be able to bypass the built-in filter. Culligan develops and produces most of its goods in the United States independently.
This filter includes a cartridge change reminder label, as well as an integrated mounting bracket and mounting screws. For best flow rate, it should be put within 3 feet of your refrigerator and vertically. An ice machine has to be flushed at least once every 10 minutes.
PureLine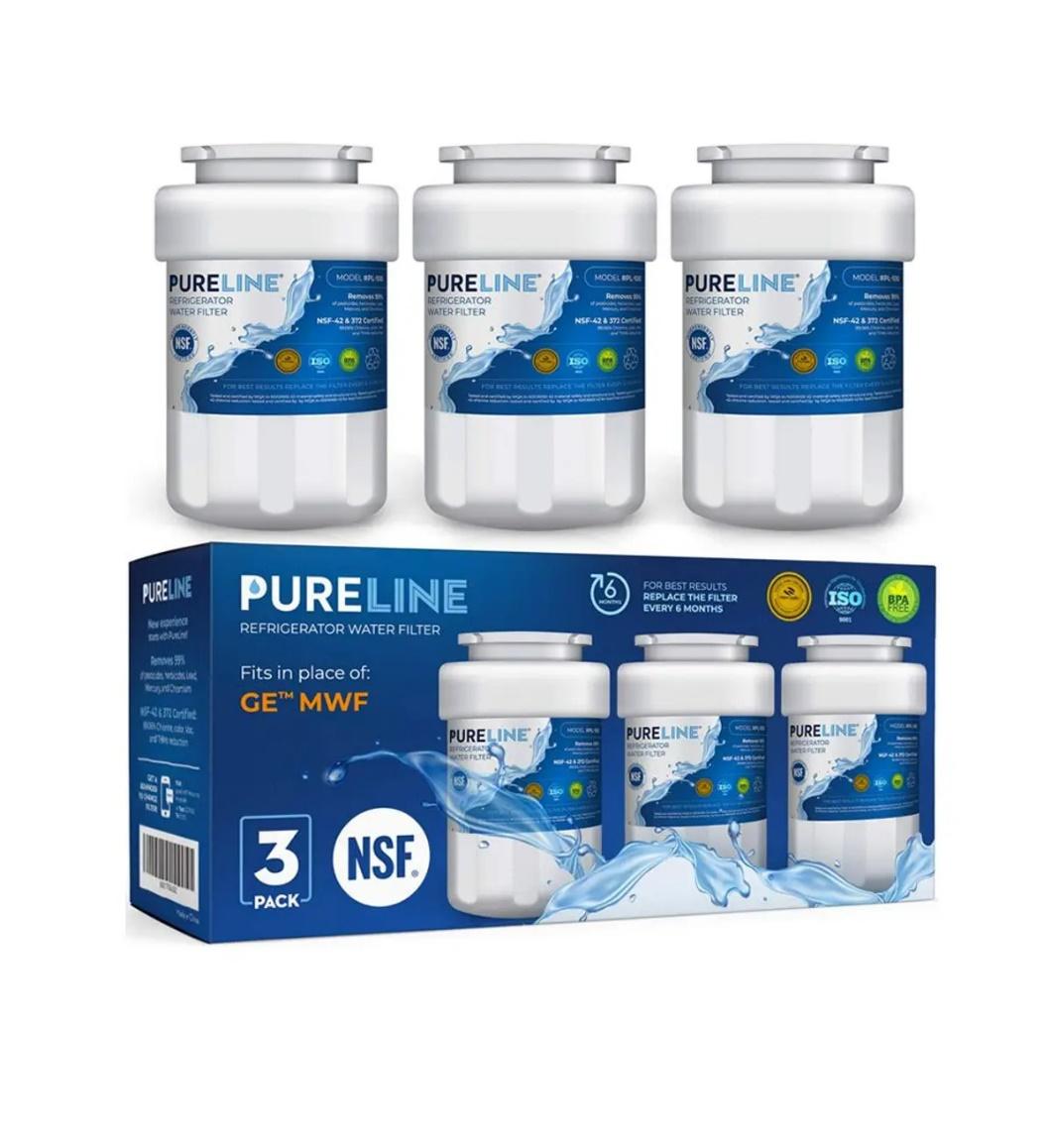 Pureline is one of the most prominent generic filter manufacturers, and instead of merely rebranding and relabelling, they produce their own goods. They employ carbon block technology like most other filters, but they add two additional ionization processes on top of that to extract even more solids and pollutants. Electromagnetic absorption is one of these techniques that eliminates the tiniest particles. They claim to eliminate 26 pollutants in all.
GE filters are easily visible and are normally found in the refrigerator's upper right corner. The usual approach is to loosen and remove by gently twisting counter clockwise. You just insert the new filter and crank clockwise until it stops, with the arrow on the new filter aligned with the arrow on the filter head unless you are planning to get a water softener. Don't over tighten or strain the filter past this point, and then flush it with 2 to 3 litres of water.