Whether you are a boat enthusiast or if a fun boat ride helps you relax, Mastercraft is a brand that has fans from across the globe owing to its superior features, excellent performance, and of course the breathtaking beauty of each model.
If you are reading this post, we are pretty sure that you have already decided to go for a brand-new Mastercraft boat which indeed is a brilliant choice. Hence today, we are going to discuss the cost of a new Mastercraft boat.
Let us Go!
Cost of Mastercraft Boats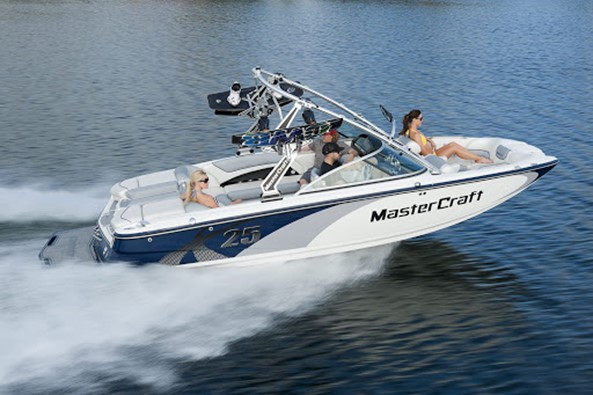 The prices of the boats depend largely on the model so we are going to discuss in-depth all the three popular series so that you can make a clear choice.
1. Mastercraft NXT series
The Mastercraft NXT series consists of 3 models – NXT20, NXT22, and NXT24. We are going to talk about the prices and features for all 3. The average price of an NXT20 starts from $73,229 and the costliest one is about $108,495.
For NXT 22, the price approximately starts from $79,995 with the costliest one being $122520 and for NXT24, the price starts from about $82995 and the costliest one is $143,470.
Features of This Model
It comes with an inbuilt 4.3-inch LCD color screen and the 5-button interface dash screen helps you get a better command on the boat.
A strong and sturdy ZFT2 base tower that is meant to last long.
Adequate and easily accessible storage along with a durable teak platform that can be upgraded to fiberglass.
2. Mastercraft XT Series
Speaking of the second Mastercraft series, there are 6 models in this series starting from XT20 and going up to XT26.
Prices of the 7 Models Are:
XT20- $95,000 -$117,087
XT21-$88,900 -$125,995
XT22-$60,000 -$159,730
XT23-$89,990 -$179,245
XT24-$158,900 -$189,570
XT25-$114,995 -$155,932
These prices are only the close approximations and can change with respect to demand and taxes that may apply. Next, we will discuss the features of the series-
Features of the XT Series
You can decide whether you want to enjoy the view or chat with your friends with an optional convertible rear-facing center seat.
Equipped with 4 Klipsch speakers and a radio unit.
Durable ZFT2 tower with spinning boat racks
3. Mastercraft Series X
The X series has 3 models- X22, X24, and X26. The X22 model will cost you about $22,070, the X24 model costs about $158,900-$258,880, depending on whether you are buying an old one or a brand-new boat and the X26 model costs about $114,995-219,995.
Features of The X Series
Special cushion filler for the walk-through
Optional dual-screen control to keep the party going on!
A luxurious sundeck seating facility
Other Mastercraft Models
The above-mentioned 3 series were the popular ones that we just could not let you miss. Apart from that, there are two other models as well that you should check out – Mastercraft XStar and Mastercraft Prostar.
Prices of The Two Models
Prostar- $14,500-$76,950
XStar- $37,000- $242,495
So, this was all about Mastercraft boats and their price. We hope you found the one that best suits your needs and for any further queries, feel free to reach out to us in the comment section below!