Are you building a new home or doing a remodeling? Chances are you'll need to add a set of stairs or you might want to add a deck in different parts of the house. Stairs are both functional and decorative. First, they're useful because stairs provide convenient access to move from one level to another. On the other hand, they're decorative because you can design them with your interior décor in mind.
Thankfully, there are different types, materials, and finishing of stairs you can choose from to match your style and preferences. There are straight stairs, L-shaped, U-shaped, spiral, and curved types to choose from. As for materials, options include wood, metal, concrete, marble, granite, and glass. Some opt for just one material for both the stairs and handrails while others combine two or more materials to create a functional and aesthetic design.
The Battle Of Stairs
Among the most popular stair types homeowners often go for are steel and wooden. Both have their merits and disadvantages, and it can get confusing to pick which one is better for your home. There's no easy way to tell which of the two would be better. The best you can do is find out the pros and cons of both so you can decide more wisely.
Steel Stairs
From modern to industrial-inspired homes, steel stairs are a common sight. Steel stair design options and examples are widely available on the internet for you to look at if you need inspiration for your dream house.
May it be carbon or stainless-steel metal, many homeowners seem to favor this type of material because of the several benefits it can provide such as the following:
Who can ever say no to a durable material, particularly when building a home? If you want something that could last a lifetime, steel stairs might just be the top choice. It's one of the reasons why commercial buildings opt for steel when it comes to their stair designs and builds.
Steel stairs are also perfect for outdoor use. So, if you plan on adding a deck or patio to your home, you might want to consider using this material. It withstands harsh weather conditions and could last longer than you can imagine.
Wood may be aesthetically pleasing if you're into that kind of natural vibe, but that's just about it. It's hard to work with in terms of versatility, especially if you want something unique for your home. On the other hand, steel is versatile and flexible enough to accommodate the design and style you want to achieve. Whether it's spiraling or curved staircases you fancy for the architectural flair of your house, you can rely on steel to make it work.
Maintenance is something to consider when looking for a stair design and material for your home. It requires minimal maintenance compared to wood since steel doesn't need paint, varnish, or sealant to retain its appearance.
Cleaning stairs made of steel is also relatively easy. An all-purpose household cleaner should do the trick, or you can use warm water with mild dishwashing liquid. If the steps often get foot traffic, they won't likely accumulate dust, so you may only need to clean them at least twice a month or so.
Wooden Stairs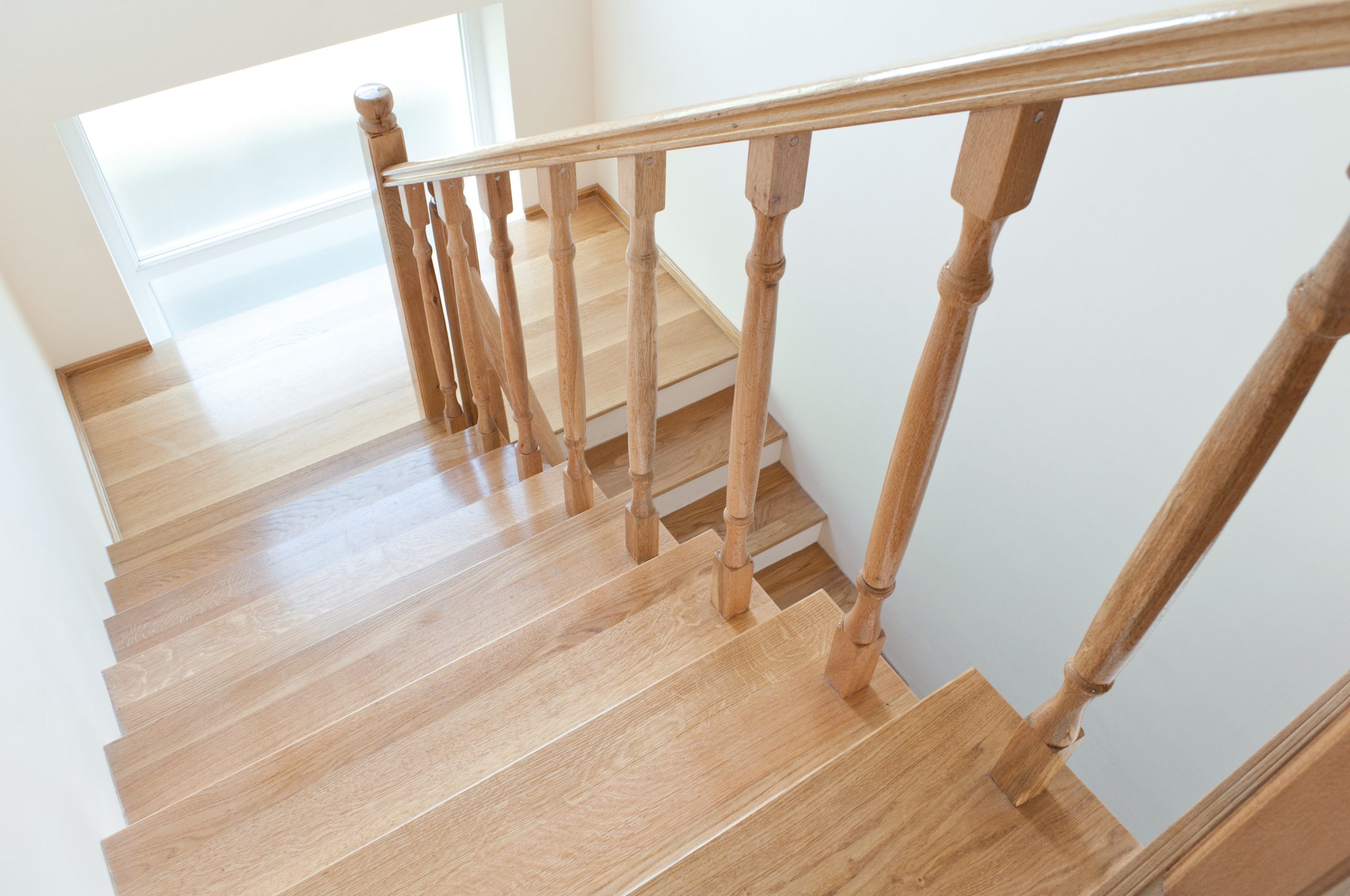 Many people love how rustic and natural wooden stairs are. They're perfect for homes that boast a homey and inviting design. The wood material's appeal goes beyond different environments and could lend a comfortable and warm feeling.
With the vast selection of stains and wood types available, you can choose according to your preference and the architectural style of your home. To add, here are the other benefits of wooden stairs to consider:
While there's not much you can do about wood's composition, you can always tweak its appearance to customize it according to what your home design requires. You can paint, seal, treat, or stain wooden stairs if there's any particular color or theme you want for the house.
Wood is relatively cheaper than steel. You can play with different types and colors, and you won't feel the need to be restricted by your budget. However, you may also want to note the installation time and effort that wood requires compared to steel.
Wooden stairs are perfect for homeowners yearning for a natural and warm look for their home sweet home. They add a welcoming appeal to any interior and exterior design, which could enhance the ambiance in an instant. However, you may also want to take note of a few disadvantages of having wooden stairs at home, may it be indoor or outdoor.
Durability is of great concern. Wood may get easily damaged or ruined when exposed to high humidity or moisture. Extreme fluctuations in temperature can also compromise the quality of this material. Should you decide to go for wooden stairs, be mindful of what you need to do for its maintenance such as pest and weather resistance treatments.
Conclusion
Wooden and steel stairs are both wonderful additions to any home. But of course, the pros and cons of each would need to be heavily considered. The decision could also depend on what style you want to have for your house. For a minimalist, contemporary, or industrial design, steel would look perfect and lend a modern appeal. It's also a viable option if you're after durability and low maintenance.
If you wish to have a more natural and welcoming vibe, you could go for wooden stairs. Wood is also an essential element when you're trying to create a cozy and inviting home. That is, after considering the amount of maintenance and installation they require. Wood is relatively easy to work with, but the challenge lies in how you'd build or install them. It might be better to ask for professional help if you haven't worked with this material before.
All in all, both choices are good enough, depending on your preference as the owner. The question of which one is better for your home lies ultimately on what material would be more functional and cost-efficient if you're working on a limited budget.