One of the primary concerns of homeowners is the value of their homes. Even if they've been staying in their property for many years and plan on staying on for some more, they'd want to know that its value is appreciated.
That's why a lot of American homeowners do home improvement projects. But not all renovations will raise the value of your property. Fortunately, you can focus on those that can significantly increase your home value.
Top Improvement Tips
Before you take out a home improvement loan or start spending your savings on making major changes to your home, you might want to consider insights from people who really know what buyers would like to see in a home. You can get home improvement ideas that can boost your home's value. If you're in Tennessee, for instance, and you're thinking of selling your house, you can check out Fair Cash Deal and other similar sites to get some inspiration from listed properties.
Here are some home improvement tips from real estate agents. They're always out there trying to sell a home, so they know what works for clients and can boost your home's value:
1. Enlarge Your Space
Everybody wants a little bit more space. A buyer may settle for a smaller space now if that's the only thing their money can buy for the moment. But if they had more money or if they could find something with a little bit more space, every home buyer would surely want to gain more square footage for their dollar.
In fact, most home buyers want more square footage even if their take-home pay can't pay for it. This was one of the findings in a recent market report done by the National Association of Home Builders (NAHB). In the Home Buyer Preferences study sponsored by the NAHB, they found out that getting wider space for themselves is the primary motivation why buyers move to a new home.
One way of enlarging your space would be to utilize and improve your basement. According to the same Home Buyer Preferences study, buyers from the high-income bracket want to have a basement. These are buyers who have an income level upwards of USD$150,000.
Another way of doing it is by knocking down your wall next to the garage and integrating your living room with the garage, making it appear that your living room is wide and spacious. You may then build a new garage in some other part of the lot.
2. They See Façade and Landscape First
When your buyers first drive up to your home, the first thing that they'd see is your landscape and your façade. This is what makes the first and lasting impression.
This is why most real estate agents say that the lawn and the home front is a major plus factor that can raise the market value of the property. If you're going to take out an equity loan, it would be a good idea to invest it in improving your home, starting with the façade and exteriors, to raise its value.
Improving your façade will spruce up the front appeal of your home. This will define the vibe that any potential can feel the first time they approach your front lawn and walk towards your front door.
When they make their mental pricing of your home, it's something that affects their biases even if they're not conscious of it. Some would even say that their experience on the first day they set foot at your house evoked certain memories of their past, hopefully, pleasant ones.
You can also improve your landscape by maintaining its appearance. This means you'll have to do regular pruning of shrubs, mowing lawns, and some basic gardening.
A well-maintained and landscaped lawn are one of the things that buyers look for. Prospects usually associate a nice-looking and well-landscaped lawn with a nice home interior. Real estate agents say that lovely lawns usually help close the sale and at a much higher value.
3. Replace Your Front Door and Repaint Exterior Walls
Another way you can boost your home's value is by sprucing up its exterior, starting with your Mastercraft front door and all wall surfaces. Consider replacing your front door with something that has a sturdy or stable look. It doesn't have to be heavy in terms of weight. It just has to have that well-set, sturdy, and weighty appearance.
This gives your home an aura and vibe of importance and being well-appointed. And these external appearances create a positive impression among potential buyers.
Among the best choices for your front door would be authentic hardwood. They're great material for the door, especially if you want it to have some carvings. Another great alternative would be steel doors since they give that vibe of security and privacy.
4. Stone Veneer for the Front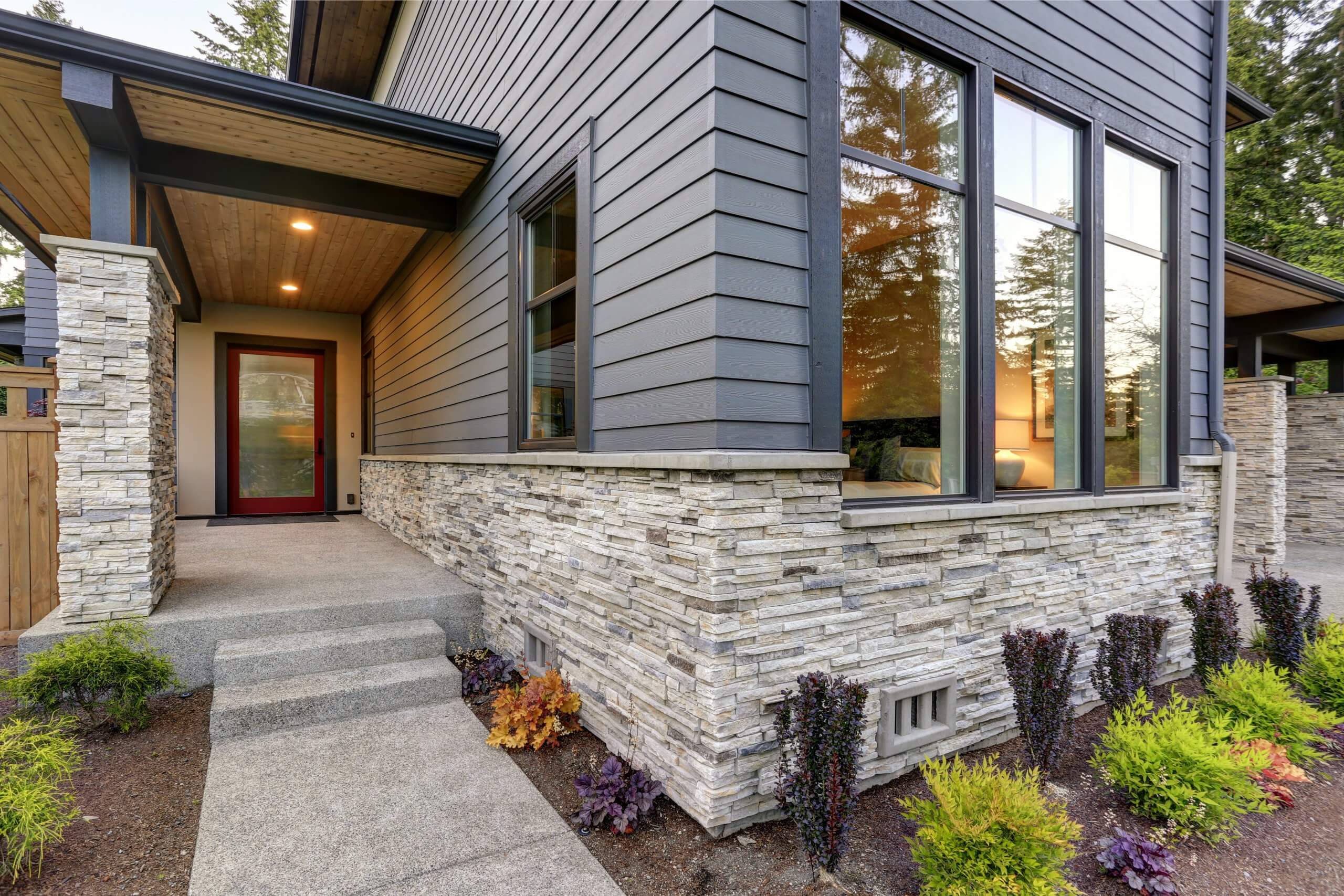 A great addition to your front would be stone veneers. This is a sure way of sprucing up and increasing the value of your home. Some renovators said the cost of installing stone veneers was somewhere around USD$9,500. But you'll likely even get more than that amount when you sell the house.
Improvements That Boost Value
Making improvements to your home costs significant sums of money. Unless you have unlimited piles of cash, it would be wise to consider giving priority to those improvements, which can boost the value of your home. Most of these improvements have to do with the external appearance as well as the space of your home. Sprucing up your façade and landscape, replacing your front door, and repainting your walls are some of the value-boosting changes you can make.