More often than not, basements end up catching and storing all the clutter accumulated inside the house: from old school supplies to holiday decorations, unused stuff, and piles of seasonal clothing. You can find the storage room filled with junk you never thought of having all these years.
Perhaps you've got plenty of spare time, or you just came up with a fantastic idea to utilize your basement space. But first, you'll need to free it up from clutter. At first glance, you may think that doing so will take weeks to accomplish. But with a few tips and tricks and perhaps a bit of elbow grease, you can organize your basement and convert it into anything you like.
Decluttering And Organizing Your Basement
A complete cleanout is the first step when converting your basement into a livable space. To do so, you need to declutter and start with a clean slate. You can work and design better when there's no more junk lying around the room.
Free up the space you unknowingly have in your basement using the following tips:
1. Get Rid Of Stuff You No Longer Need
Sentimentality often gets in the way of decluttering any given space. Sometimes, you mindlessly stock up things not because you need them but because they hold a particular sentimental value from people you attach to. While there may be nothing wrong with such an emotional attachment, it could stop you from being practical. In this case, you could be piling up the basement with things you no longer have used as the bathroom heat light because no one really uses them nowadays.
If you follow this link, you can start getting rid of stuff you don't need and use anymore. A rubbish removal company can help you dispose of items you can't afford to stock in the basement. No matter the size or type of item, rubbish removal might be the easiest way to get rid of them. From old couches to unused sewing machines, stacks of empty boxes, and broken holiday decorations—basically anything you don't see your family using in the future is all good to go.
2. Come Up With Efficient Storage Solutions
After getting rid of stuff you no longer need, you now have to think of ways to store the things you plan to keep. If you plan to use the space for something livable and valuable, perhaps a mini office or a man cave, you need an efficient storage solution so the basement won't look crowded. What you want is to keep it organized but still looking nice and neat.
Built-in shelves could be an excellent idea if you have boxes of stuff that you want to store. The boxes could contain your holiday decors, winter clothing, and sporting goods you use for outdoor activities. The shelves won't only look organized but also match any interior design you want for the space.
Another efficient solution would be storage benches and ottomans that could double as a furniture piece and a storage option for toys, books, and other small stuff you want to keep hidden and organized. Toy chests and baskets can also be helpful when you want your basement to look clutter-free and cozy.
3. Keep An Inventory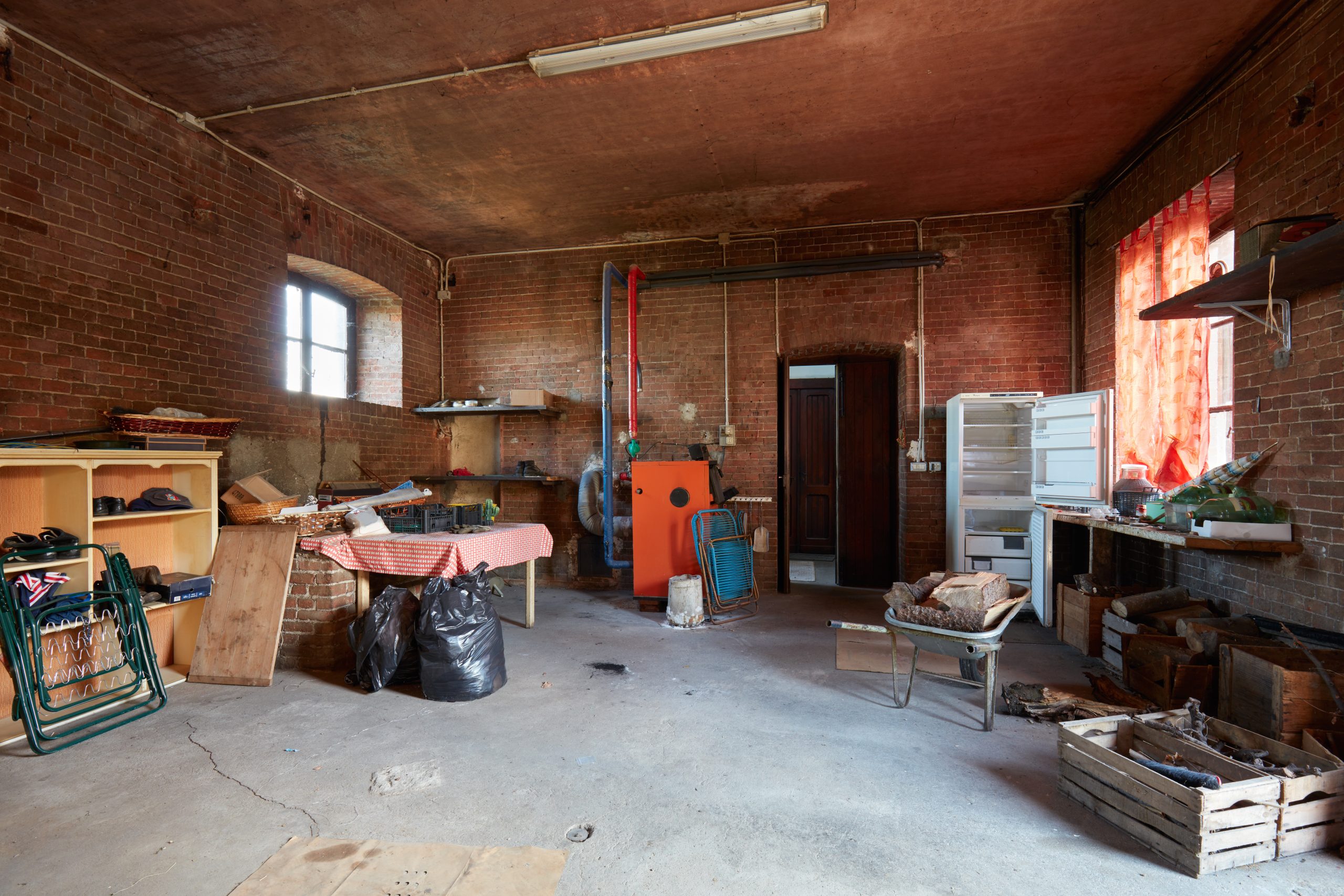 Do you notice how basements are notorious for looking messy despite countless attempts to declutter and organize them? Well, that's because you're most likely not able to come up with an inventory of everything you store inside it. It could help you keep track of what you have and where you store them.
For example, if your inventory indicates where holiday decors are stored, you no longer need to rummage through all the boxes and shelves to find them when it's time to decorate. It's also a helpful method to keep track of what you may need to buy since you know what you're missing. In this way, your basement remains organized even when you keep on going back and forth to get the stuff you need.
4. Think Of What You Want To Use The Space For
When the junks are gone and the space is organized according to your taste, it's time to decide how you'll use the area. Doing so will prevent additional clutter from piling up in the future.
Do you plan on converting the basement into your home office? Or perhaps an extra room for guests? With that extra space, you can make any livable space that your family can enjoy. A movie room, game area, or a reading nook would be some ideas to consider. Just make sure there'll be enough furniture, accents, and lighting to achieve any theme you want for the place
Final Words
Decluttering and organizing your basement could be a daunting task. However, that shouldn't stop you from utilizing the space to enjoy every corner of your home to your heart's content.
Start by getting rid of things you no longer need. When done, come up with efficient storage solutions to organize the space. Keep an inventory of everything you store in your basement, and when you're finished with all the previous steps, it's time to convert the space into anything you want it to be.