The wakeboard industry is all about competitive men and women doing adventures. They are specially designed with a large wake that allows the wakeboarder to jump on them while doing aerial tricks.
Wakeboards are V-drive boats, with the engine placed at the rear end of the boat. This is because the wake, which lies in the front, is intended to be lighter. In some models, the engine may also be in the middle of the boat.
You will find a wakeboard tower in all wakeboard boats. It is a common feature and is used to elevate the rope's pulling position, allowing the rider to stay in the air for a more extended period.
A fantastic thing about wakeboarding is that manufacturers have been trying to provide as much seating as possible. That makes these boats great for socializing, sunset cruises, and simply lounging on weekends.
All tow boats are expensive – specially wakeboards and wake surfing boats. The boats start from $150,000, and high-end boats can even cross $200,000. Maintenance cost involves the oil cost, which must be changed every 50 to 100 hours and winterizing the boat.
The cost of maintenance can go up to $1,000 to $2,500. Then there are certain operational costs, such as insurance and registration.
Mastercraft is a revolutionary brand for wakeboard boats. Mastercraft boats look stunning, like those in sci-fi movies. We will talk about different popular MasterCraft wakeboard boat models and how much they cost in this article.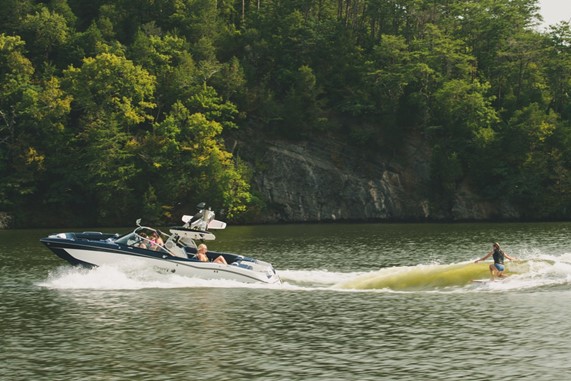 The largest MasterCraft currently, X-26, has the most features incorporated into it than the other models. It is innovatively designed to serve both entertainers and water-sport enthusiasts.
It can accommodate up to 18 people. The boat's new features are the electric head, refrigerator, vertical surf racks, heated seating, hydraulic seat lift, wet bar, power-jet bow-thrust, and built-in heater for winter boarding. The MasterCraft X-26 costs about $260,000.
MasterCraft X-35
We would not be wrong if we say that this model is built for fun – it is partly wake boat and partly Batmobile. There is plenty of room to sit and chat on the bow lounge with a wet bar and fridge in the cockpit. It comes with two motor options – 5.7L and 6L. The boat has a capacity of 16 people. Its pricing starts from $126,760.
MasterCraft Xstar
The XStar has a distinctive style, with unique seating. The seats are convertible, bench-style, and can be changed into three different positions. The XStar dash is also different from other MasterCraft wakeboards.  There are many sub-models in this category which can cost up to $150,000.
MasterCraft X-10
This model is the classic MasterCraft style. The boat has a deep gridline stringer – which means a lot of storage space from front to back. It is 21-feet long and can accommodate 14 people. MasterCraft has always maintained its reputation with top-end material and craftsmanship. This boat is one of the best examples of the company's connotation.