Dressing rooms are a great place to organize your clothes, shoes, and other accessories and comfortably change clothes. You can set an entire room as your walk-in closet or have at least a small area to organize your things. Regardless of space and room shape, here are the steps that will help you design your dressing room that considers style, functionality, and practicality.
Evaluate your needs.
Before contemplating the design aspects of your dressing room, you first need to assess your needs. This step is essential to help you plan your layout, the shelvings and cabinetry to use, and the accessories to incorporate.
You can ask yourself the following questions as examples:
What items are you going to keep in your dressing room? Will you also be storing your shoes, bags, watches, jewelry, and other accessories aside from your clothes?
How do you want to organize your clothes? Do you want them folded or hung?
What items will you be displaying, and what will you be storing inside cabinets?
Are you going to need more shelves or more drawers?
Do you need a vanity dresser so you can do your hair and makeup, too?
Do you need other furniture like a couch and a side table?
Is the dressing room yours alone, or will you be sharing it with your partner or family?
Decide on a theme.
A dressing room will seem like a totally new space in your home. This layout gives you an excellent opportunity to create a whole new theme for your area. The style can even be different from your bedroom or the rest of your house if you want. When you already have an idea in mind, you can then center your other dressing room ideas towards the concept.
Choose between fitted storage or getting individual furniture pieces.
When planning on the proper storage, you can choose between getting individual pieces of furniture or customizing fitted storage to create the look you want.
With movable furniture pieces, you can easily rearrange the look of your dressing room anytime you want. This idea is perfect if you're going to create different looks and layouts every now and then. On the other hand, if you go for a bespoke walk-in closet, you can utilize the space in your room. You are free to customize your fixtures, ensuring that every corner and area is fully used no matter what shape and size the room is. By customizing your dressing room fixtures, you can also make specifications that will help you create a unique look.
Add seating in your dressing room.
Seating is a functional element you can add to your dressing room if you have space. It is a convenient place to sit while you put on or take off your shoes or those skinny jeans. It also comes in very handy when dressing up kids in your family dressing room. If you have a vanity dresser, then it is a must to have a seat.
For your walk-in closet, you can choose a functional storage ottoman bench, a cozy loveseat, an elegant chaise lounge, or the more space-saving armless 2-seater sofa. A round ottoman can also make a stylish choice that you can tow and keep under your vanity desk.
Light up your dressing room.
A well-lit area is most favorable for a dressing room. While having a window and natural light is best, you may be left with a windowless and dark space. In this case, you need to fix the proper lighting fixtures. You can use lighting to create warmth and drama in your walk-in closet, aside from its practical use.
Fantastic ideas include overhead lights like spotlights and recessed lights. You can also make your room more elegant and bright with a trendy ceiling light or a chandelier attached to a mirrored ceiling. It is also a brilliant idea to attach LED lights inside your cabinets, which do not give off heat. You can choose LED bulbs or strip lights, which are very easy to install.
Get stylish with flooring.
Stylish flooring can create a statement. You can use wooden floors that look neat and stunning with plain painted cabinetry. A carpeted or tiled floor will also match wood-look cabinetry. You can also place a rug in the middle of your dressing room to add style and warmth to your space.
Complete the look with other furniture, fixtures, and accessories.
To wrap up your project, add other furniture, fixtures, and accessories to your walk-in closet. Think of items like built-in or detached mirrors, a small side table beside a sofa, a decorative countertop or floor lamp, a wall clock, a throw pillow, a sheer window curtain, some indoor plants, and basket organizers, to name some.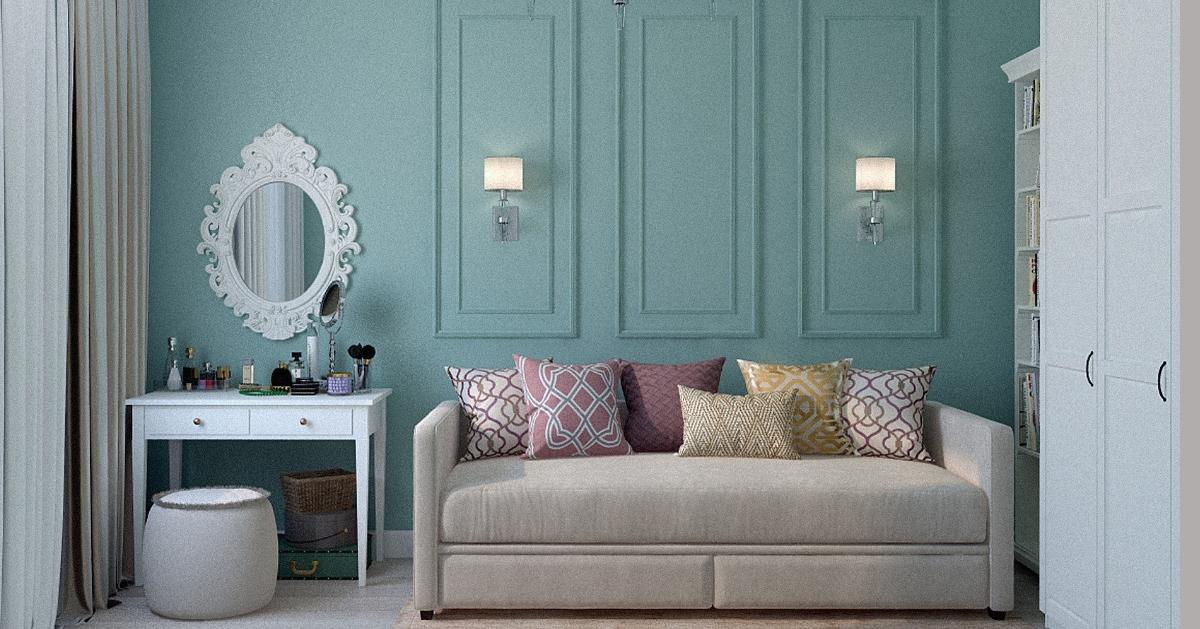 Even without an interior designer, you can successfully style your own dressing room. Begin with the tips above and start creating a trendy and practical walk-in closet you will enjoy over the years to come.