Winter is coming, and yes, that's already a given. As you ensure your home stays warm during the season, don't forget to take care of your outdoor furniture too. These valuable pieces have undoubtedly provided you with your much-needed comfort and relaxation during the warmer months. Now that the colder days are here, you shouldn't neglect your outdoor haven and everything that comes with it.
You won't probably be spending time outside as you used to as the temperature drops. That said, it's the best time to think of ways you can take care of your outdoor furniture during winter. Doing so will preserve and maintain their quality for years to come. Come next summer season, you can enjoy basking in the sun again, knowing that your dependable outdoor furniture with mastercraft doors and accessories is just waiting to be used again.
Winterizing Your Wood Outdoor Furniture
Best known for its aesthetic and homey appeal, wood is almost always the first choice for outdoor furniture. It's a classic material that homeowners often prefer to have, and if you do, you should also be aware of how you can make your investment last for as long as possible. Knowing how to winterize your outdoor wood furniture can go a long way in making sure these timeless pieces can continue to serve their purpose for more seasons to come.
Before storing your wood furniture, such as the teak wood sectional, don't forget to apply a protective sealant to protect the wood from moisture. The winter season is notorious for exposing wood to moisture, which could cause the material to crack. Covering the furniture isn't enough most of the time since moisture can still seep through from the air.
Teak may be naturally better at holding out against fluctuating temperatures and moisture, but it doesn't mean you won't do anything to protect your sectional and other furniture pieces from the winter season.
Taking Care Of Other Furniture Materials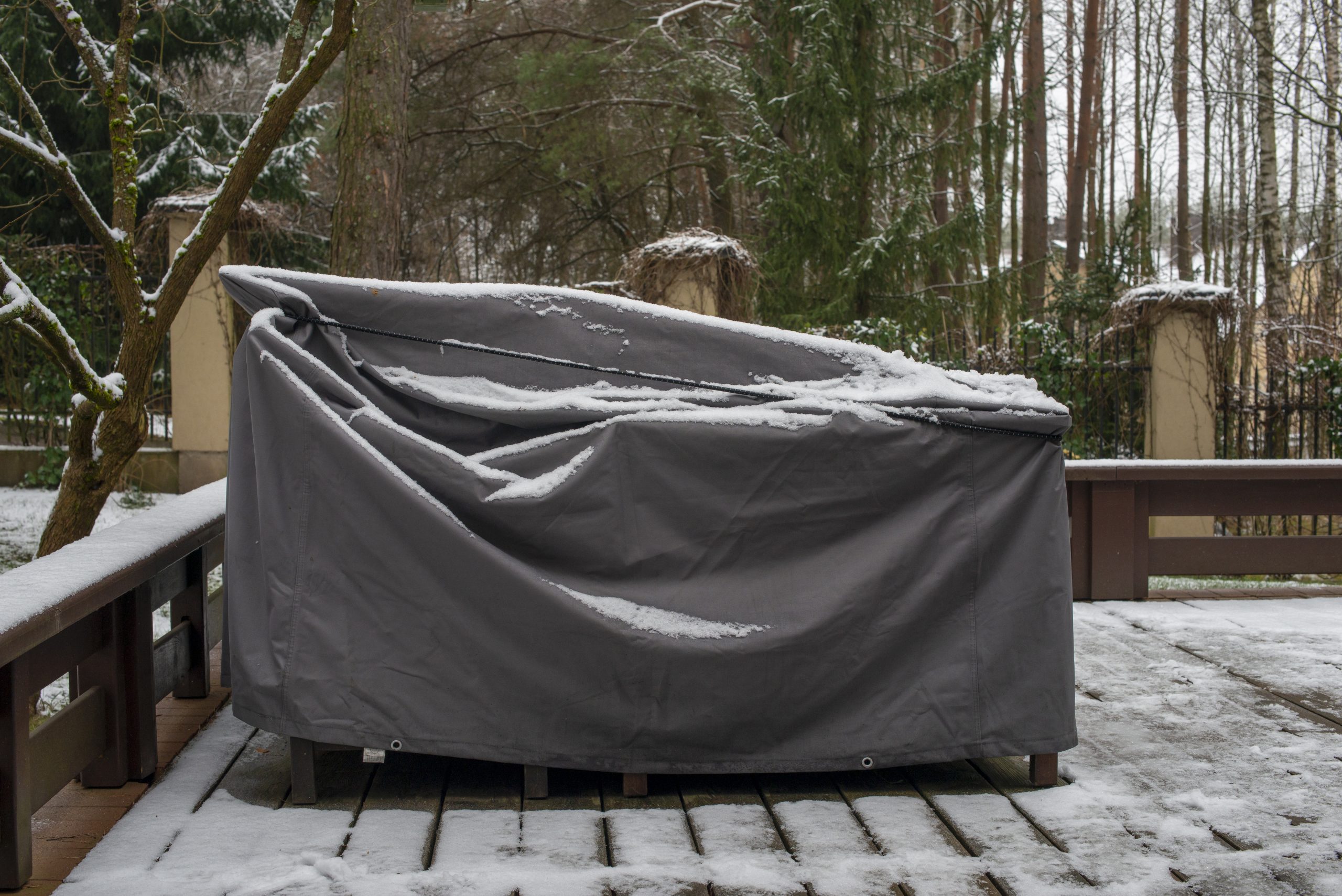 Aside from wood, it's also common to see outdoor furniture made from cast aluminum, wrought iron, and recycled plastic. If you happen to have any of these, here are some tips on how you can take better care of them during colder months:
Stack plastic chairs and tables for easy storage. Clean them well before putting them away.
If you choose to leave recycled plastic furniture outside, make sure there's enough cover for all the pieces. Take note that extreme temperatures can cause the plastic to be brittle, thus making it vulnerable to cracking.
Bring in wrought iron furniture if you don't want to risk getting them rusty.
Cast aluminum may be rust-proof, but they can be more lightweight, thus making them prone to being blown away by strong winds or extreme snow conditions. You may tie them together or stack the furniture to make them heavier.
If your outdoor accessories include cushions and pillows, you should remember to store them inside as winter approaches. Regardless of the fabric type, cushions can get easily damaged due to freezing and thawing caused by the drop in temperature. To add, there's also rain, snow, and strong winds you should be worried about.
The same goes for carpets, mats, curtains, and other decorative elements made from fabric materials. Before storing them, make sure they're clean enough so that when it's time to use them again, you can simply bring them out of storage, and they're good to go. To ensure they won't get damaged or infested with mold and mildew, you may cover the fabric with plastic wraps and other covering materials.
Regular Maintenance Can Go A Long Way
Even if it's not yet winter, your outdoor furniture can surely benefit from regular maintenance and cleaning. No matter what time of the year it is, it's essential that you know how to maintain and care for your outdoor space in general. A good practice is to clean the furniture at least once a month using a special furniture cleaner.
If you don't have one, you can use dish soap and warm water. After cleaning, dry the items under the sun and cover them when not in use. Staining and sealing wood furniture is also highly recommended at least once every year. Doing so won't only prolong the life of your investment but can also help maintain the usual shine and vibrant color.
The Bottom Line
Having a cozy and comfortable outdoor space at home sure has its perks and advantages. However, you shouldn't forget that it also comes with proper maintenance and upkeep to preserve everything you have in it, including the furniture. May it be made from wood, recycled plastic, wrought iron, or cast aluminum, knowing how to take care of them during winter is essential if you want to enjoy them for many years.