All boats are not designed for water sports. So, if you're looking for a boat that you can use for waterboarding, you need to be super careful while choosing one. MasterCraft has proved time and again that they are reliable when it comes to wakeboard boats. In this article, we'll try to find out if MasterCraft wakeboards are good or not.
MasterCraft promises comfort and convenience. The boats have a removable ski pylon and premium cooler to maintain flexibility and comfort. To add style to the setup, boats are covered with a mooring cover, stainless steel fender clips, and a bimini top with surf sleeves.
Newer models are equipped with advanced, louder audio with a five-channel amplifier and Bluetooth connectivity. You will also get a 10" full-color touchscreen display and a dash speaker.
MasterCraft won a 2017 NMMA Innovation award for its DockStar handling system, making docks and mariners easy to navigate. The design facilitates ultimate control with additional rudders that deflect prop wash beneath the boat. This enables precise steering while reversing. The best part is that your surfing, wakeboarding, or skiing won't be affected by these rudders.
They use the only five-star emissions-rated gasoline marine engines globally – that is not only cheaper but good for air. They have incorporated new wider-band oxygen sensors as well. New models have protected engines so that they can use 100% secure cooling technology.
They are the only boat manufacturer with three ISO certifications. MasterCraft provides a fully factory-backed and fully comprehensive five-year warranty. The warranty is transferrable with an added average of $2500. All parts of the wakeboard are covered with the warranty. However, there are some exceptions like corrosion, Gelcoat defects, and powertrain up to 500 hours.
The classic MasterCraft wakeboard models – X20 and X23 have been at the top of the wakeboard boat list for years. NXT models are affordable and fantastic for a relaxed family weekend. These are slightly narrower than other series.
If you are looking for more extensive options – X55 and X45 are the best. Boats that have wave-shapers and built-in auto ballat systems are more expensive. But you can cut the cost by manually installing weight in compartments to shape the board. Doing this can reduce your budget by around $40,000.
The XStar model creates excellent waves and can be surfed for miles. However, whichever series or model you choose, keep in mind that if you are boarding on a shallow lake, the waves won't be that great compared to a more bottomless lake.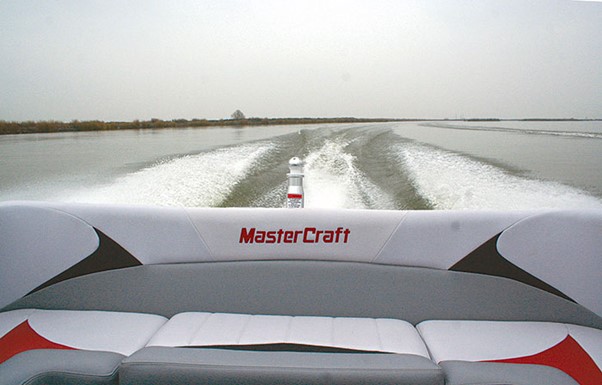 All new MasterCraft models come with the Gen 2 surf system, allowing the user to control the speed, ballast, and angles from centralized control. This creates customized surf waves. The wave can easily be adjusted as per preferences and board type.
If you like a wave you produced, you can save the settings from reproducing the same wave later. The MasterCraft Gen 2 surf system faces tough competition from the Malibu surf gate system, capable of generating long waves.