A good-quality carpet transforms the home into a warm, cozy environment that gives the feeling of safety and welcomeness in the house. Nothing compares to the luxurious, soft feeling of carpet under your feet. Choosing the right carpet for every room in the house can be a minefield since the options are seemingly endless from the pile of colors and design patterns available out there. The wrong carpet may wear out very fast and you'll need to face the challenge of searching for a new one again. However, to ease the struggle of the search for a perfect carpet, we've put together a list of tips and recommendations on what to consider when choosing a carpet for each room in the house.
Are You a Rug or a Carpet Type Of Person?
If you are a person that prefers rugs over carpets, we've got you covered! There's no right or wrong answer when it comes to decorating your home and making sure all of the pieces blend and provide the feeling of comfort, warmth, and safety from good quality furniture to rugs or carpets. You can even place the rug on top of the carpet and have a modern surface area in the room.
A rug can be suitable for the living room if you want to add a decorative touch, color, and texture. It can help you define it, layer the room's decor and add warmth. A modern and graphic design of a rug is sufficient to create a world of its own while complementing the furniture. Before going any further into detail, we'd recommend checking the Novogratz rug collection where you can find a world of colors, designs, and patterns, and these rugs will bring a higher sense of style to your home.
Choose The Carpet For The Living Room
The living room often is like a social hub because it brings the members of the family together in one place to talk, laugh, play, and relax. It's really important to know what type of carpet to choose for the living room. We've mentioned above that you can go with a rug anytime as long as you are aware of its durability, texture, and carpet construction features.
The carpet is making some serious comeback and we can just wait and see which type will be trendy. If you are a bold type and someone who wants to experiment with the style and interior design, then you can go with solid, vivid colors for your carpet, like navy blue, rose red, or flashing green. You can even have a combination of multiple colors. This is also recommended if your walls and floor have a natural accent so the carpet will bring a scent of warmth and diversity in the plain room. But if your living room is already full of details that complement each other and you don't want to add more specificity and complexity, then you can go with a neutral tone and carpet with clean lines and stripes just like you did with michaels framing for your home.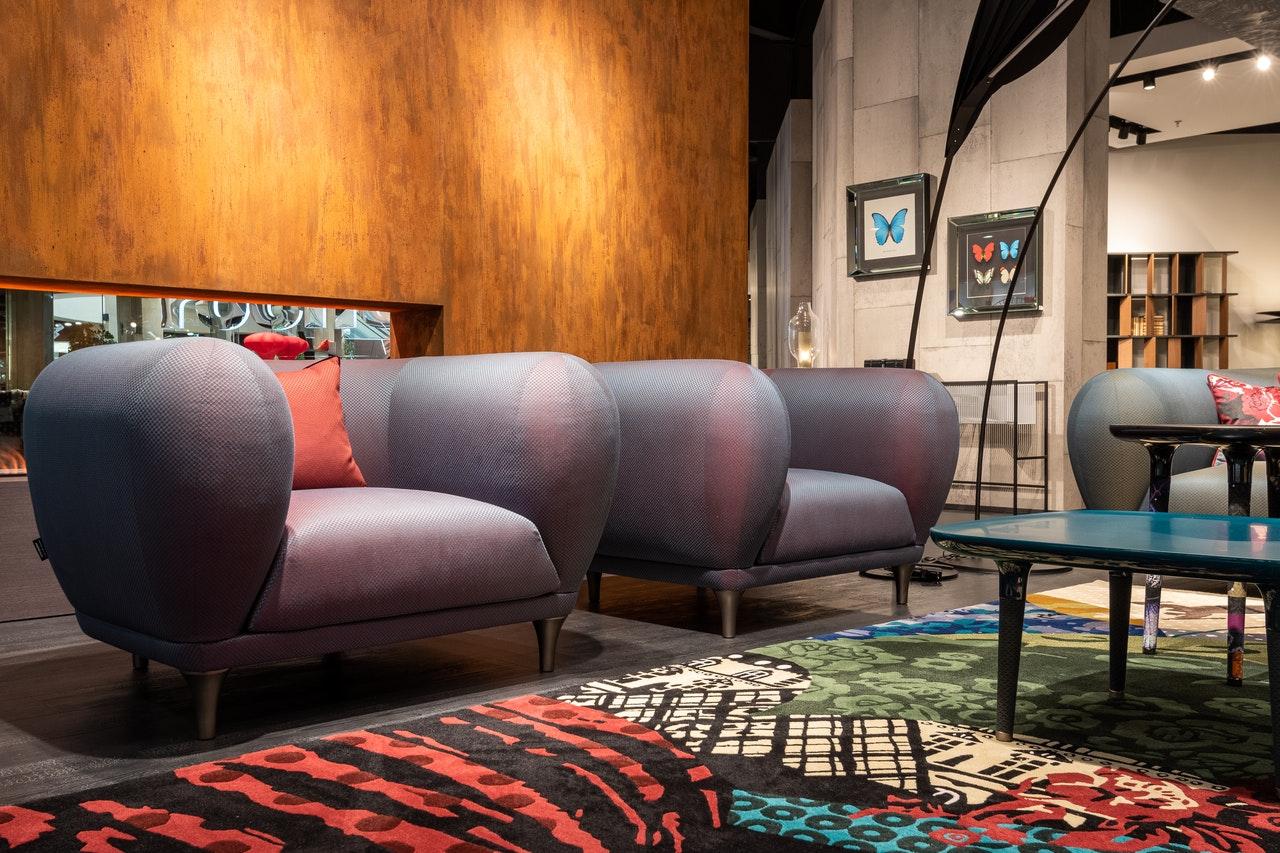 The Right Carpet For the Bedroom
Finding the right carpet for your bedroom is easy if you follow our tips! You wouldn't want anything bold with traditional bedrooms, moreover, you'll need to embrace the classic design, the rich color schemes, the symmetrical placing of the furniture, and the comfortable and a bit formal vibe. You can go with tans and browns, greys and blacks and whites, and neutral carpets with or without patterns or designs. If you go with a pattern, then it's recommended to have stripes or a design with lines. But if your style is an eclectic one, then you have unlimited options. The eclectic bedroom is a fun way to mix materials and create a style of your own. You can have bold carpet designs for the bedroom that will feel harmonious despite the contrasting elements.
Kitchen Rug
Since carpets are usually placed in the other parts of the house, you can always go with a rug in the kitchen. A rug in the kitchen will make the area feel warm and inviting. If your kitchen has a neutral vibe, you can go with bold colors and designs, like having a red carpet complementing a small red curtain in the kitchen. Or if the interior is in white and retro style, you can have a traditional rug print. More colorful kitchens require soothing rug colors such as pale yellow, soft green, lilac, tan, soft gray, or mauve.
Rug In The Entrance
If you were considering placing a rug near the front door, you can always choose a design with colorful circles or abstract arts if you have the walls painted in warm colors like navy blue or soft green. In case the entrance is of neutral colors, you can either go with a dark-colored rug or a lighter one, either way, will complement the entrance.